Find the best yarn for your amigurumi makes
Published on

10 August 2021
3

min read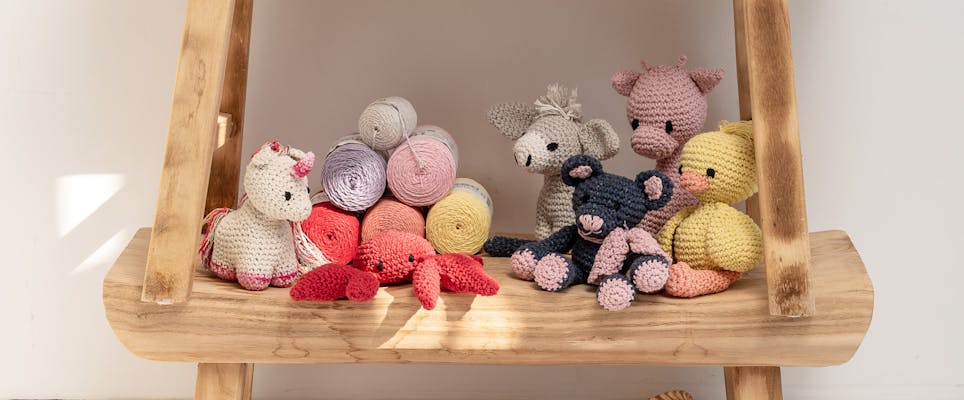 Soft, supple cotton, smooth stitch definition and a kaleidoscope of colours: there's lots to consider when choosing the best yarn for amigurumi. Whether you're making a cute baby toy, a novelty gift or seasonal decoration, find crisp durable cotton yarns with a rainbow of shades to choose from. We've rounded up our favourite amigurumi yarns to inspire that next project and bring your creation to life!
What is the best yarn for amigurumi?
Colour, fibre and texture all play a part when it comes to picking the right yarn for your amigurumi project. Cotton and acrylic yarns are a great match thanks to their smooth stitch definition, as well as durable and soft texture - a perfect match for cuddly toys! If you're making a kids toy, you might want to pick a yarn that's machine washable. 
Depending on your project, yarns with a wide range of colours are fantastic for adding detail and animation to your creations. Many yarns that are suited to amigurumi, also come in small bundles and bitesize packs that are the ideal size for amigurumi projects!
Let's explore the yarns!
1. Katia Amigurumi
These sunny colour packs by Katia are perfect for making amigurumi, toys and smaller crochet projects. Each pack comes in different colourways, from neutrals to brights, and contains 10g balls of 100% cotton yarn, so you can bring your amigurumi to life. These beautiful packs are also great for gifting to new and seasoned makers alike. This sport weight yarn is worked with a small crochet hook to create the teeniest of makes!
2. Paintbox Yarns Cotton DK
The Cotton DK range from Paintbox Yarns comes in 56 magnificent shades! A durable and soft yarn, pick shades from anything from natural tones of Soft Fudge and Vanilla Cream to zesty shades of Blood Orange and Spearmint Green. Did we mention it's 100% cotton? This natural fibre yarn is so versatile, you can crochet anything from animals, flowers, cartoon characters, Christmas decorations and more.
3. Yarn and Colors Must-Have
Sometimes you only need a tiny zap of colour to bring the features of your amigurumi to life. It's always such a shame to invest in a large skein or simply go without, which can make your project lack-lustre. These fab mini 10g balls of the Yarn and Colours Must-Have yarn is 100% cotton, which means you don't need to compromise. Bite-size colour, that's perfect for making detailed embellishments - yes please!
4. Hooked Soman
For more rustic or muted luxe amigurumi toys this beautiful yarn made in the Netherlands is for moreish amigurumi makes that you'll love to cosy up with. What it might lack in colour options, it makes up for with the soft supple texture of its cotton blend, made of 60% cotton and 40% linen. Did someone say teddy bear?
5. Rico Creative Ricorumi DK
The sharp stitch definition and plethora of colours available makes Rico Creative Ricorumi a top choice among amigurumi enthusiasts. Fantastic for crocheting detailed embellishments and building character thanks to its smooth finish, this durable yarn is also machine washable!
6. Paintbox Yarns Cotton Aran
Like its DK sister, the Paintbox Cotton Aran yarn range is a fantastic choice for amigurumi projects. Particularly for its pure cotton fibre and fantastical colour palette that stretches as far as the imagination! This cotton aran is particularly great if you're making a kid's toy amigurumi, as it can be popped in the washing machine too!
7. Paintbox Yarns Simply DK
If you're looking to make cuddly toys for the little one, an acrylic yarn is the one for you! With the extra huggability from its soft texture, the Paintbox Yarns Simply range is a LoveCrafts' favourite to have in your stash for amigurumi patterns. And, of course, in Paintbox Yarns iconic variety of colours, you'll find every shade you need for your project!
Explore our fave FREE amigurumi patterns!