Quilting for beginners: everything you need to know
Calling all beginner quilters! Fancy adding a new craft to your repertoire? Once you get the knack of quilt making, you'll never look back! In this ultimate guide to quilting for beginners, you'll discover the basic equipment you need in your stash, and how to make your first quilt. Plus, you'll find tonnes of project inspiration for all your fabulous handmade quilts!
What is quilting?
Quilting is the technique of layering fabrics to sew together and create luscious, padded material. Whether you stitch by hand, use a sewing machine or opt for the long arm quilting method, you can sew together cosy quilts for throws and baby blankets as well as patchwork cushions, garments, bags and so much more!
There's nothing more exciting than building a new stash! Get started on your quilting journey by stocking up on all the kit you need to get set for a lifetime of making.
Sewing machine - Invest in a good sewing machine and get ready for many happy years of making and creating together! Of course, quilting can be done by hand but you should be prepared for it to be very time consuming.
Rotary cutter - A good rotary cutter will become your quilting bestfriend! A rotary cutter is simply a rolling razor blade that you can use along the edge of a quilting ruler to cut several layers of fabric into shape at once, with super speedy quick, easy and precise results. 
Fabric scissors - While rotary cutters come in smaller sizes perfect for cutting out more complicated shapes; there are bound to be times when only fabric scissors will do the trick. They're also essential to have on hand for cutting thread and trimming any loose edges.
Paper scissors - Don't be fooled into thinking you can use the same pair of scissors for fabric and paper! If you use fabric scissors to cut paper, you'll blunt them in no time. Instead, get a pair of paper scissors and use them to cut out any stencils you need.
Quilting ruler - Quilting rulers come in all shapes and sizes, but it's a good idea to get a medium-sized square one to begin with. You'll use this to measure up stencils and fabric, and to guide your rotary cutter when you're cutting shapes. 
Cutting mat - A good self-healing cutting mat will save your craft table from a whole lot of destruction from your rotary cutter, sharp scissors and pins. 
Fabric marker and eraser - A fabric marker is essential for creating guides on fabric without leaving any nasty marks! With this pen and eraser duo, you can mark clear accurate lines onto your fabric without bleed and then use the eraser to make them disappear once you've finished. Magic!
Pins and needles - Quilters can never have too many pins! You'll use them to pin your pieces together before sewing them, so you'll need plenty. A pin cushion would come in handy, too.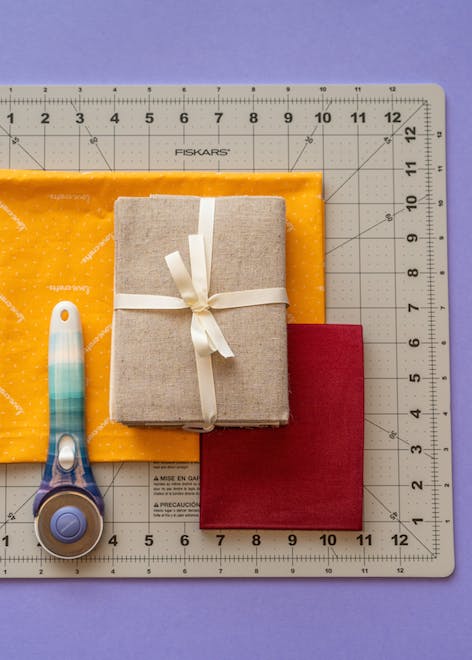 Also known as batting, wadding goes in between the fabric and the backing to create a quilt sandwich that makes them all warm and snuggly! Wadding is measured by its loft – the weight and thickness of the padding inside your quilt. Low loft means thin and high loft means thick. You can buy wadding in all sorts of different colours, materials, lofts and sizes – so you'll need to do your research to make sure you're picking the right one for your first project. But, what's the best batting to use for quilting?
Polyester: The most common quilt batting. It holds its thickness and shape best when compared to other types of wadding.
Wool: Very warm and light. It also holds its shape really well and bounces back if crumpled. Wool is a natural fiber and resistant to creases. However, it is one of the more expensive wadding types.
Cotton: Very soft and comfortable.
Threads come in so many varieties, colours and materials and you need to make sure you're selecting the right thread for your project and your machine. You want to match the thread both in colour and in fibre, so choose cotton thread for natural fibres, polyester thread for synthetic fabrics, silk thread for silk fibre and so on.
Cotton: Cotton thread can stand an incredible amount of heat from an iron, which is key when pressing cotton  fabrics. The most popular choice with quilters.
Polyester:  Polyester thread is a true all-purpose thread. Also a popular choice with quilters and less expensive than cotton.
Silk: Silk thread is very fine, perfect for sewing silk fabric. 
Metallic: Metallic thread is often used for topstitching, but be careful when ironing over metallic thread – always cover with cotton cloth before ironing
Monofilament: This is a sewing thread that looks invisible when stitched into fabric.
You'll also need to consider whether you want a matte finish (cotton) or a shiny finish (rayon) on your thread.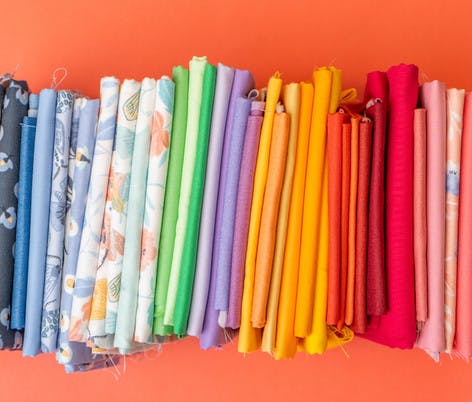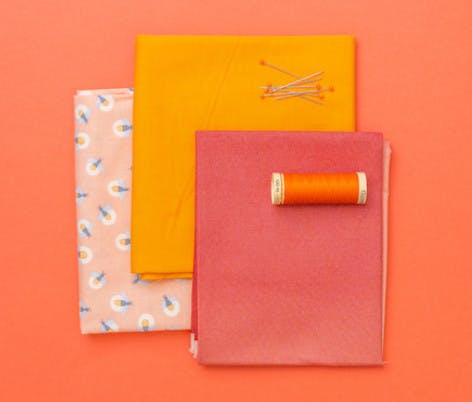 The best part of any quilting project is undoubtedly choosing the fabric! The fabric is usually the decorative or colourful design that you'll find on the front of your quilt. Whether you're a fabric hoarder who keeps heaps in their stash, or a specialist selector who only buys for each project – the fabrics you choose will give your quilts your own personal stamp. There is no right or wrong fabric to use in quilting. It's all about personal preference and your budget. Some of the most popular choices are:
Cotton: 100% Cotton fabrics are the most popular choice for both top and backing fabric. Available in lots of colours and designs, there is usually lots to choose from!
Fleece: Used as a backing fabric for a super warm quilt. Soft and cozy but can be expensive and prone to pilling after washing.
Flannel: Can be used as a top or backing fabric  for a soft and snuggly warm quilt. Less expensive than fleece, but it can shrink and fray along the edges. Popular for quilts for babies and children
Wool:  One of the more expensive fibres to use, but is super warm, and super durable. Suitable for heavy duty quilts, you'll need a high quality thread and a good strong needle!
Besides sounding delicious enough to eat, these are the names of differently sized pre-cut fabrics. They are usually collections of fabric that have been previously cut by machine, stacked into piles or rolled up, and tied together. 
The most common pre-cut fabrics include:
Fat quarters: 18 inch x 22inch (50cm x 55cm)
Charm packs: 5 inch squares (12.7cm x 12.7cm)
Layer cakes: 10 inch squares (25.4cm x 25.4cm)
Jelly rolls: 2.5 inch strips (6.4cm strips)
Honeybuns: 1.5 inch strips (3.8cm strips)
Quilting projects for every level!
Now you've got the quilting essentials and basic techniques under your belt, this is where the real fun begins! Use your quilting skills to create gorgeous homewares with patchwork throws and cushion covers. Sew quilts in all shapes and sizes to bring some colour to your makes and a fun handmade touch to your home. Follow along with our step-by-step guides and video tutorials as our quilting experts take you through each step of the process - from picking the right fabrics to adding the final backing and finishing touches - you're in safe hands!