The LoveCrafts Show episode 9: Standing up to bullying with Lion Brand's Shira Blumenthal
Published on

6 May 2020
By

Holly Butteriss
2

min read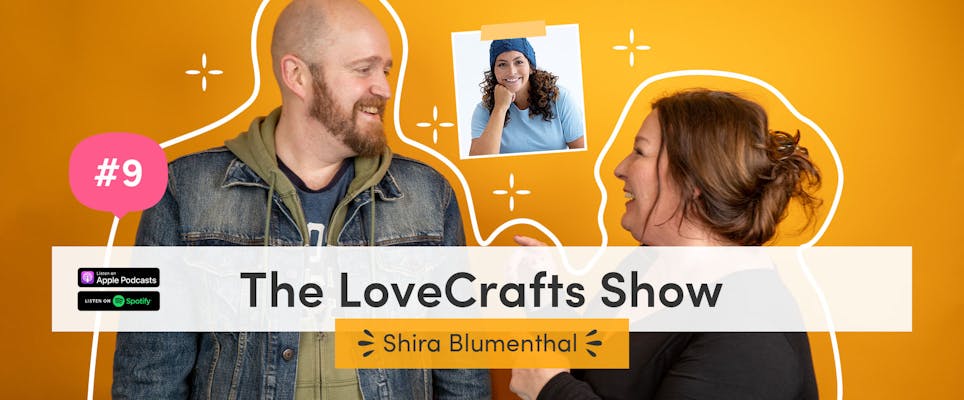 Join Jamie and Merion on The LoveCrafts Show along with an extra special guest, Shira Blumenthal from Lion Brand!
You can listen to The LoveCrafts Show episode 9 on Spotify, Google Podcasts and Apple Podcasts.
On this episode of The LoveCrafts Show we invited Shira Blumenthal from Lion Brand to chat with us! From the secret recipe to creating a stunning colour of the year, to standing up to bullying with the Hat not Hate campaign founded by Shira, Merion and Jamie dig deep into the behind the scenes of this iconic yarn brand.
Tips, tricks, advice and a fair amount of silliness, this is The LoveCrafts Show!
Don't forget to send us lots of lovely messages, responses and questions to show@lovecrafts.com or you can send us a voice message!
Lots of lovely things we mentioned and extra nuggets!
Check out Shira's YouTube show Tea with Shira (1:17)
It's never too late to start learning a new craft, if you're a beginner head to our beginners guide to crafting and get creative! (8:30)
Discover Lion Brand (8:40)
Shop Lion Brand Yarn (9:35)
Haven't tried wooly's thick and quick yet? You're missing out! (10:15)
Discover Lion Brand patterns! (14:50)
Haven't discovered Two of Wands yet? Well you're in for a treat! (15:03)
Shira is doing the Shi-Show every day, head over to Lion Brand on Facebook to catch her! (17:09)
Find out more about Lion Brand's anti-bullying campaign Hat not Hate. (18:02)
Need mindful makes to process some difficult emotions? Check out our guide to mindful makingguide to mindful making. (28:10)
Looking for ways to help the craft community right now? Here are our top 5. (29:27)
Missed the episode with GG? Head to the show notes to catch up! (37:25)
Learn to knit socks with Merion! (39:00)
Check out Lion Brand's Colour of the Year! (44:40)
Check out these brilliant Lion Brand yarns!