MillaMia yarns and patterns
Published on

24 November 2021
By

Meg
8

min read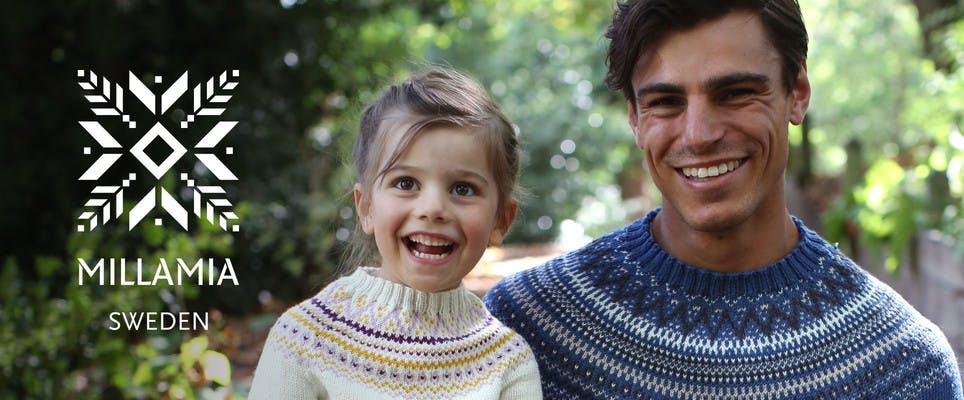 MillaMia is about slowing down, and creating gorgeous makes that last. So, make yourself a pot of tea, find a cosy nook to nestle into, and get hooked on MillaMia's Scandi-inspired yarns and patterns. Perfect hygge moments are just a stitch away!
The MillaMia philosophy
Think of Scandinavia. High quality designs that are beautifully simple and the cosy art of hygge. This is the philosophy MillaMia is built on. MillaMia's crochet and knitting patterns combine intricate detailing with a thoughtfully considered range of yarns. Rich, decadent shades, alongside light and delicate tones, MillaMia yarns are made up of some of the loveliest colours in the yarn world. Whether you're making a classic beanie or a rich cabled sweater, MillaMia's yarns and patterns are here to inspire timeless pieces you'll treasure for years to come.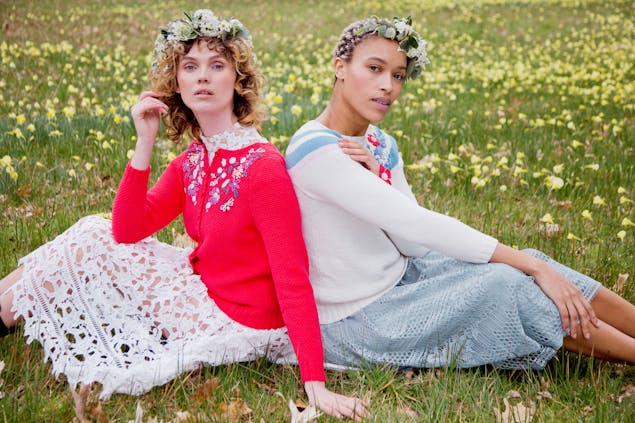 Optical Collection
Each beautiful design in the Optical Collection is inspired by mesmerising graphics and vivid colourwork. Pushing the boundaries of how shape and colour can work together to create different states of being. If you're looking for a mindful make this collection boasts bold knitting and crochet designs you'll love exploring. From statement monochrome in the stylish Movement and Fragment jumpers, to the revitalising ripples of colour found in the Optical crochet top and Riley Wave jumper. The Blaze Fairisle cardi and Bridget Intarsia jumper synergises striking tones with angular design. Where will the mood take you?
Midsummer Collection
Introducing dreamy summer jumpers and cardigans adorned with elegant floral embroidery. The Midsummer Collection will sweep you away to the wild flower meadows of Sweden! Each design is infused with the colours and textures of summer solstice, from the striking Midsummer Cardigan designed in bright red Naturally Soft Cotton to the hypnotic Fira Jumper, with its block stripe and embroidery panel. You'll love embracing the Swedish folktales that have inspired this enchanting collection!
Sugar Collection
Introducing the sweetest cloud-soft baby patterns that look and feel like they're dropped straight from heaven! The Sugar Collection brings together pastel cushions and snuggly baby blanket patterns, not to mention the most adorable knitted Ga-Ga cardigan and Lou Lou crochet jumper. Each pattern will have you and baby on cloud nine!
Style Fusion Collection
A remix of current trends and vintage fashion, the Style Fusion collection was inspired when designer Helena went in search of something to mark her father's 80th birthday celebrations. The Brengt Cardigan was inspired by one of his real-life cardigans. Combining heady colourwork with classic fairisle, cables and geometric designs the collection, created by Helena and Katarina, boasts statement sweaters, cardigans and jackets, that each tell a story!
Abstract Cable Collection
Plump, soft, Scandi-cool cables are the epitome of hygge. The Abstract Cable Collection is overflowing with beautiful cabled knitwear patterns, each of which are guaranteed to be a staple for your winter wardrobe year after year. From the sublime chunky Nikka Cable jumper to the toasty Katrine Coat, that's perfect for keeping snuggly on frosty weekends or working from home. For a snazzy statement cable project, look no further than the Katis jumper, where linked cable bodice meets bold geometric prints. Which one is your favourite?
Super Simple Collection
The Super Simple collection entwines classic Scandi-inspired knitwear with bold silhouettes in MillaMia's signature shades. Prepare for chic and versatile fashions you can wear to lunch, campus, work or weekends away! The pretty Elina Jacket with its soft puffy Irish moss stitch texture, preppy Stella box jacket and stylish Molly and Juni Jumper make perfect beginner projects. While, for intermediate knitters the Stina Jumper brings a whimsical twist to the classic sweater with thick plush cable detail.
Playfulness Collection
If you love colourwork, this is the collection for you! Five sweet knits for children aged 2-3 up to 10-11 years that make the most of the gorgeous shades of MillaMia Naturally Soft Merino Wool. The assymetric fastening on the Spela cardigan is practical, keeping little bodies extra warm, and we love the super easy slipstitch colourwork in Leka, which is such fun to knit.
The Carousel Cardigan has all the hallmarks of a classic! With its Fair Isle yoke and matching bands of colour around the hem and cuffs, it is a cardi to knit and pass down the family from generation to generation. Stripes and diamonds are the colourwork motifs in the Tokig Cardigan, super sweet in pastels and ombre shades, but jump up and down fun in brights!
Celebrating Pat Lipsky: Spring Geometrics Collection
American Artist Pat Lipsky's iconic geometric paintings are the inspiration behind the MillaMia Spring Geometrics collection, from stunning simple colour combinations with texture in the Christel Cardigan, to the fabulous Beata jumper, single colour bursting with textural stitches. Carola uses garter stitch ridges to play with pastel rainbows, and Dagmar is a delicious journey into double knitting, creating a fabulous reversible scarf. Marina is a clever pattern that doubles as a cowl or scarf, using the alternating butterfly stitch to create sweet little bow shapes. Celebrate spring in Scandinavian style with MillaMia geometrics!
À la mode: Monochrome
Monochromatic design and Scandinavian style go hand-in-hand. The Monochrome collection embodies this chic, two-tone look. If you love Fair Isle with a monochrome twist, you'll love the Desiree Fairisle Jumper, where the houndstooth and diamond motifs are shown off perfectly in MillaMia's Naturally Soft Merino. The power of monochrome really comes into its own in the Anne-Sofie Stripe Jumper. Worked in two pieces, the stripes work both horizontally and vertically, and the stripe definition looks sharp and sassy - it's a jumper for practising your colourwork. Looking for chic, timeless designs that will see you from the office through to weekend brunch? This is the collection for you.
Matchy matchy: The Me & Mini Me trend
Is there anything sweeter than stepping out with your mini me in a coordinated outfit? The new MillaMia pattern collection, Me & Mini Me, features pairs of jumpers and accessories in kids and adult sizes so you can join the cutest style trend - twinning with your little one. Knitted in Naturally Soft Cotton and Naturally Soft Merino, the makes are lovely on the skin too. Try knitting in coordinated colours, for a perfectly matchy-matchy look, or pick contrasting colour palettes for a bold take on the trend.
MillaMia patterns for women
Looking good and feeling comfortable is what many of us look for in our clothes. MillaMia have mastered this perfect combination with their stylish, yet comforting and cosy knitting patterns. Knit soft aran jumpers that flatter, and super chunky beanies in brilliant colours to cosy up with when the chilly weather sets in.
MillaMia winter essential knitting patterns
Is there anything greater than rugging up in winter warmers to brace cold weather? Knit yourself happy this winter with these MillaMia cold weather essentials, from colourblock scarves to berry coloured wristwarmers with swoon-worthy stitch details. Being cosy has never been so stylish!
MillaMia patterns for babies
The little ones in our lives need to be kept the cosiest out of all of us when the winter chill is upon us. In MillaMia's collection of baby patterns, you'll find options for beginners and advanced knitters, so that everyone can knit for their bundle of joy.
MillaMia home knitting patterns
Our homes are our personal havens. Places to escape to when the weather is dreary. That calm oasis to return to after chaotic days. You can't cover every surface in yarn, but you can cover everything with MillaMia hygge-inspired knits.
Christmas with MillaMia
MillaMia's festive patterns are sure to bring cheer to every home! Traditional inspired ornaments, soft candy cane stockings and Nordic inspired furnishings, all in plush shades of Scarlet and Snow shades that make us feel like we're lapland.
MillaMia free knitting patterns
MillaMia are known for their lovely knitting patterns of classic Scandi style. Indulge your love of chic patterns without the costly price tag. That's right, these patterns from MillaMia are completely free! Their Elisabeth moss stitch hat in MillaMia Naturally Soft Super Chunky is great for intermediate knitters, or those beginners who fancy a challenge. You won't be able to resist the combination of gorgeous berry hues, in soft merino!
MillaMia Yarn
Does your stash need reviving? Are you looking for a new yarn to swoon over? MillaMia are the gorgeous yarns missing from your life. Explore their bright and softly coloured Naturally Soft Cotton, Naturally Soft Aran, and Naturally Soft Merino. For speedy knits with great texture, MillaMia Naturally Soft Super Chunky couldn't be more perfect. Cottons and merinos, aran, sport, and super chunky weights, there's a MillaMia yarn for everything. And you'll never tire of knitting with MillaMia.