How to live a more colourful life with Katie Jones!
Published on

10 August 2020
6

min read
The queen of colour herself, Katie Jones has put down the crochet hook to tell us how she injects colour into her home and how you can do it too!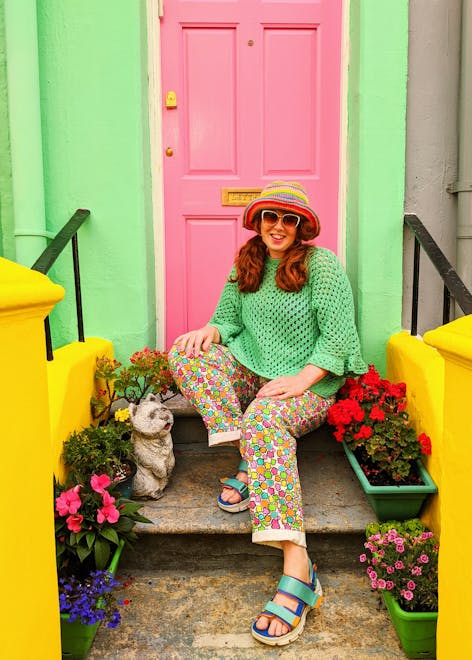 From thrifted coloured vases to amazing crochet blankets, these details are what makes a room special and gives it character.
Hi, I'm Katie Jones and I am a crochet designer who happens to LOVE colour! My love affair with colour started as a kid and I never shook it! Lucky for me I have found a partner that shares my enthusiasm, and together we are doing up our first and forever home to be a colour haven! We have always rented so this is the first time we could go crazy on the walls and we have made full use of that opportunity.
When planning a room as a pair I feel you need a little bit of structure so you both know you're on the same page before you go wild with the paint or purchasing! I'm going to share my top tips that I have learned along the way; from planning to painting and making your house a colourful abode, from adding more colourful bits to your rented home to full home reno, these are my 5 top tips!
1. Theme!
Get the vibe for your room first, Pinterest is a great way to start if you're not sure what you like as you can make a million different boards until you settle on a look. My number one goal for creating a room's theme is picking either a starting point or focal point. When we moved in to our home a good friend gifted us a Camille Walala print, which also went really well with a crochet blanket I had designed! So, in our living room we used these two pieces to build the room's aesthetic around. I took the colour palette and design details from the print and crochet blanket, and the idea for the room grew from there.
If you're going bold or starting from scratch I also really recommend doing a room mock up! This just helps weed out any unexpected looks and is a great way to finalise a big change. If you don't live alone it's also a great way to explain your ideas to your partner or housemates, use collages, take photos and draw over the top, or use something like Photoshop. I always do a full room mock up and floor plan as it just helps me see if colours work together and how the furniture works in the room.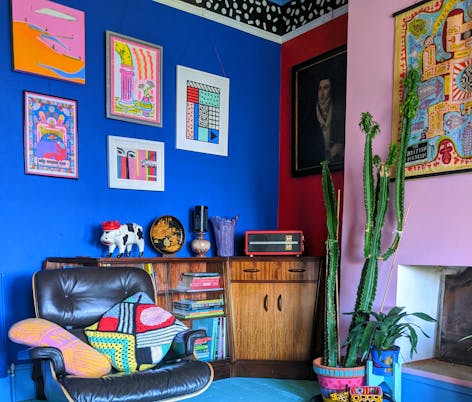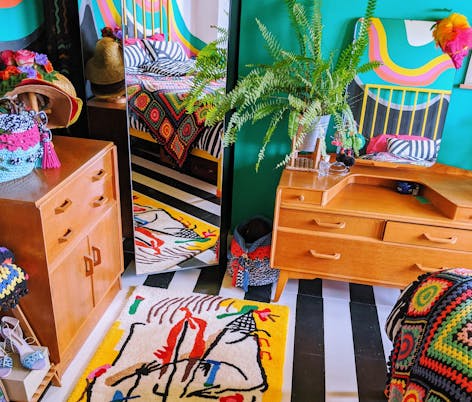 2. Colourful accents
You can do a lot in a room with furniture, throws and art without touching the walls to bring colour into your space. As your reading this here, I know you're a maker - this is also a great way to show off your makes and give them pride of place in your home! From thrifted coloured vases to amazing crochet blankets, these details are what makes a room special and gives it character, and in my book more is more - so go wild with the accessories! PLUS they are easily changeable and if your new to adding colour to your home this is a great way to grow the colourful aspects in your space slowly, and figure out what your taste is before diving in and changing all the wall colours!
3. Funky furniture
Maybe my most important point is about upcycling and working with what you have got! Everyone knows that decorating can become very expensive and this is where your crafty practical side really helps. Painting and decorating furniture is one of the things I get most enjoyment out of and you can take a load of thrifted, found on the street or old pieces of furniture and with a bit of TLC make them come together as a set!
When I moved I have tried to use what was left in the house; like the plain white coat hooks and get inventive. I took the piece apart and painted the wooded back along with covering the hooks in Fimo to give a quirky finish to a very boring but still functioning piece. This is in my entrance way long with my newest fave mirror which was a Pinterest inspired make using expanding foam and an old mirror I picked up from a charity shop! I LOVE IT but it could have been a disaster, but why not give it a try? After all if you hate a piece in the end you didn't really spend anything on it! For me too often people move and rip everything out, which is beyond wasteful, I like to see it as more of a craft challenge as to how I'm going to make something look fabulous!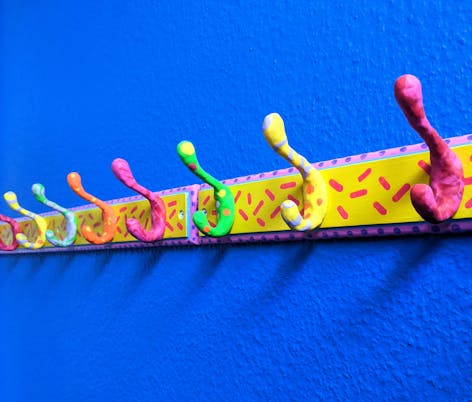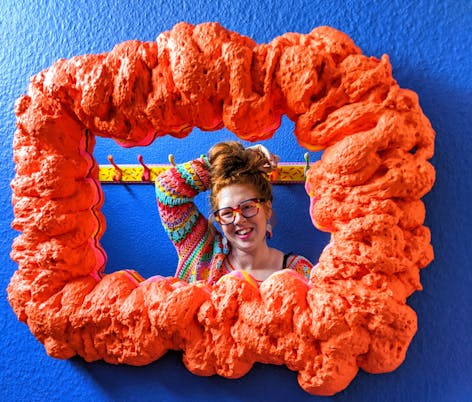 4. Paint with the rainbow
If you're planning to use lots of different colours of paint like me, this can take a big chunk out of your budget, so you don't want to be changing your mind half way through! This is where the planning I've talked about before is super important. If you're matching your paint colours with something in particular, this can look really fab but it's usually a premium service to get the colours an exact match. I also gave mixing colours a go myself to get the specific colours in our kitchen! If you're renting and can't touch the walls permanently, then why not give removable adhesive wall paper a try! I also can't recommend following @banyanbridges enough, I got the great tip of sealing our masking lines from her and did wonders on our walls when painting the stripes round the kitchen!
 5. Become a plant parent!
Lastly a final and really easy way to add colour to your home is with some flora. Whether it's the home or in the garden, plants are a great way to brighten up your space and give it life! I've always been one to have way too many house plants and now I've caught the green thumb during lockdown in my back garden. I find nature a great place to be inspired by colour palettes. PLUS to add more colour and enjoy a fun family friendly activity, just get some bog standard terracotta pots and give them a lick of paint and they always look fabulous or try making a macrame plant holder!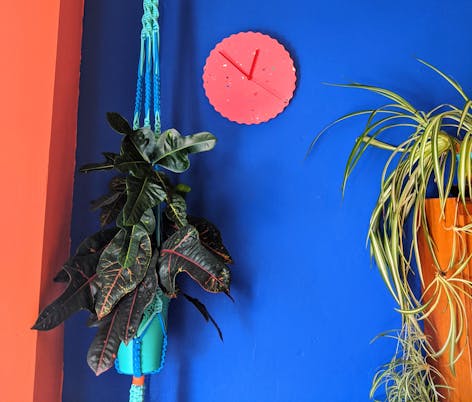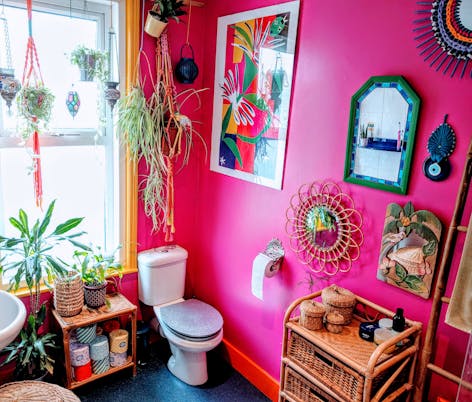 More ways to create a beautiful space!