Introducing Paintbox Yarns Super Chunky
Published on

7 February 2020
By

Yaz
4

min read
Paintbox Super Chunky Yarn has landed! Get ready for snuggly scarves, blissful blankets and the cosiest winter accessories with this affordable super chunky yarn that boasts 20 beautiful shades! 
There's a brand new super chunky yarn on the block! Paintbox Yarns Super Chunky has arrived. This 100% acrylic yarn is soft on delicate skin and can be popped in the washing machine, making it fab for vibrant everyday knits and crochet garments! Available in a yummy assortment of 20 Paintbox colours, this is a great yarn for whipping up cosy thick on-trend blankets, hats, scarves, mittens and more.
What awesome projects to make in Paintbox Super Chunky yarn?
Paintbox Super Chunky is brilliant for whipping up accessories and snuggly homeware! Paintbox has teamed up with some fab indie designers to bring you a fun collection of knitting and crochet patterns for all abilities. Let's take a look!
The Champagne Dolphin crochet set for beginners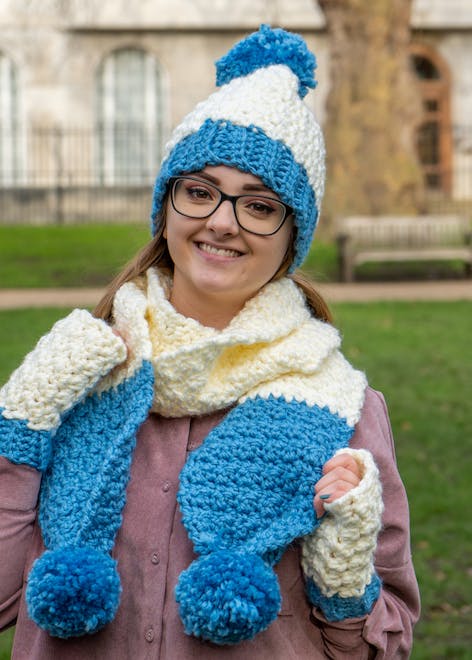 Dive into this two-tone crocheted accessory pattern set by Crochet Bouquet which includes a hat, scarf and mitts. Made in Paintbox Super Chunky Dolphin Blue and Champagne White using fun and easy moss stitch and statement pom poms, this snug set is perfect for beginners.
"I love this collection! I wanted to design something with a massive pop of colour, and use moss stitch to make it more interesting to make than just doing treble. I'm obsessed with pom poms, so I couldn't resist stitching a couple onto the scarf (naturally they're on the hat, too!)." Jen, Crochet Bouquet
Pro Tip
"Work in even numbers! That way you will always start with the same stitch if you decide you want to make the scarf wider, mitts longer or hat slouchier!"
Candycomb cowl and hat
If you like to mix and match texture and colour in your crochet, you'll love the Candycomb cowl and hat by Crochet Bouquet! Made in a pick n' mix of Paintbox Super Chunky Candyfloss Pink, Mustard Yellow and Champagne White this crochet set combines 'V' stitch with UK double (US single) crochet. A great project for beginner crocheters looking for a step up.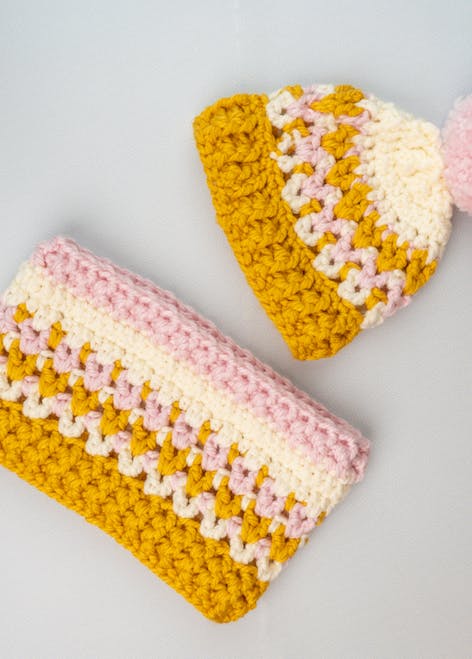 "The V stitch is one of my favourite crochet stitches, it just looks so fun! When developing the idea for this pattern, Tina, our special projects guru, mentioned that she loved the ideas of the little pops of colour, which is where the dc rounds came from." - Jen, Crochet Bouquet
Jen wanted to show a different type of ribbing on this collection compared to the moss stitch one. She's used a chainless foundation with the hat because it makes it a little stretchier, and you don't have to worry about how long you make the chain, because you can already tell exactly how big it will be. "I love just love a chainless foundation," says Jen "I use them on most things I make!"
Pro Tip
"If you want to up the size on the cowl (or reduce it!) work in repeats of 3 so you can add or take away from the V stitch pattern easily! For the hat, work in multiples of 6 to make the decrease rows easier to manage!"
Seasgair knitted blanket
Taking its name from Scottish Gaelic word for 'snug', Megapeachy's ultimate cosy Seasgair blanket includes gorgeous cable detail for a Celtic twist. Advanced knitters can whip this beautiful blanket up in a week!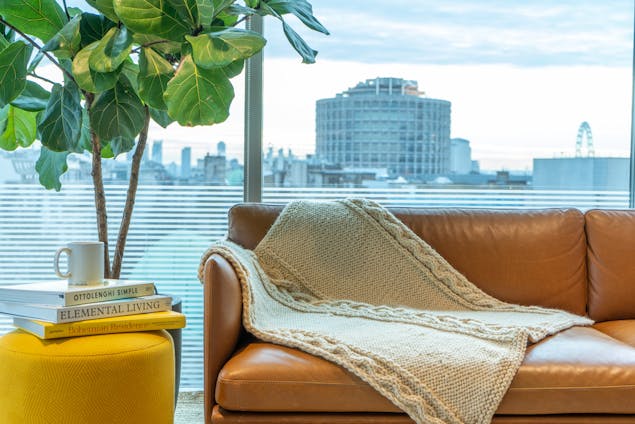 I loved making this blanket because it helped to keep me nice and toasty while I knitted. It was also finished within a week and so it's a project you can easily have done in time to enjoy on a cool weekend!" Pauline, MegaPeachy Designs
Pro Tip
"My tip when working this pattern would be to do a tally after each row, that way you never get confused as to where you've got to in the cable pattern!"
Superstar Hat and Cowl
Heather Quill's fabulous Superstar hat and cowl duo is perfect for advanced knitters. Super snuggly in regal Dolphin Blue and Champagne White, the stranded colourwork and folded-look crown make this a breath of fresh air!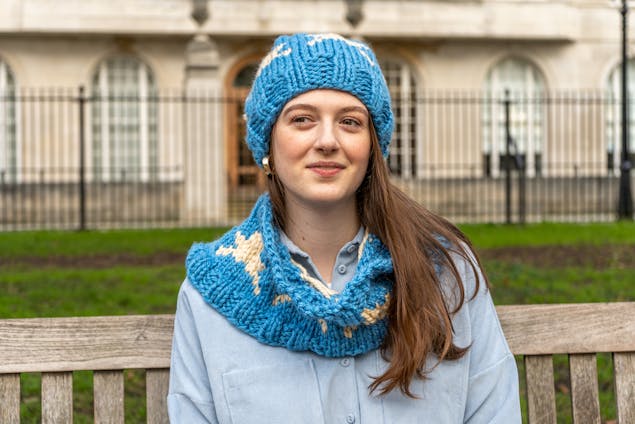 "Stranded colourwork can be daunting, but this repetitive pattern is a great place to start- I chose this colour combination as it reminds me of bright summer evenings, and I've included a blank chart too, so you can change the stars to your own design if you wish. It's a super quick knit in the super chunky yarn, so makes a great last minute gift." Heather Quill
Mesh Stitch Hat and Mitts
If you love incorporating gorgeous texture in your knitwear then this matching Mesh Stitch Hat and Mitts is just the project! Work in a single shade or mix and match for a two-tone colour combo. Whip up these snug accessories in record time with Heather Quill's fun cosy design!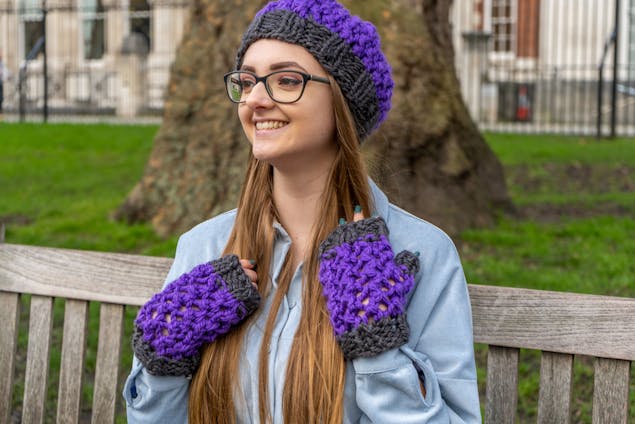 "I love working with bold colours and textures, and mesh stitch is just repetitive enough to be a quick tv knit without becoming boring. The great thing with this stitch is it has lots of stretch, so you can block the hat out as slouchy as you like." Heather Quill
Get your colour on with Paintbox Yarns!