How to start a knitting group
Published on

3 August 2018
By

Emma Friedlander-Collins
5

min read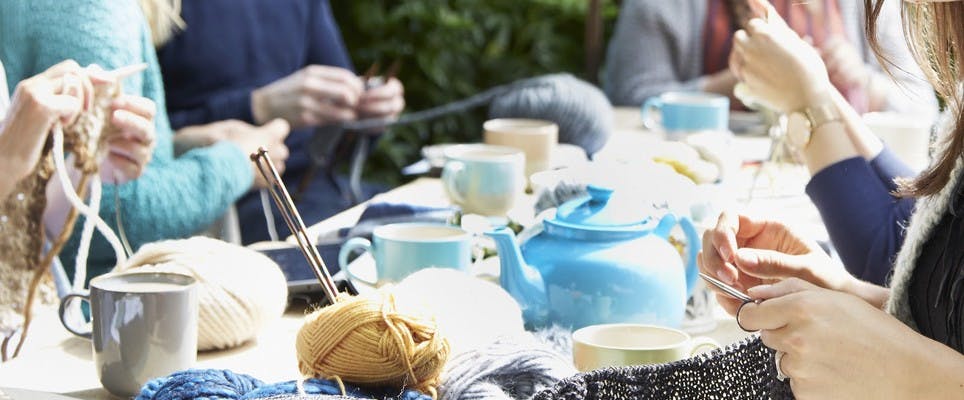 Knitting groups are a brilliant way to meet new people, brush up on your skills and share your passion with like-minded folk. Emma Friedlander-Collins, our crafty social butterfly, shares her 5 top tips for how to start your own club (clue: bravery is a must!)
Picking up yarn and needles is a great way to get some 'me' time. Whether you've had a frantic day with the kids, you've finished your studies and need to unwind, or you just love an excuse to sit on the couch with a box set.  But have you ever thought about knitting as a social activity? Knitting groups can lend a whole new dimension to your favorite past time. If you're a beginner, knitting clubs are a great place to learn things, discover tips and tricks and build your confidence.  They can be a space to meet like-minded knitters who will get excited with you when you've discovered a new yarn or worked your first cable. For seasoned knitting veterans knitting groups are a place to share your passion, show off your makes and you won't be annoying anyone with the clicking of your needles! (Although we all know that's a beautiful sound.)
Knitting groups are also a great way to meet new people without that awkward 'first date' feeling.  Let's face it, lots of us yarn fans often find wool easier to get on with than people, so going to a place where you've all got something to be getting on with, and can use the excuse of fiddling with a few stitches while you relax enough to get your chat on, is ideal.
So how to start a knitting group?
1. Seek like-minded souls
There are a few ways you can do this.  Most likely you'll already have some buddies that have the same yarn fixation as you, and it can be as simple as committing to a regular time and place to get your knit on, and getting them to invite along anyone they may know.  The knitting groups I've been to have started just like this, and they're often informal, involve a lot of chatting, coffee and chocolate.
But, you may be new to an area, not have your knitting friends around you and need to start from scratch.  A good, old fashioned way of doing this is to go your local craft store, they may know of some already, but if not, you'll most likely be able to put a sign up declaring your grand plans of getting a group together.  Similarly, you may find a boutique store that you fall in love with, and they might put a sign up for you - if you love it chances are other like minded people will love it too. It's the same with cafes, community boards, anywhere you like hanging out, is a good place to start.
If that's a bit old school for you, you can advertise on places like Ravelry, Facebook community groups, or just do a google search for knitting groups in your area. We have a lovely community on LoveKnitting's Facebook page, why not post there?
2. Find a space to meet up
Once you've got a bunch of people who are committed to coming along and giving it a try, you need a place to meet in.  Knit & natter meetups are often held in bars or cafes. My friends and I take it in turns to go to each others houses, it can be a bit of a squeeze and the husband makes himself very scarce, but it's only once every few weeks, and keeps things intimate.  I organised one as an after-school club to get to know some of the new mom's when my boys started school, and they let us use the canteen (it did smell of school lunches, but we coped!). As long as you have enough room for all of you, and the space you're in is happy to host you, then you're good to go.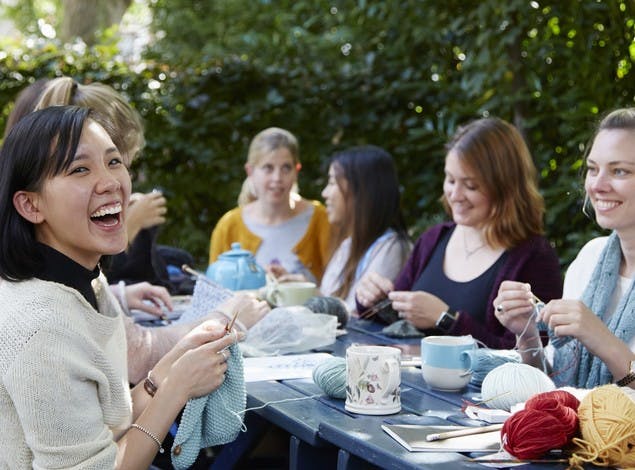 3. Be consistent
If you're starting out, then one of the most important things is just to keep turning up.  Same time, same place, whenever you say you'll be there. It may take a few weeks before anybody else comes, you just need to be there.  It's also a really good thing to practise even if it's just you and some mates. Like any club, setting that time aside to commit to it becomes a way of carving out that special time, just for you, in what can be a crazy busy week.
4. Pick a project
Now, you can all just get together and knit what you like, but there's a huge amount of fun to be had in all picking the same project and doing your own knit along.  If you're a new group it can give you a shared activity to break the ice, if you're an established group it can introduce something that you may not usually go for. It's a bit like being in a book group - you're not always going to read something you love, but you always take something away from it, and it gives you a common project to chat about!
It's also brilliant fun going through magazines together, or browsing patterns online, all picking your own colors, and seeing how everybody's turns out.  It can also be a great way of learning new stitches and techniques, as they say two heads are better than one, especially when it comes to working out how to turn a heel.
5. Be brave
This might be the hardest thing of all.  Setting up or joining a group may feel like a big commitment, or if you're a shy violet, seems a huge challenge.  So I just want to leave you with this, what is the worst that could happen? Your yarn is your shield, your needles your sword.  They will be with you to protect you when things get uncomfortable, and you can shield yourself with them if you need a time out.  But the most likely thing that will happen is that you'll find similar souls who love this craft just as much as you do, and that's got to be worth a bit of discomfort.