The Debbie Bliss Story - A tale of grit, determination and creativity
Published on

12 September 2018
By

Meg
5

min read
We're in London for the day filming world-famous knitwear designer, Debbie Bliss, and discover her awe-inspiring journey as a knitwear designer. Debbie is sitting on her bright pink sofa, still slightly damp from washing it in a last minute panic because we were coming round to film. She's tearing out a scone recipe from a magazine brought as a prop. Her dogs Smiffy, a Parson Russell terrier, and Monty, a beagle, are cosied up on the sofa too (they got wind of the photoshoot and having already starred in Wooly Woofers, they quite fancy themselves as models!) Barry, Debbie's husband, is making a pot of coffee, as he's the one who "makes the fancy coffee".
We're an hour into the shoot, but no filming has been done yet. Debbie loves a natter, and she has so many stories to tell. She's telling us everything about her life at the moment, from the refugee who lives with them while he's training for the Olympics to her latest inspiration coming from the vivid colours in sari shop windows.
Debbie has a kind heart and people gravitate towards her. It's one of the reasons she's been a friend of LoveCrafts for so long, that, and she loves cakes as much as we do! But things haven't been easy for Debbie in the past year. When her previous supplier ceased to exist, the Debbie Bliss brand ended up on a rocky road - and not the chocolatey kind. But thanks to a new collaboration with us (yes, we're doing little happy dances in the office!), the Debbie Bliss brand that you know and love lives on.
We went behind the scenes, to talk to Debbie, about how she built a successful brand, the upheavals she faced, and the creativity that shone through to get her where she is today.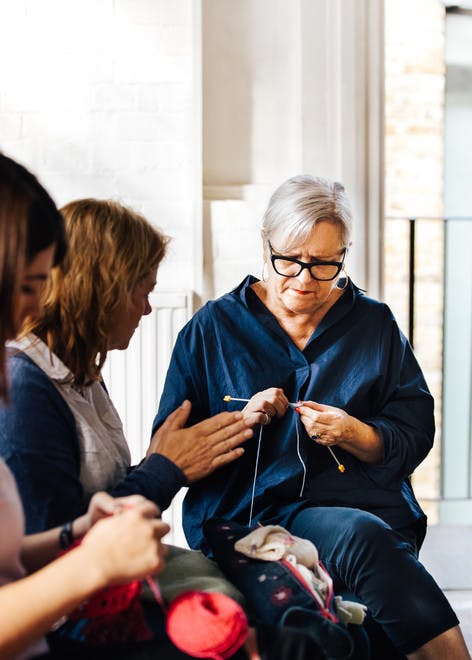 Meeting the knitters and seeing the absolute pleasure they've got out of either knitting my designs or really enjoying my yarns ‒ it's been wonderful."
How did your knitting journey begin?
My knitting journey began when I was studying fashion and textiles at college. I found that there were certain things that I wasn't very good at, pattern cutting being quite an essential one! So I wandered into one of the other studios where they had knitting machines and just started working on them. I began to make these structures out of knitting, which was really exciting.
How did you start freelancing as a knitwear designer?
When I launched my career after leaving college, I was creating knitted flowers and plants and  selling those to shops. I sold a knitted cheese plant, a lurex one to Elton John! Because I got publicity from that, that's when I started getting commissioned from magazines to do hand-knit design. I then had to learn to hand-knit really really quickly.
How did you start selling yarn?
I was approached by a distributor in the UK, Designer Yarns and I was then licensed to them until very recently. That was a fantastic opportunity. It meant that I could concentrate on the creative and aesthetic side of it, working with them on choosing yarns, doing the designs, while the other parts of it, the commercial side, that was all done by Designer Yarns.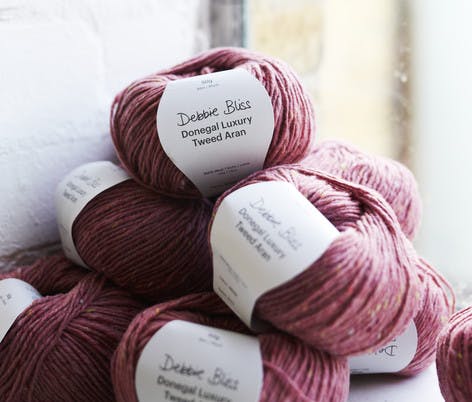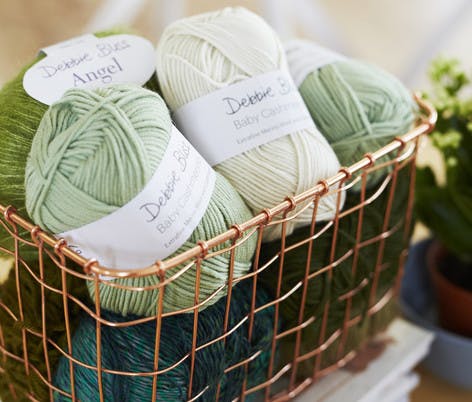 How hard was it building your business?
Building the brand was an incredible amount of teamwork and it was incredibly hard. There were enormous amounts of work. A lot of working through weekends, and lots of deadlines. There has been times where it felt like being on a hamster wheel. But the rewards have been enormous. Meeting the knitters and seeing the absolute pleasure they've got out of either knitting my designs or really enjoying my yarns ‒ it's been wonderful.
Have you always loved hand-knitting?
I'd knitted as a child, but not much. It was never really part of my life, like the way it is with some designers. It was the transition from machine knitting to hand knitting, which was when I fell in love with it. The idea that you are able to create the fabric and create the stitches, and put them together, I just find wonderful. I could take an Aran design and just play around with the shapes, the texture, the fabric. I find that incredibly exciting. That's when the enthusiasm for hand-knitting really began.
The idea that you are able to create the fabric and create the stitches, and put them together, I just find wonderful."
Before teaming with LoveCrafts, you worked with Designer Yarns for a long time. How did you feel when they went out of business?
It was a really worrying time for me and my family. The impact it had on us was, at times, incredibly overwhelming. When Designer Yarns became insolvent, even though I'd been worried for a long time, it was still a massive blow. Immediately after, there was concern about what would happen to the [Debbie Bliss] brand, what would happen to any income, and also concern knowing that it was going to have an impact on lots of other people as well. It was an incredibly worrying time, not knowing what was going to happen.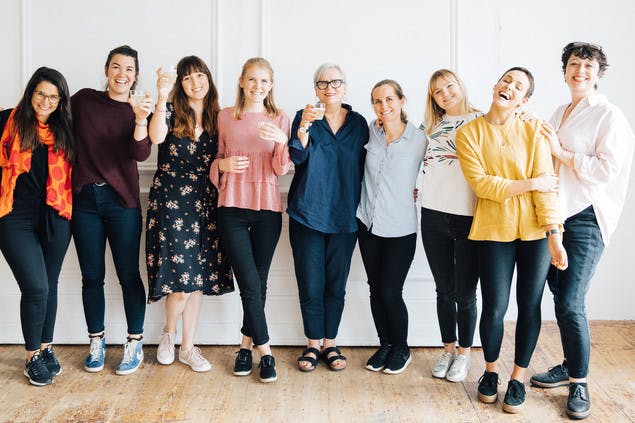 What do you love about the LoveCrafts brand?
One of the things I love about LoveCrafts is the way that they encourage young designers and also the way that they've enabled designers to sell their patterns through the LoveCrafts websites. Again, they encourage the thing that I love most about the knitting community which is coming together and sharing ideas, sharing projects. Then it becomes like a club, a wonderful club that you can feel a part of.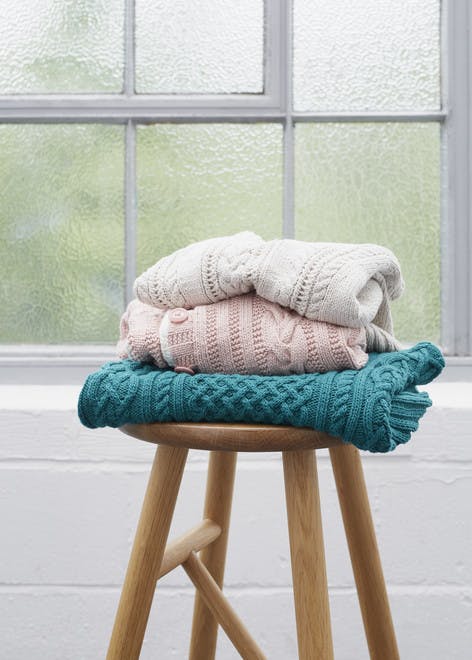 The thing that I love most about the knitting community is coming together and sharing ideas, sharing projects."
What exciting things can we see next from the Debbie Bliss brand?
My new yarn that is being launched late September is called Piper and I absolutely love it. It's a collection of 9 designs. As usual I want to have a variety of styles, but also a variety of technical expertise. I want to make sure there's something for knitters who want simple and basic, but also for knitters who want something more technically advanced as well.
When I work with the yarn, I like to think about how it makes me feel and for some reason I kind of slipped into this city feeling. I was thinking about when I was in New York last. There's something about seeing these lovely women walking around, going to work and wearing really simple outfits and just a pair of flat sandals and [they] just looking incredibly stylish but also very comfortable with themselves. So that was the inspiration behind it: slightly city slicker knits.  
What do you find exciting about modern knitwear design?
What I love with the new generation of knitwear designers, is that you can produce a collection or produce a design and get it straight out to the knitter. I think that's amazing. I think that makes people more creative because they're not worrying about what someone who is commissioning might be thinking. They're thinking this is my style and I want to offer that to the knitter. Selling patterns online has opened up a whole new world to the younger generation of designers.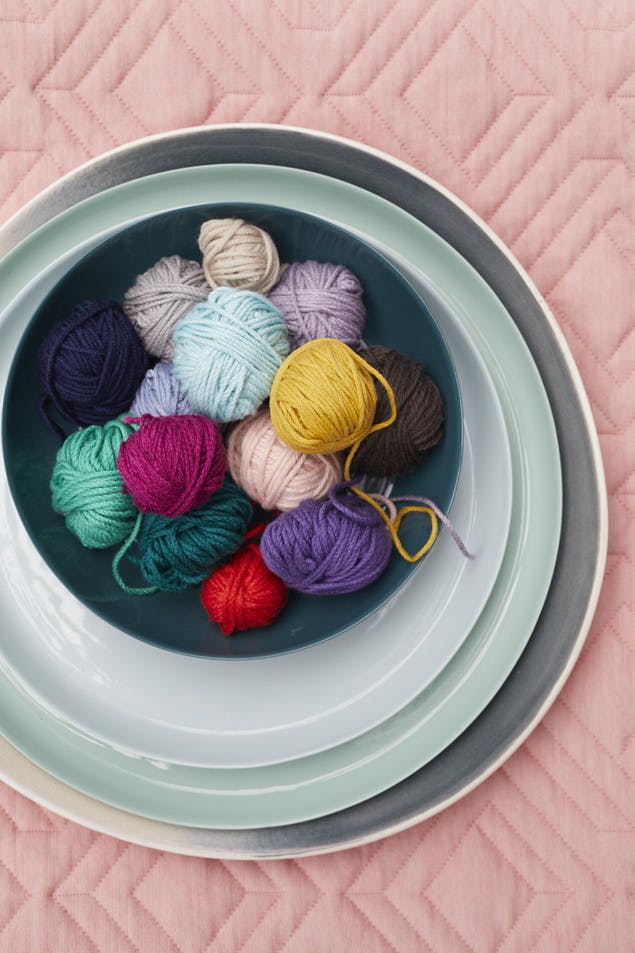 So that's Debbie in a nutshell - warm, chatty and delightful. While her journey to get here may have been challenging and hard at times, she has come through it with a smile on her face, ready to see what life throws at her next. We're so happy to welcome Debbie into the family  and we can't wait to continue creating new collections with her. Trust us, you're going to love what she has in store for you all next!