Picnic in style with this fun hotdog quilt pattern!
Published on

13 May 2021
3

min read
Greetings from New York City! It's Wendy of The Weekend Quilter here. Spring is in full bloom in the city and it feels great to be able to finally get out of the apartment and enjoy the outdoors without having to bundle up. To take advantage of the lovely weather we've been experiencing, we're heading to up to Amanda of Broadcloth Studio's, one of my quilty BFFs, neighbourhood for a picnic in the park with my recent make. It's so cute and yummy that you're going to start craving hot dogs…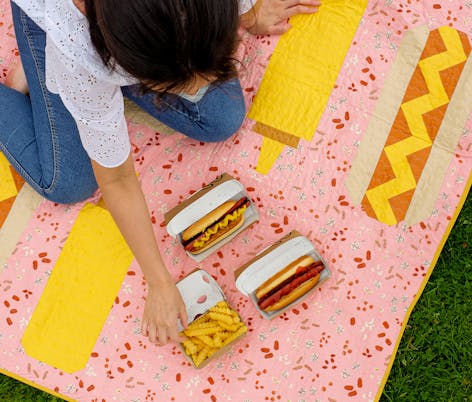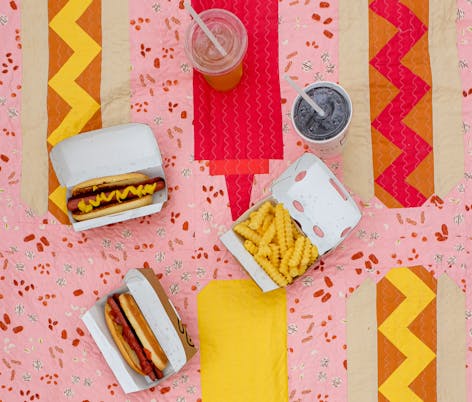 The design of my latest picnic quilt, Hot Dog Day, is inspired by our Shake Shack hot dog cravings. It's one of the things that bring us together and is the only food item we order when we go there. I guess that's one of the reasons why we're quilty BFFs after all. 
Fun fact: Shake Shack started its burger empire as a hot dog stand that only appeared in the summer in Madison Square Park, New York City. 
My Hot Dog Day quilt comes in one size, 66in x 66in (168cm x 168 cm) and is written for confident beginners. The pattern assumes you have basic skills and experience operating a sewing machine. If you are unfamiliar with basting, quilting and binding in the quilt making process (Quilt Assembly, Step 2 in Hot Dog Day Quilt Pattern), check out my quilt in a weekend project on the for tips and how-to on completing these steps. 
Materials
Basic sewing machine

Quilting rulers – preferably 6in x 24in and 16½in x 16½in

Wadding (also known as batting) – 74in x 74in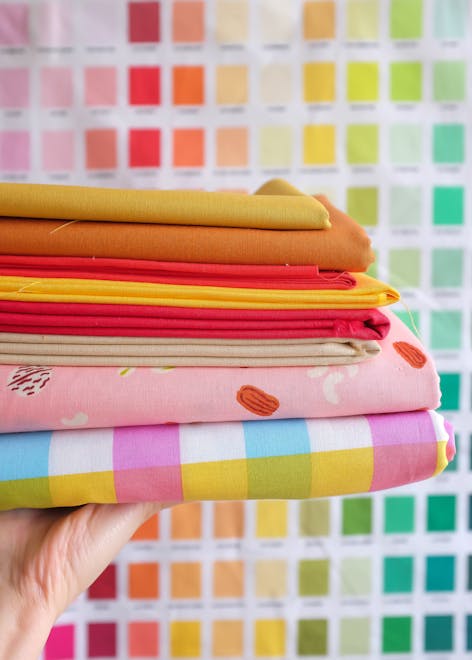 Fabric requirements
Use quilting cotton throughout the project. To replicate the hot dogs (Fabrics B to G), I suggest using Moda Bella Solids or Kona Cotton solids. Fabric quantities are based on 42in WOF (width of fabric).
Fabric A (background) – 2¾ yards (252 cm)
Fabric B (sausage) – ¾ yard (69 cm)
Fabric C (bun) – ¾ yard (69 cm)
Fabric D (ketchup bottle and ketchup) – ¾ yard (69 cm)
Fabric E (ketchup cap) – ⅛ yard (12 cm) or 1 FE*
Fabric F (mustard bottle and mustard) – ¾ yard (69 cm)
Fabric G (mustard cap) – ⅛ yard (12 cm) or 1 FE*
Backing fabric – 4¼ yards (389 cm)
Binding fabric – ¾ yard (69 cm)
* A fat eighth (FE) is an eighth of a yard of fabric that measures approximately 9in x 22in. It is made by cutting a quarter of a yard in half on the fold. 
Here is the perfect recipe for the perfect hot dogs and sauce, quilter's style...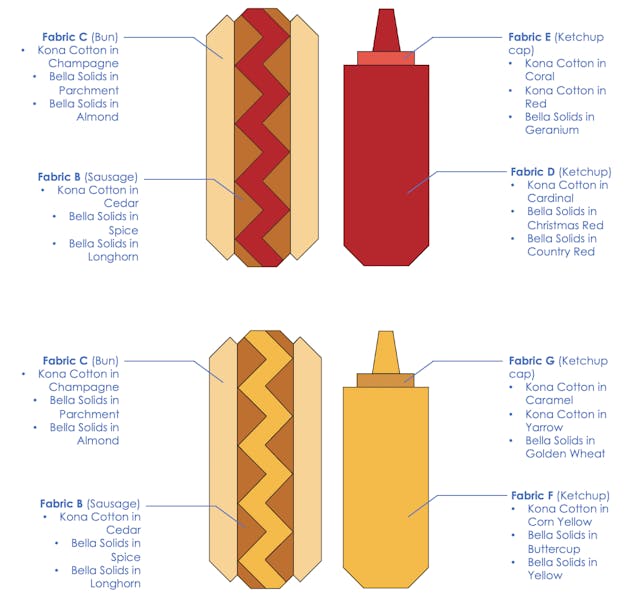 You can have a lot of fun with the background and backing fabric of this quilt. The possibilities are endless. Here are a few options to get you inspired...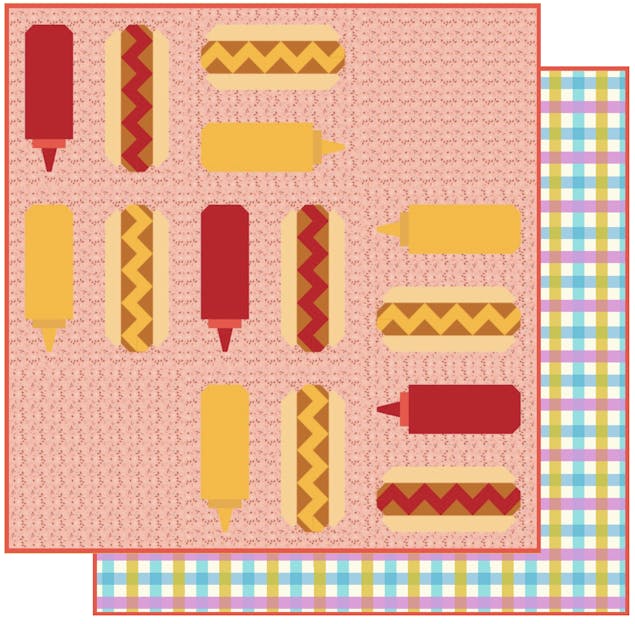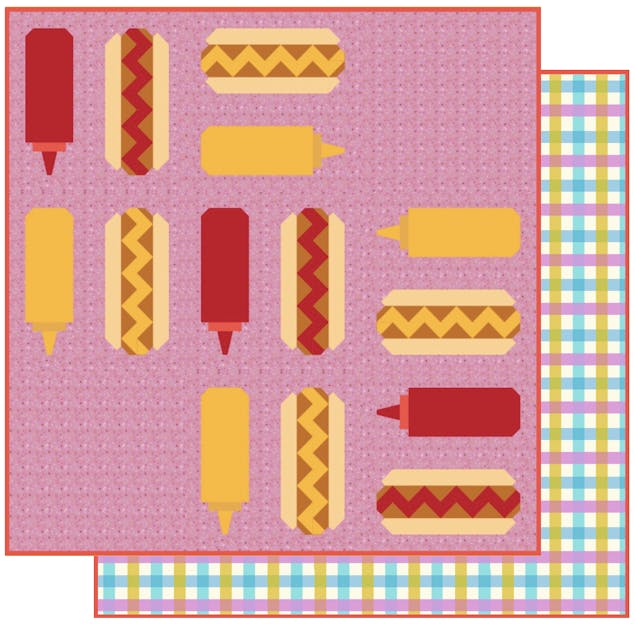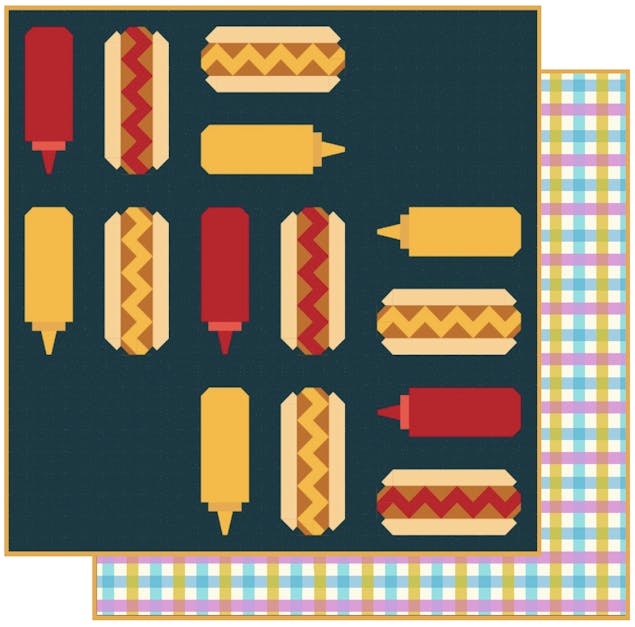 Sweet like mint chocolate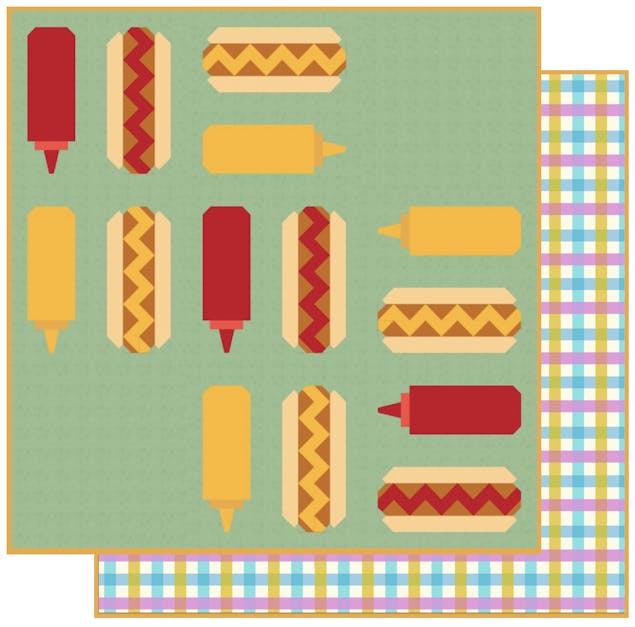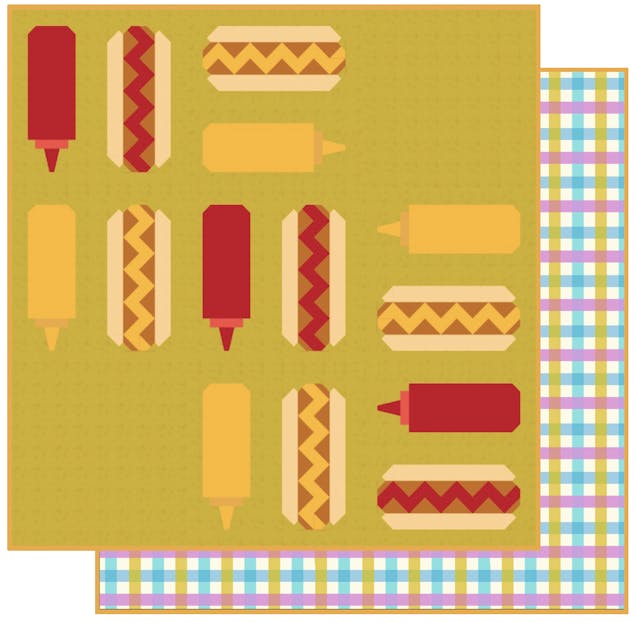 To finish up your quilt, you could send it to your local longarm quilter to quilt it up, or play around with the decorative stitching on your sewing machine. Kate Owen has a great cheat's guide for how to bind a quilt too! I did wavy lines on my Brother BQ950 machine to go with the squeezes of mustard and ketchup, and add texture to the overall look of the quilt. How yummy does that look?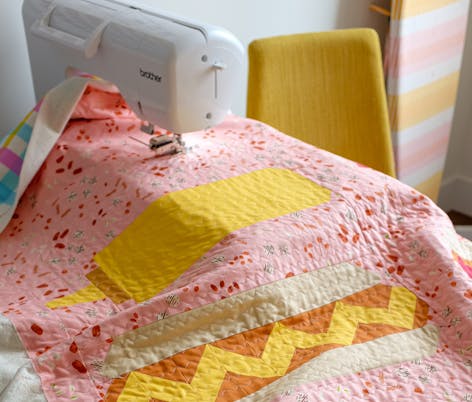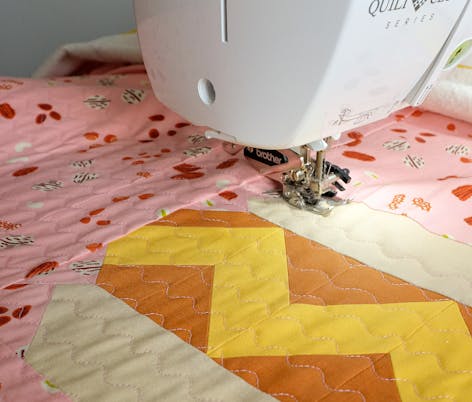 Wendy Chow is a Brother Sews Brand Ambassador.