DIY birthday party decorations 
Published on

23 March 2020
By

Holly Butteriss
4

min read
Nothing says you care like throwing a birthday party for a loved one, but why not take it to the next level by making handmade decorations? From paper flowers and party hats to tassel garlands and pom poms – we've got a whole host of brilliant ideas from around the web for you to try out at your next event! 
Make a brilliant birthday banner 
If you're thinking about DIY party decor, birthday banners are a great place to start! We can't get enough of this eye-catchingwood birthday banner design by Tell Love and Party. Take pre-cut wooden shapes and use paint, markers or spray paint to write a personal message for a quick, easy and super impressive party decoration!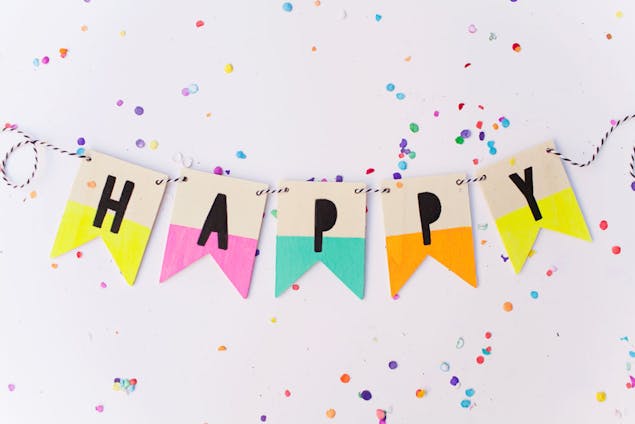 Craft the sweetest ice cream garland
What's a birthday party without ice cream!? Whether you're throwing a kids' birthday party or hosting a cute party for grown-ups, this mini honeycomb ice cream garland by Oh Happy Day is sure to be adored. It'd make the ideal adornment for a dessert table.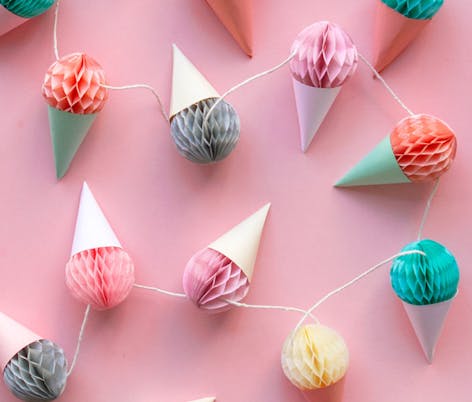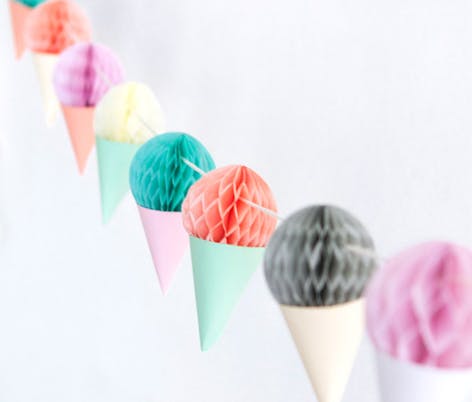 Fold fabulous paper fans
Add a pop of colour to any party with a rosette paper garland. Not only are they simple to make, they're also easy to adapt for any colour scheme or party theme with different coloured and patterned papers. We're picturing fun floral patterns for your sister's birthday and baby blue polka dots for baby showers. 
Follow the summer fan garland tutorial by Craftaholics Anonymous and get making. A word of warning: making these paper fans is addictive!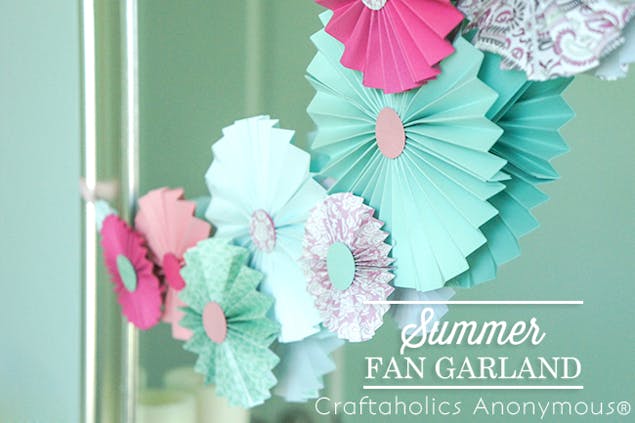 DIY tassel garland
Searching for a cost effective yet impressive birthday decor idea? This fab DIY tassel garland by Inspired by Charm ticks all the boxes! All you need is tissue paper, decorative tape, a piece of string and a pair of scissors to create one of these ever-popular garlands. It couldn't be easier!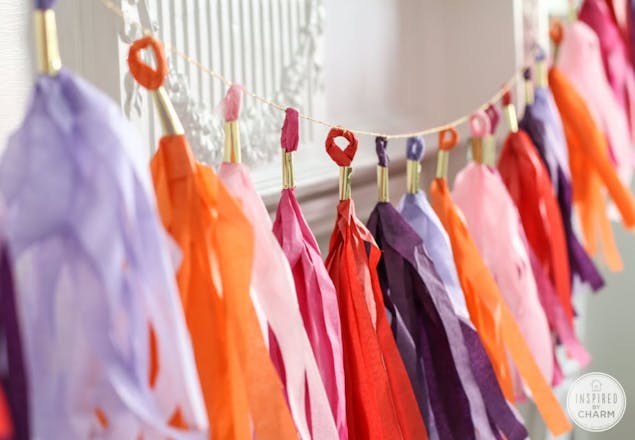 String up a perfect pom pom garland
A party wouldn't be complete without a few pom poms! Whether they're made from paper or yarn, they're a popular feature in party decor and we think they're here to stay! In this fab DIY party yarn pom pom tutorial by She Saved, you can learn all the techniques you need to make a mound of pom poms for your party. 
Easy peasy polka dot decoration 
If you're looking for super quick and easy party papercrafts to make with kids, this fun polka dot garland by Glorious Treats is an excellent choice! Challenge children to draw round cups, jars or cookie cutters to create the circle shapes, then all you need to do is cut them out! Older children can take on this task too. You could also use a die-cutter if you have one. Once you've got a handful of delightful dots ready to hang up, grab a length of ribbon or string and glue on the circles. 
This lovely little garland looks perfect strung up above a dessert table at a birthday party, but could equally make a great decoration for a baby shower.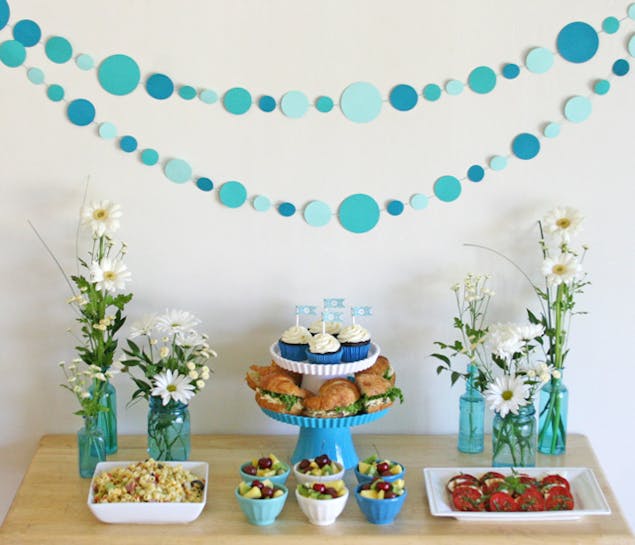 Take it back to the old school 
Paper chains might take you back to crafting at school, but they can brighten up any birthday party in an instant (and you can get the kids making them!). Made from strips of beautifully bright coloured paper gently bent into loops and glued together, paper chains are an ideal choice for last-minute parties. We can't get enough of the extravagant rainbow paper chain creation by Oh Happy Day.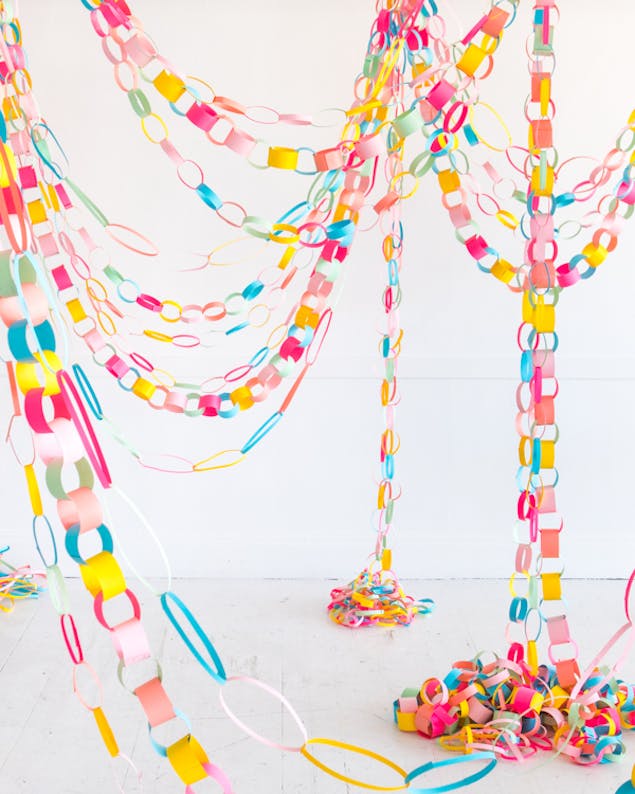 Create cookie cutter birthday candles
Throw tradition out the window and cut back on the number of candles on the birthday cake! With this super creative tutorial from Studio DIY, you can make custom birthday candles with cookie cutters. This makes the perfect cake topper project for kids' birthdays, whether little ones are into dinosaurs or mermaids! This idea would also work well with numbers or letters for a grown-up birthday party. The cookie cutter world is your oyster!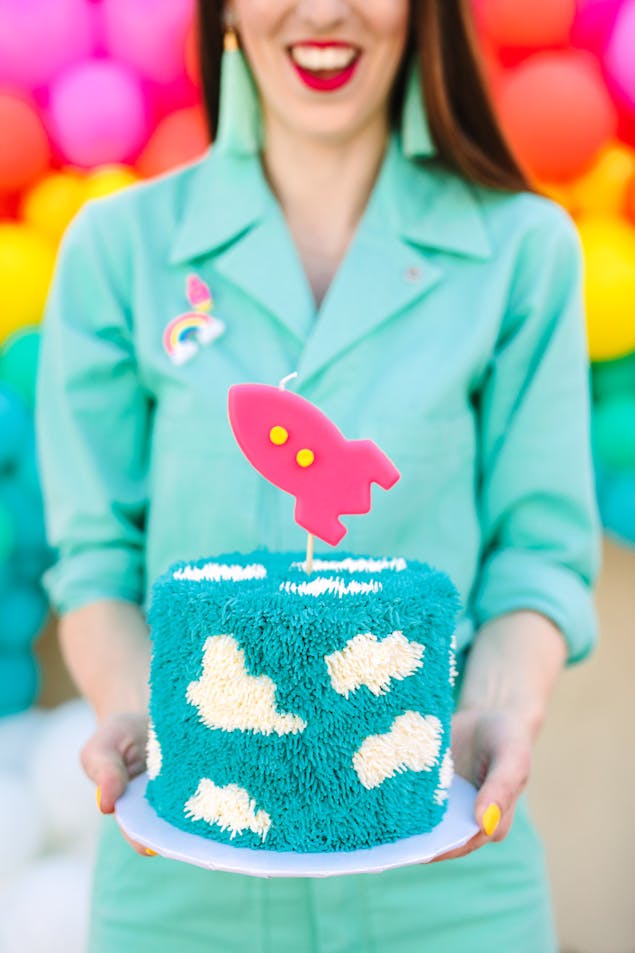 Feeling inspired? Papercraft your way to party success with the perfect DIY birthday party decorations!