8 cute embroidery patterns to make you smile
Published on

4 October 2021
By

Sarah J
2

min read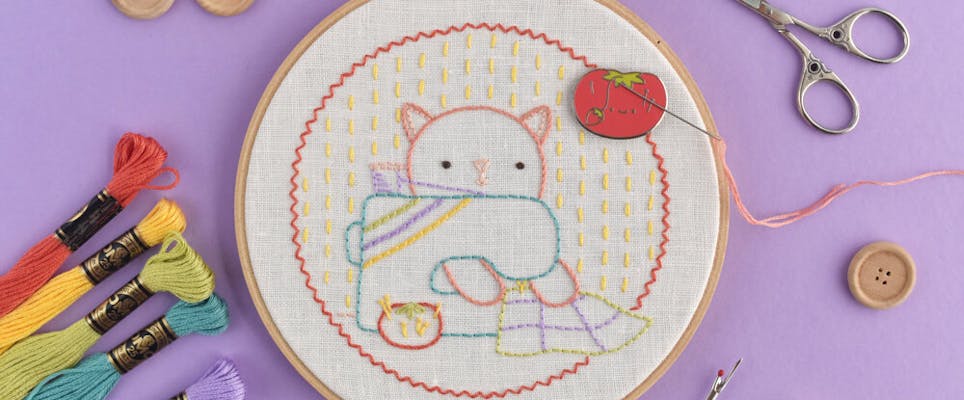 Stitch the sweetest designs with these cute embroidery patterns. Find adorable animals, as well as magical motifs to add to your clothes, totes and accessories. We've got designs from top brands and incredible indie designers, so grab your needle and thread and let's go!
2. The cutest crafty critters
Mollie Johanson aka Wild Olive brings you the cutest characters. For the makers in your life or even just for yourself, this incredibly cute and crafty critter will look lovely on the wall of any craft room.
3. Stitch with love
This joyful free pattern is a spring delight! Stitch onto totes and tees with DMC Perle cotton to add a fun 3D effect to your makes. Practice your letter embroidery with this lovable design using the satin stitch.
4. FREE choose happiness pattern
This free pattern is sure to brighten your day! Great for beginner embroiders to learn how to embroider letters, choose a rainbow of thread colours to stitch this fun design.
5. Hedgehog pattern from DMC
Embroider the happiest hedgehog with our free pattern. You'll use lots of delicate stitches to create this lovable creature so it may take some time, but it's so worth it!
6. Good things ahead
This pattern packs a bunch of happiness into its hopeful design! Pick the sunniest shades from your stash and stitch to garments and accessories, or secure in a hoop and give to a friend who would appreciate the words of encouragement! 
7. Sweet summer bouquet design
Celebrate the vibrant colours of summer with this pattern that's bursting with beautiful textures. Using 13 different stitch techniques, this fantastically floral design is for experienced stitchers and ambitious beginners to have a go!
8. FREE embroidery pattern for plant lovers
For the proud plant parents in your life, stitch this free monstera plant design. A simple, modern pattern that will look perfect hung in any home!
Explore more embroidery inspiration