7 infinity scarf knitting patterns - 2 FREE patterns!
Published on

3 June 2019
By

Merion
2

min read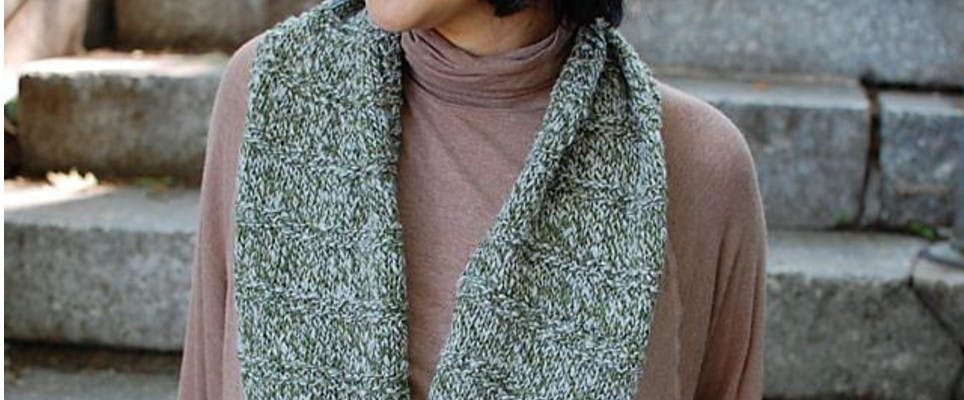 Simple or complex, the infinity scarf is forever popular thanks to its wonderful versatility. We've found you 7 of the best infinity scarf knitting patterns, including 2 FREE patterns!
1. FREE Brioche Infinity Scarf knitting pattern by Unneva
Knitting brioche stitch requires some concentration when you start, but once you've got the hang of it, you will fall in love! It produces the squishiest, squashiest knitted fabric, perfect for a scarf that will keep you cosy and warm when the weather starts to cool. We love this perfect peach shade, but this lovely scarf would look amazing in any and every colour!
2. FREE Natica Cowl knitting pattern by The Colourful Knit
Knitted in the round using 4 ply yarn, the Natica Cowl is a gorgeous beginner knitting pattern to add to your WIPs.
3. Ophelia Infinity Scarf knitting pattern by Anniken Allis
With over 90 patterns on her LoveKnitting designer profile, Anniken Allis is back with a delicate lace infinity scarf. The Ophelia is an advanced knitting pattern that is perfect knitted up in any of the vibrant colours of SweetGeorgia Merino Silk Lace.
4. Emerald Infinity Scarf knitting pattern by Andrea Rangel
This knit scarf by Andrea Rangel is worked from one end to the other, and then easily stitched together using kitchener stitch! A simple and lovely lace knit that can be made in your favourite worsted weight yarn.
5. Tommy Infinity Scarf knitting pattern by Nancy Ricci
Nancy Ricci has a lovely beginner's infinity scarf pattern for you to try out! Worked flat and seamed at the ends, this pattern is wonderful for beginners looking to add a new piece to their homemade wardrobe. Knit this infinity scarf in a worsted weight yarn that you can't get enough of!
6. Picot Infinity Scarf by Emily J Designs
A perfect example of how to use gloriously beautiful yarn with a simple, stylish design. You need just one skein of Dream in Color Classy, a deliciously soft 100% merino wool yarn in 25 lovely shades. This is a perfect project for a beginner!
7. Rustic Infinity Scarf knitting pattern by Gabrielle Vézina
A classic chunky knit infinity scarf is an essential cold weather accessory. The Rustic Infinity Scarf can be knitted up in any chunky yarn that you love. We love Madelinetosh Tosh Chunky and Malabrigo Mecha because they're both oh-so soft!