The LoveCrafts Show episode 16: Living a colorful life with Katie Jones
Published on

August 12, 2020
2

min read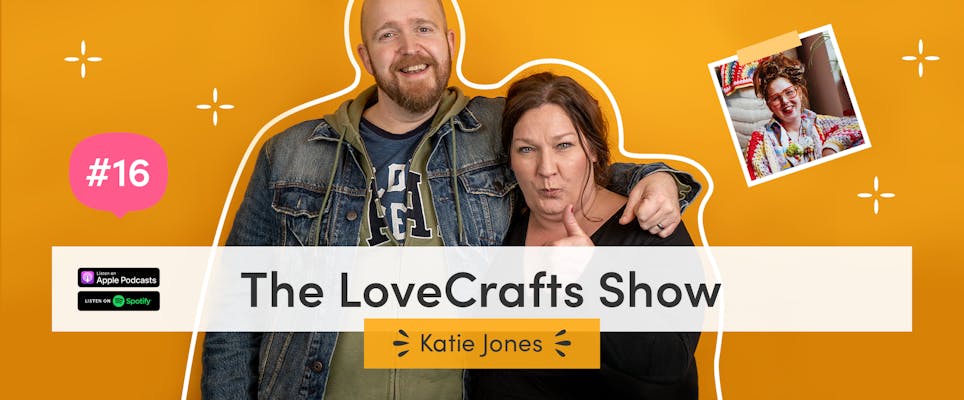 Join Jamie and Merion on The LoveCrafts Show along with an extra special guest, Katie Jones!
You can listen to The LoveCrafts Show episode 15 on Spotify, Google Podcasts and Apple Podcasts.
This episode of The LoveCrafts Show is packed full of fun! Jamie and Merion are joined by Katie Jones, the queen of color herself, to chat about living a colorful life, poodle wine bottle covers, how Katie made designing work with her dyslexia, the iconic boy band BUSTED, and just a little bit of crochet chat too!
Tips, tricks, advice and a fair amount of silliness, this is The LoveCrafts Show!
Don't forget to send us lots of lovely messages, responses and questions to show@lovecrafts.com or you can send us a voice message!
Lots of lovely things we mentioned and extra nuggets!
Meet the technicolor temptress herself! Katie Jones on Instagram and her website. (0:55)
Loving the lockdown life? Check out our guide to hunkering down if you're looking for new projects. (1:45)
Baffled by amigurumi too? Discover the our guide so you can hop on the amigurumi trend! (4:07)
Make like Katie's granny and shop Merion's fave pink and red yarns! (5:30)
Start your own making journey and check out our guide to crafting. (15:30)
Teach yourself intarsia and crochet your own skinny Elvis jumper. (17:05)
Still not sure whether you're a knitter or a crocheter? Find out the difference in this guide.  (17:40)
Check out 'Who Gives a Crap' sustainable toilet roll! (22:25)
Discover Katie Jones on LoveCrafts including the Frida Kahlo collection! (32:59)
Test your color combination skills with these stash busting projects. (35:11)
Pom Pom crazy? Check out this tutorial. (46:33)
Join The LoveCrafts Festival! Sign up so you don't miss any of the amazing events and you'll get 5 free patterns! (53:50)
Discover how to live a more colorful life like Katie. (54:26)