Find the best yarn for the snuggliest blankets
Published on

August 9, 2023
4

min read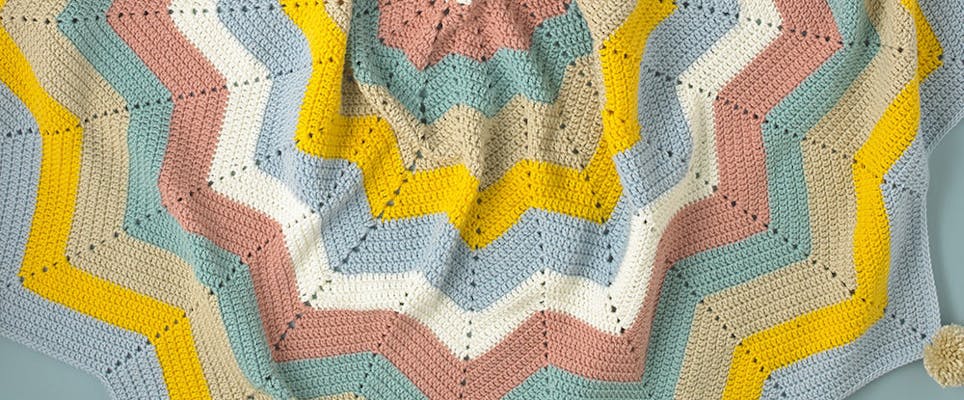 Knitted or crochet blankets are the type of project that lasts a lifetime - a cozy essential that's sturdy enough for all the snuggles! When it comes to blankets, there's no wrong answer when it comes to choosing the right yarn. But, with so many options, this guide will talk you through some of the best! Whether you're a beginner looking for a simple stitch project or a seasoned crafter looking for a longtime project, read on to read our tips and tricks to finding the perfect yarn for your next blanket.
Choosing your yarn weight: finding the perfect thickness
Yarn weight refers to the thickness of the yarn strand, which plays a significant role in determining the final feel and appearance of your crocheted or knitted blanket. Each yarn weight has distinct thickness and characteristics. When selecting the best yarn for your blanket, consider the following weights:
Lace
Lace yarn is perfect for creating stunning and intricate crochet and knit blanket projects. It's the thinnest and lightest category of yarn, making it ideal for delicate designs. While it may not be the go-to choice for a warm and cozy blanket, it's a great option for creating a lightweight and breathable blanket that's perfect for snuggling up during warmer months.
Fingering, sock, sport & DK
When it comes to crocheting or knitting a cozy blanket, these four yarn weights are perfect. Each weight offers its own unique characteristics, from thin (fingering) weights for delicate detail to medium thickness (DK) for warmth.
Bulky & super bulky
Bulky and super bulky yarns are excellent choices for crocheting and knitting blankets as they create a cozy and warm texture, but are much quicker to work up! These yarns are thicker and heavier than other yarns, making them ideal for projects that require a lot of coverage. They provide a unique texture and are great for when you want a bold statement piece!
Yarn fiber: choose the right material for your blanket
Now it's time to pick your fiber! With so many options to choose from, it's easy to get overwhelmed so we've collated our top picks for you to explore.
Acrylic
Acrylic yarn is versatile, affordable, and available in a wide range of colors. It is an excellent choice for crochet blankets as it is soft, lightweight, and easy to care for.
Cotton
Cotton yarn is soft, breathable, and perfect for lightweight knitted blankets suitable for spring and summer months. It also works well for baby blankets, as it is gentle on sensitive skin.
Wool
Wool yarn is known for its warmth and softness. The natural crimp in the wool fibers allows them to trap air, which creates pockets of warmth. This makes wool yarn an excellent choice for knitting or crocheting winter blankets, as it provides exceptional warmth and insulation.
Find the perfect pattern!
Now you've chosen your yarn, it's time to pick a pattern! We have a great range of knitting and crochet blanket patterns on LoveCrafts for you to explore. From cute baby blankets to super cozy winter afghans, you're sure to find the perfect pattern for any occasion.
Blanket knitting patterns
Take a look through 100s of free knitted blanket patterns to find the perfect project for you. We have chunky blanket patterns for colder days, or sweet baby blanket patterns to celebrate the birth of a loved one.
Armed with this comprehensive guide, you're now prepared to select the best yarn for your crochet blanket project. With a bit of research and experimentation, you'll discover the perfect yarn to create a beautiful, cozy, and durable crochet blanket that you and your loved ones will cherish for years to come. Embrace your creativity, gather your supplies, and get started on your next masterpiece!