Meet the makers behind Sabbara Charity
Published on

June 7, 2021
4

min read
Sabbara is a charity and social enterprise dedicated to supporting the most vulnerable Syrian women facing extreme poverty. Not only does Sabbara empower Syrian women through drama therapy, women's rights workshops and training and skills development; they also create employment through knitting clubs and the sales of embroidered makes. Here Itab Azzam, Co founder and Director, shares her story.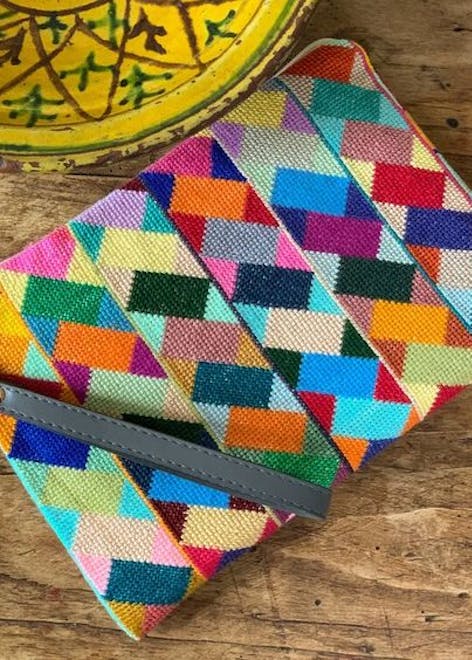 We don't want charity, we want to work.
"We don't want charity, we want to work". It was 2011, and families had started arriving in my area of Syria displaced by fighting in other parts of the country. My sister-in-law was working on the front line, gathering and giving out blankets and food. But when one woman said these words to her, she and I knew we had to do more.
We started training women in traditional Syrian embroidery, as well as knitting and crochet, and selling the incredible pieces that they made such as cushions, bags and shawls. We called our social enterprise Sabbara, which is the Arabic word for cactus; but also in slang means a strong, resilient woman. That was 10 years ago. We never thought that we would still be needed now – but we are needed more than ever. 
Fast-forward to 2021 and we are now supporting more than 50 displaced Syrian women and their families through our knitting and embroidery clubs. Making just four Sabbara cushions a month enables a refugee woman to pay for rent, food and schooling for her children. And the quality and design are stunning - drawing on traditional Syrian patterns with a modern twist for a truly beautiful result.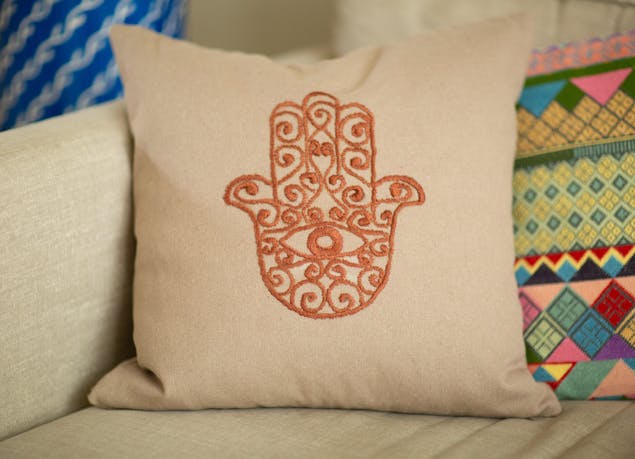 But our impact goes way beyond the economic. The women that we work with have all lost their homes in the war; many have lost loved ones to violence; all have known great fear and sadness. Through our knitting clubs, these uprooted women can talk and share and form new supportive friendships, while focusing on one stitch at a time in a meditative process through which trauma can be expressed as creativity.
In the words of one of our artisans, Nariman: "This work got me out of a crisis psychologically and financially. I love the work and enjoy being creative. I love the friends I made through the knitting club. Every week I count the days till the next one."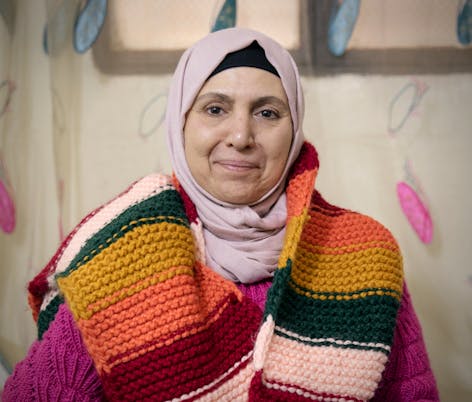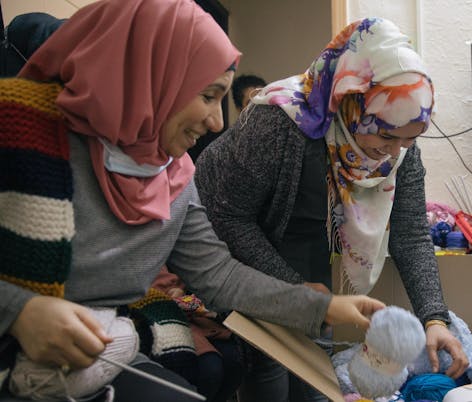 LoveCrafts very generously donated us a lot of yarn earlier this year. The women were so happy when they unpacked the boxes - we really felt the love. Our knitting clubs have used the wool to make warm woolly shawls and delicate crochet scarves (some of which are on sale via our website), as well as blankets and warm clothes for the refugee community - it gets very cold in winter and many people have to face the snow in tents. 
Covid has only made the situation worse for displaced Syrian families. Lockdowns have increased unemployment, while hyperinflation has made the cost of basic foods over 400% higher than a year ago. This has been a real challenge for us to continue to support our families while our own costs have gone up. But we know that they are relying on us, so we refuse to give up.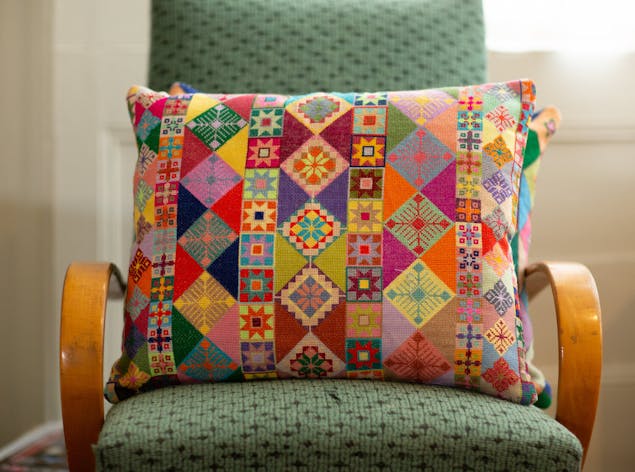 How can LoveCrafts makers support Sabbara?
There are three ways that LoveCrafts makers can support Sabbara's refugee women and their families. Firstly, consider Sabbara cushions, bags and shawls for yourself or for meaningful gifts – they are presents that really give twice. You can also donate or sponsor an artisan – we're a tiny organisation where every penny goes where it's most needed.
Finally, please spread the word – follow us on Instagram, share our story on social and don't forget to tell your friends and family. It's easy to feel powerless against the scale of the disaster that is the Syrian conflict, but these things really make a difference.
Discover more ways you can support charities with crafts