Explore the world with a crochet atlas!
Published on

November 16, 2020
3

min read
Maria has combined her passion for geography with her love for crochet, uniting the two in the form of designing crochet maps! She uses the name Pukapuka on her patterns, the name of an atoll in the French Polynesia is synonymous with travel and adventure; perfect for a crocheting geographer! Here she tells us how she came up with and designed her incredible crochet atlas, and how she uses it with her children to teach them about the world.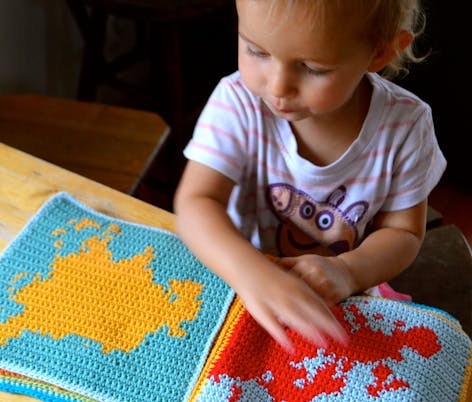 I am a crocheting geographer, which means I design crochet maps. I am also a mother and I know that children are willing to learn and that maps are an amazing tool to learn about the world. However, when children are small they tend to destroy delicate things, tear up books, you know what I mean. I wouldn't want to give them my beautiful big atlases with detailed maps!
But I do love maps, and our home is full of them. I've framed some of the maps of distant places from my grandfather's collection; he's travelled the world as an electrician on the ships, so they decorate our walls. But since I got the idea of crocheting maps, we also have maps on cushions, blankets and wall hangings.
On Instagram I spotted a pretty crochet quiet book with pictures of animals, I really liked the idea and I know that most children love books! They like to 'read' them by themselves, slowly turning pages and talking to them, or sitting on their parents' or grandparents' lap and discussing the pictures inside together. So how about a quiet book with maps? A crochet world atlas for children? Who can do it if not me?
It couldn't be very complicated and have too many pages. I decided to include continents: Africa, Europe, Asia, North and South Americas, Australia and Antarctica, and then there would be Western and Eastern hemispheres for the covers.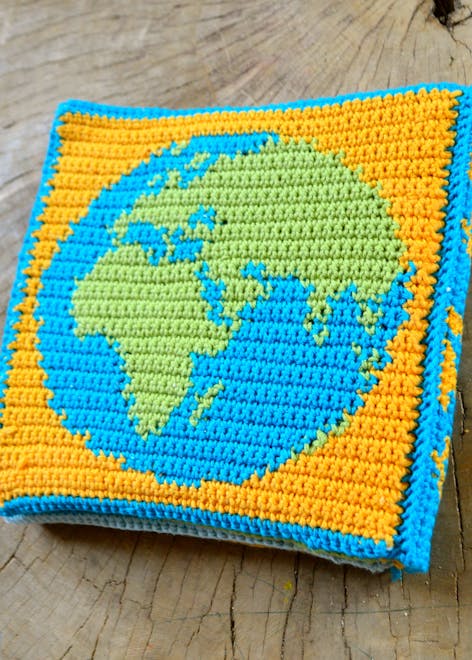 I am a crocheting geographer, which means I design crochet maps. I am also a mother and I know that children are willing to learn and that maps are an amazing tool to learn about the world.
I knew already how to design crochet maps, that's color-work with single crochet stitches throughout. One question that I had in mind was, how do I join the pages? It contained 10 square pages altogether, so it was quite thick. I thought about this technique used in thick paper books; after joining pages in pairs, I joined each pair to the inner binding, then added a decorative spine that encompasses the atlas. And that was it! That's the crochet World Atlas, that a child can't tear up, it is soft and safe, it is made of cotton - you can wash it easily when dirty.
At first I wanted to include New Zealand on the page together with Australia (I know New Zealanders are often unhappy that their beautiful country is too often excluded from the maps), but the pages are just too small and it wouldn't show the proper shape of the islands. However, it was my children who told me themselves that the blank page in my atlas, which follows the cover and I made it blue, represents the whole Oceania, which is an immense ocean area with thousands of islands. When I heard that, I knew that the educational idea of the atlas actually worked!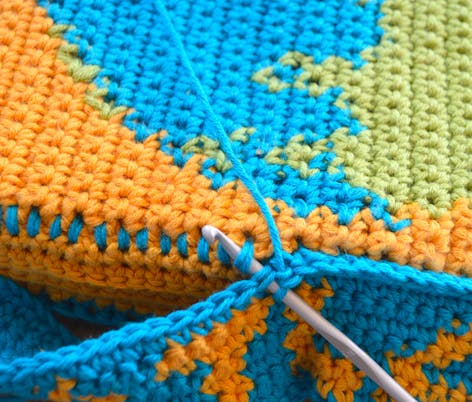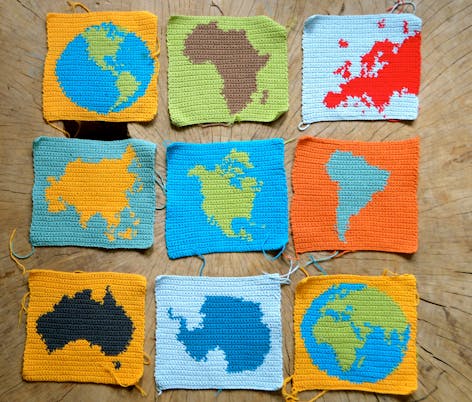 Using the atlas the little ones can learn the shapes of continents early! You can tell them stories connected with each place, name the most distinct peninsulas or bays, use toy animals characteristic for different continents and play, putting each of them on the right map… Older children can try with more detailed geographical names written on a piece of paper, the rule is to put each name in the right place on a map. Or at least, choose which continent that name belongs to. There is a multitude of possibilities playing with maps!
Grab the pattern collection and discover the world!