"My tiny, terrifying grandma taught me to knit" by Alice Neal
Published on

May 5, 2020
By

Merion
4

min read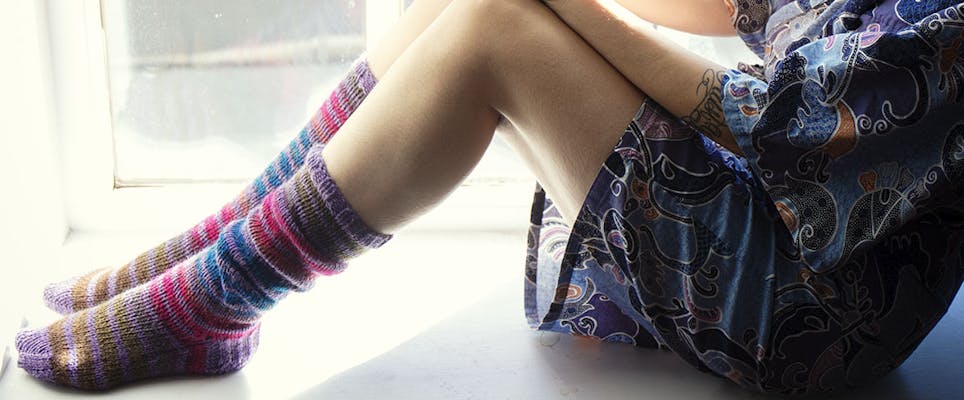 Meet Alice Neal, knitting and crochet designer based in the north of England with her family, dogs and chickens. In a house bursting to the seams with fun, laughter, baking and busyness, Alice manages to find time to design and knit fabulous patterns that feature her favourite techniques. Here's the story of why Alice makes...
Beginner.
I wasn't considered creative as a child. I come from a large family, and my sisters were the arty ones. Me, I was good at languages. And for a long time, I didn't question that. What I have since come to realise, though, is that creativity isn't limited within any family or group. There isn't just one maths genius, one artist, one scientist, one musician… Anyone with a bit of determination can find something creative they enjoy. And they might even turn out to be rather good at it.
When I was about 10, my tiny, terrifying Grandma (she could command a room with a word) taught me how to knit. She took me to a little wool shop around the corner from her house, where we chose a pattern, some hideous, fluffy, electric blue wool, and some needles, and she made me swear, swear that I would finish it.
I didn't.
But I did knit a lovely big square, which I discovered at the bottom of a chest of drawers many years later, my beloved Grandma long gone, and a big pang of guilt for that broken promise remaining.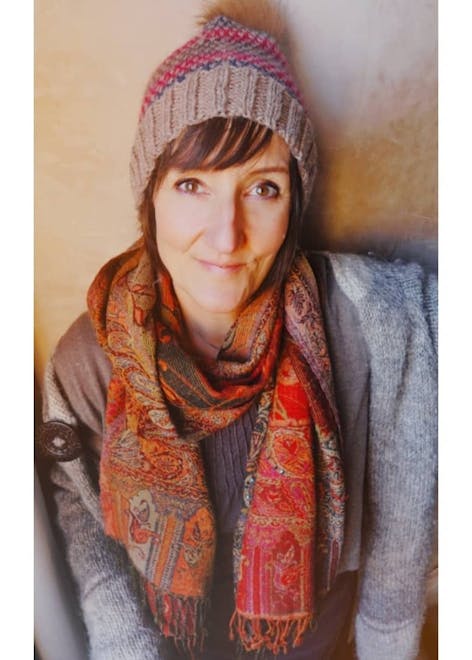 Intermediate.
Fast forward some decades to the imminent arrival of my fifth son, and a mother-in-law who is extremely accomplished with yarn and needles, and a tea cosy was born.
And that was it!
It occurred to me that a tea cosy without holes is a hat (yes, I am a genius), and pretty soon all five sons were sporting acorns atop their mops. Those were the days they let me get away with such things.
And I haven't really looked back.
I did follow a few patterns early on, to get the general idea and a feel for the construction of things, but since then my main motivation has been to knit things I want to wear.
And a little more advanced.
At home, in the North East of England, my husband and I live with five sons who are, as sadly they inevitably must, growing older and beginning to drift off into their adult lives, but they are still mostly at home. We live with Aphrodite the Chocolate Labrador, Juno the Jack Russell, and Hestia, Minerva, Hekate and Persephone the hens. Life is very full and boredom a bit of an alien concept. As life progresses I find I need more time each day to unclutter my mind.
As part of our family life at the moment, with seven people under one roof, the family business to keep going and lots of mouths to feed, there is always some beautiful scent or other wafting through the house, from soap making or beard oil mixing to bread-baking, and the two things that rescue my sanity from the endless busyness are communing with the chickens and finding as quiet a spot as I can manage to knit. I did, in a display of extreme optimism, attempt to combine the two, but the yarn, stitch markers and constant movement proved far too interesting to the ladies, and the subsequent perching on my knees and shoulders put paid to my efforts almost immediately.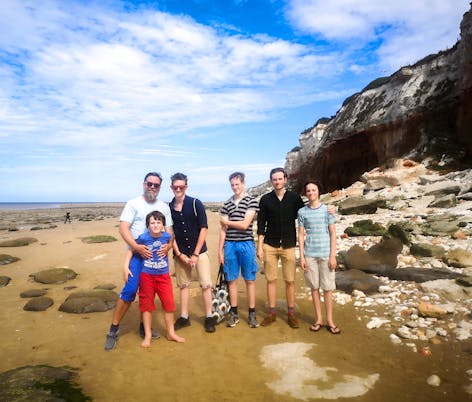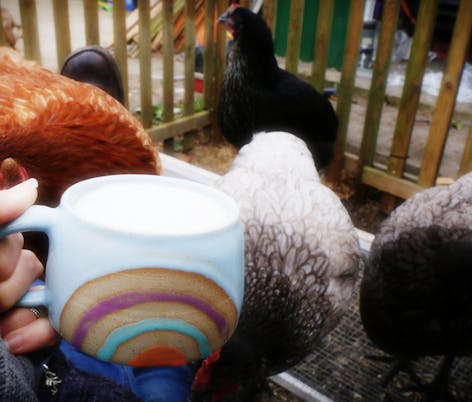 These days, knitting has become an essential part of my daily life. It is as important to my mental equilibrium as eating and drinking are to my physical wellbeing."
I like to design simply, with a fledgling fibre-artist in mind, to create patterns that are easily and readily accessible. One of my favourite techniques is colour-work and I find that I have progressed in recent years from muted grey-scales to bolder colours, spurred on by the delightful yarns that are available these days, with graded colours, self-stripes, speckles and surprises galore. And above all, I love working with natural fibres. With daily walks along the river at the bottom of our village, observing the changing seasons and abundant flora, I usually come home with an idea blossoming. Inspiration, I find, is everywhere.