Be inspired by 16th century style with the new Willow & Lark Chintz collection
Published on

2 April 2021
2

min read
Puffed sleeves, ruffles and elegant detailing; the latest Willow & Lark collection, Chintz, takes its inspiration from 16th Century fashion. Discover four new knitting patterns, each a sophisticated and timeless addition to your wardrobe.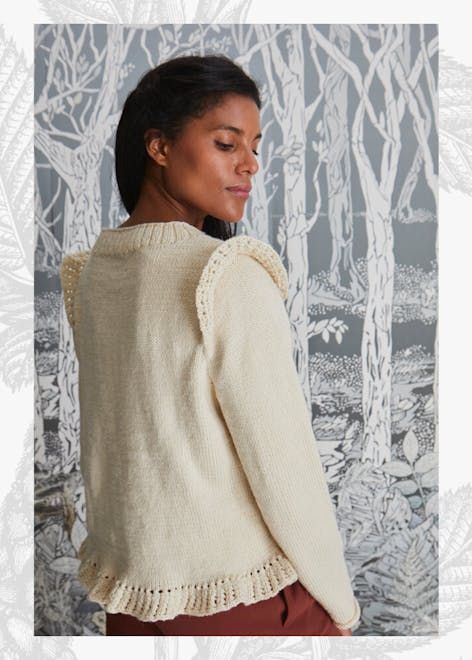 The Chintz collection is made up of beautiful, neatly-fitted jumpers; perfect in contrast with the voluminous skirts popular in the 16th century. With delicate detailing and a feminine finish, these jumpers are sure to make a timeless addition to your wardrobe.
The garments use Willow & Lark Poetry and Willow & Lark Ramble. Poetry is a super soft DK with merino wool and camel, deliciously warm for blustery winds. Ramble is a splendid wool, which comes in a rainbow of weather-beaten colours.
If you're wondering how you can get the 16th-century look with the new patterns, we've got your back! We've paired the four stunning new patterns with more modern pieces for a vintage wardrobe revamp you'll love.
Florence Frill Short Sleeve Jumper
This is the perfect sleeve length to see you through changing seasons. Knit with a pretty border pattern for the hem and sleeve bands, and seed stitch panels for the body, it's a gorgeous garment to practice stitch detailing, and a sweater you'll treasure.
Sewing patterns to pair Florence with
Megan Boat Neck Jumper
Willow & Lark Poetry is a warming blend of merino wool and camel, and creates a beautiful drape in this chevron stitch garment. We just love this classic boat neck shape too!
Sewing patterns to pair Megan with
Henrietta Frill Jumper
Sweet shoulder frills and lace hem detail make this such a cute and sassy knit! Because it's knitted in pieces and seamed, it makes a great first sweater too.
Sewing patterns to pair Henrietta with
Rosie Fitted Roll Neck
Ramble and Poetry yarns combine, in this sweet roll neck jumper. A simple combination of knits and purls creates the lower half pattern that ends up looking so complicated, but it's easy to knit! Which colours will you choose?
Patterns to pair Rosie with
Shop the yarns for the Chintz collection