The LoveCrafts Show episode 17: "Art is truth" with Ciara LeRoy
Published on

26 August 2020
2

min read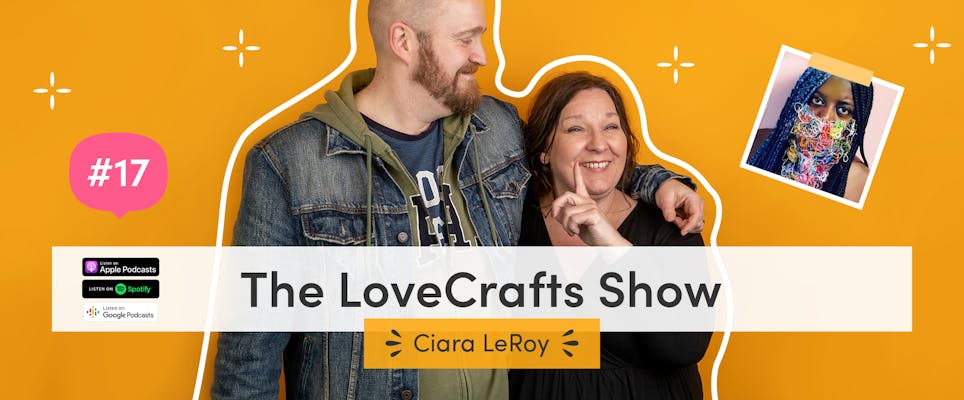 Join Jamie and Merion on The LoveCrafts Show along with an extra special guest, Ciara LeRoy
You can listen to The LoveCrafts Show episode 17 on Spotify, Google Podcasts and Apple Podcasts.
On this episode of The LoveCrafts Show, Jamie and Merion are joined by Ciara LeRoy. This talented typographer and embroider knows her way around a good cookie recipe, but it's her incredible stitching talent we're head over heels for. Find out more about the incredible work Ciara is doing to support her fellow Black makers, what she has in store for the future - and strangely a detailed discussion about crisps!
Tips, tricks, advice and a fair amount of silliness, this is The LoveCrafts Show!
Don't forget to send us lots of lovely messages, responses and questions to show@lovecrafts.com or you can send us a voice message!
Lots of lovely things we mentioned and extra nuggets!
Meet Ciara! You can find her as prettystrangedesign on Instagram. (1:00)
Check out Ciara's cookie recipe on her blog! (1:40)
Foster your own creativity and try something new. (9:24)
Learn how to embroider or level up your skills with this stitch guide (12:10)
Learn how to embroider on to a t-shirt or make a patch to stitch onto a jacket to give your old clothes a bit of love. (17:25)
Crochet a blanket with loved ones for a memory that will last a lifetime (23:52)
Experiment with punch needle embroidery too! (25:16)
Follow Ciara on Instagram to keep up to date with mural updates! (45:13)
Lockdown travel restrictions got you down? Try stitching a city break instead! (50:19)