10 of the cutest patterns you ever did see - 5 FREE patterns
Published on

29 October 2019
By

Sarah
3

min read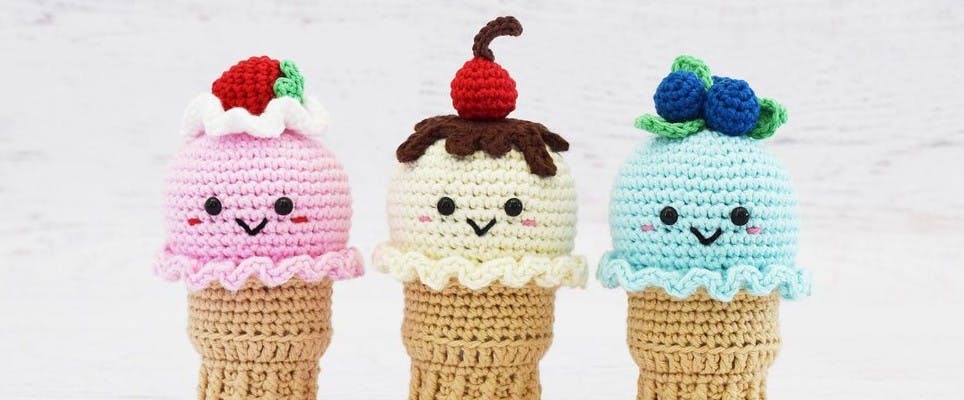 Prepare yourself for cuteness overload! Here we have some of the sweetest, most adorable patterns to make you go "awww". All you knitters, crocheters and stitchers will fall in love with these great designs! 
1. Free knitted teddy bear pattern
This adorable pattern from Jem Weston takes you back to the knitting basics and creates a beautiful teddy bear that little ones will cuddle to their heart's content. Grab the additional cardigan and jumper designs to make this teddy even more adorable (if that's at all possible!).
 2. Free amigurumi play cats pattern
If you're thinking cute, amigurumi is the way to go. Little Bear Crochets has so many delightful designs to explore. You won't be able to resist this adorable pattern – a small design bursting with cuteness. 
3. Cuddly crochet designs from Irene Strange
Little Penguin Pip is just one of the soft and cuddly members of Irene Strange's family of lovable animal creations. They are so unique and, of course, so adorable!
4. Little mice baby booties knitting pattern
5. Free DMC lucky maneki neko cat embroidery pattern
6. Free "love" DMC cross stitch pattern 
If needlecraft is your jam, why not try this gorgeous cross-stitch design? This is such a lovable project featuring a fabulous floral pattern complete with dainty little hearts.
7. Free Bernat baby cocoon knitting pattern
Is your heart melting? Bernat has some fabulous baby patterns and this baby cocoon is one of those cuties that we just had to include! Grab some Bernat Pipsqueak baby yarn – the perfect soft yarn for this pattern which comes in a great selection of lovely shades.
8. Betsymakes snow dipped slouchie hat crochet pattern
This is just one-third of Betsymakes' three-piece hat, gloves and scarf set in this charming snow-dipped design. Who said you can't look stylish wrapped up warm for winter?
9. Moon & star crochet pillows
These gorgeous galactic cushions from Annemarie Benthem make an ideal addition to kids bedrooms. This simple design is exactly what you want from a beginner's project, so, grab some Paintbox yarns and switch up the colours to make it your own!
10. A Fortune cookie crochet keychain 
Want to make something extra cute? Make it mini! Want to make it even cuter? Put it on a keychain! This is exactly what Yarn Blossom Boutique have done with these adorable and dainty keychain projects.
The cuteness continues with some fabulous community projects and collections