The Great British Sewing Bee is back! Sew along with the show and discover new patterns and sewing inspiration every week
Published on

16 June 2022
4

min read
The Great British Sewing Bee is back for an eighth season! Get ready to watch textiles transform into eye-popping sewing garments as a whole new hive of brilliant contestants take on fresh challenges and thrilling themes - we can't wait! Want to join in on the sewing fun? Get your foot pedals ready to join us each week as we share inspiration and patterns to create your own versions of the GBSB challenges!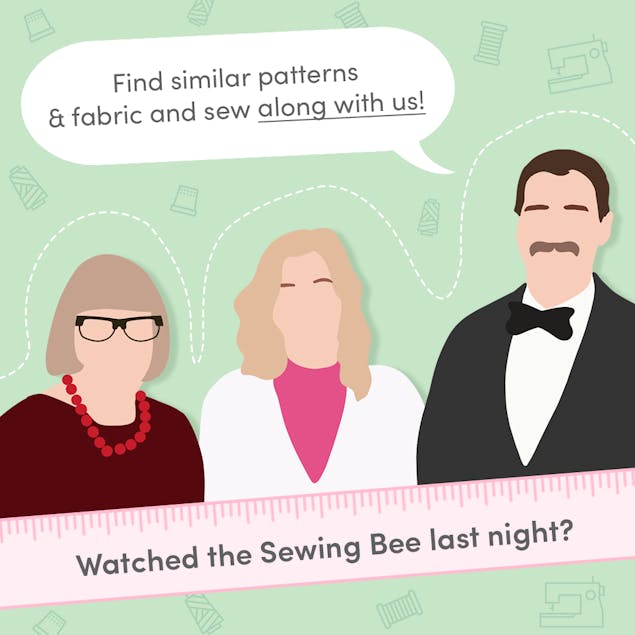 Week 8
It's the quarter final and the bees headed back in time to the 1930's! With the fashion of the time having a profound influence on films in Hollywood, a decade of elegance and glamour, this was one exciting week. It was "lights, camera, action!" for the Made to Measure Challenge. The bees were tasked with creating a bias cut gown inspired by the Hollywood glam of the time. Bring back the 30s to your party looks or if you're looking to sew a costume for an upcoming soirée, check out these patterns!
Beautiful gowns for your next soirée
Stop by each week to find the latest inspiration and patterns featured on The Great British Sewing Bee. In the meantime, catch up on the challenges from previous weeks...
Week 7
For week 7 it was Lingerie Week, starting with lacy underwired bra and knicker sets for the Pattern Challenge. It was night in to night out with the Transformation Challenge - thermal sleep sets were turned into pretty pastel dresses. The episode rounded off with creating luxury mens pyjamas for the Made to Measure Challenge. The bees definitely needed a good night's sleep after these tricky challenges!
Week 6
It's Music Week! The Pattern Challenge was a nod to the Mods with the Parka Jacket, followed by the Transformation Challenge to turn golden oldies into fresh and fashionable pieces - taking old denims and creating a show-stopping look for a Country rocker. You could say the contestants were really Under Pressure when it came to creating a look fit for Ziggy Stardust aka David Bowie. We were in love with Annie's asymmetric blazer dress! Why not have a go at sewing this garment yourself?
As seen on GBSB last night!
More jacket patterns you're sure to rock!
Week 5
It was all about makes for the little ones this week! Sailor's suits to survive the storms of the playground, school uniforms to cool out-of-school outfits, and spooky Halloween costumes that really say "BOO!" with added fun 3D elements. There's so much fun you can have making childrens clothes, why not give it a go yourself!
Sew spooky costumes for the kids yourself!
Week 4
The bees really needed to have their sewing skills up to patch for Reduce, Reuse, Recycle Week! Starting with a patchwork edition of the Pattern Challenge, turning scrap fabrics into a jacket. With only 4.5 hours to sew, quilt and bind the jacket, this was definitely a challenge! The Transformation Challenge saw the bees turning two coats into one before the Made to Measure Challenge. This week they turned duvets into marvellous maxi dresses! Looking to give this challenge a go yourself? Check out these patterns!
Give the Made to Measure Challenge a go with these maxi dress patterns
Perfect your patchwork with these great tutorials!
Week 3
As the show begins to heat up, it's Summer Week! The bees tackled shirred midi dresses, a wonderful addition to your own handmade wardrobe for the new season. This epsiode's Transformation Challenge really had us rocking as they turned old hammocks into summer garments, using fringe, rope and macramé to add additional trimmings. Week 3 rounded off with the Made to Measure Challenge: creating a summer two piece!
Now it's your turn! Stitch fabulous summer staples with our range of dressmaking fabric and stylish sewing patterns.
Sew your own stylish midi dress
Week 2
The contestants hoped they could start this week off on the right foot with high-top trainers for The Pattern Challenge. Taking centre court for The Transformation Challenge were netball kits! The sewists were tasked with turning these kits into chic daytime outfits. Would this challenge be a walk in the park for you? The episode rounded off with The Made-to-Measure Challenge focussing on bespoke jackets inspired by sporting heroes, including some fabulous odes to maker himself Tom Daley.
Sport your own athletic look
Inspired by Tom Daley too? Dive into these makes!
Week 1
This week was capsule wardrobes! The sewing show kicked off with an ode to the mini skirt, followed by a transformation challenge to turn your loungewear into night out attire. Week one wrapped up the perfect summer staple, wrap dresses! Depending on your pattern, jersey and viscose fabrics are a wonderful choice. Here are some top wrap dress patterns to have a go yourself.
Get wrapped up in this dressmaking challenge!
New to sewing? Start here with our beginner tutorials and guides!