Beginner's guide to sashiko embroidery and visible mending
Published on

6 January 2020
By

Holly Butteriss
3

min read
Learn the beautiful art of sashiko embroidery - a traditional Japanese embroidery technique that incorporates stunning embroidery designs into the mending of your clothes. Learn the basic embroidery stitches and find the supplies you need to give this form of needlework a go!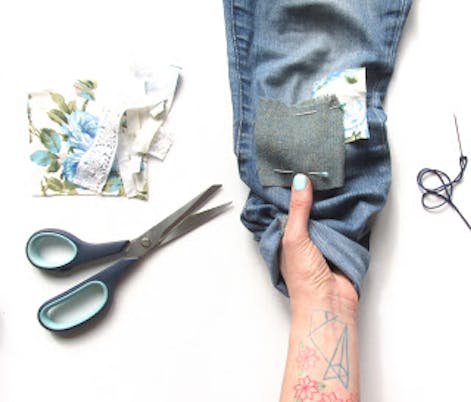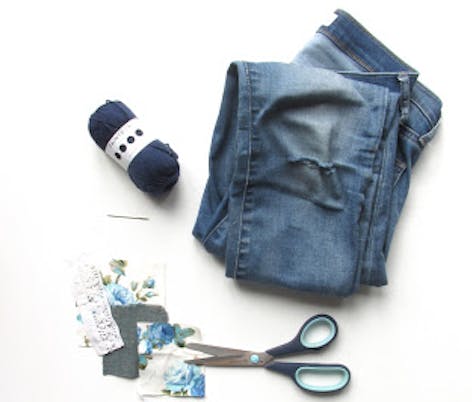 What is sashiko? 
Sashiko is a Japanese form of hand sewing that literally translates to 'little stabs' and is an ancient way of repairing, mending and making fabric. It usually incorporates gorgeous geometrical patterns to create sturdy yet stylish stitching. 
Instead of trying to hide a repair, the stitches are made in contrasting colours and beautiful patterns that draw the eye and please the heart. Made using a simple running stitch, it's a technique that anyone can get to grips with, and has the power to be totally transformative!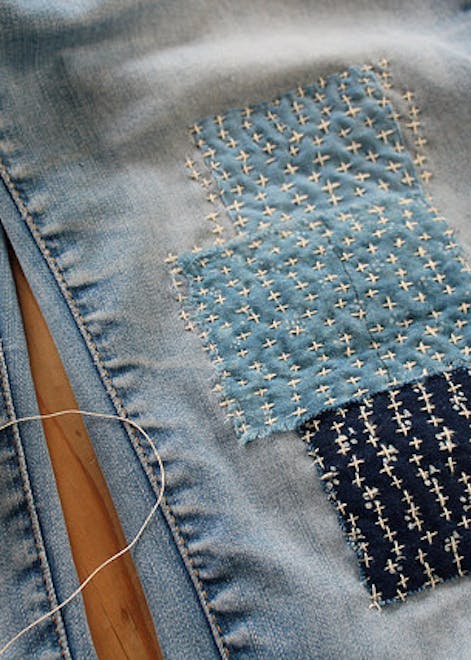 The history of Sashiko
In northern Japan where the winters were colder, harsher and many poorer folk lived in these rural areas, preserving the warm clothes you had was essential. They used this form of stitching originally as a way of patching together and layering precious scraps of material to make something durable and useable (and when every bit of material had to be hand woven it really was precious!) each stitch also shows the history, personality and life of the maker.
As we become more aware of the troubling effects of mass production and fast fashion, this style of mending is really coming into its own. It invites us to think about what happens to our clothes after we've finished with them, what we can do to make them last longer and give them a new lease of life that allows us to be expressive and make them totally unique! 
So, grab your needle and thread, some old fabric (a pair of jeans is great!) and let's give this a go! 
Materials
An old pair of jeans

A choice of fabric
Fantastic fabric for sewing sashiko
Top tips for sashiko mending your jeans
There are a couple of ways of sashiko stitching to repair a hole in your jeans. One is to pin the patch to the outside and stitch across the top, the other is to pin the patch to the inside, so you can still see the hole, and stitch across the top. Either way works, and you can mix and match as you go!

Don't sew with a great long bit of thread, this will get all tangled and knotted. 50cm lengths are a good amount to work with.

Don't knot the ends once you've finished. These can be uncomfortable to kneel on if they're in your jeans! Instead work a few stitches into the back to your work and fasten off.

Use a pencil or washable pen to draw some guidelines on your clothes first, this will keep your pattern straight and even.

You can get traditional sashiko thread which is strong and durable, but in the spirit of being resourceful you can use anything you have to hand, as long as it's fairly thick, so embroidery floss, DK cotton or a fine yarn would all work too!
Most importantly don't worry if it's not perfect! This is not about perfection, this is about revelling in the uniqueness of imperfection, and celebrating creativity and resourcefulness.
Find more upcycling inspiration