Rachel Wright talks telling stories through stitches
Published on

2 April 2020
By

Sophie
2

min read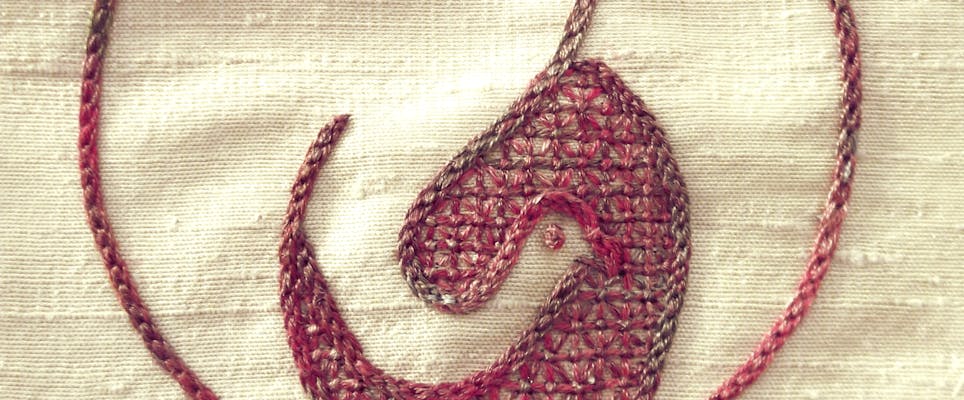 Embroiderer Rachel Wright started writing her blog – VirtuoSew Adventures – almost 10 years ago and her lust for needlecraft is still going strong. Here, she shares her reasons for making.
Why do I make? To tell stories in stitch. Really, I think it is as simple as that. Sometimes the story is purely one of delight in fabric or thread or stitch. The Japanese Crane (above) was worked purely because I love Hungarian braided chain stitch, which I'd just discovered. It's variation on broad chain stitch, and the intricacies are particularly well suited to showing off the colours in the variegated thread.
Sometimes the stories are much more complicated and emotional. 'Leaving The Tyne, 1915' (above) relates to my Swedish Great Grandfather, and his service as a merchant seaman during the First World War, but elements of the design and stitching, and even the choice of that story to tell, are all part of my own response to the world around me now, the demonising of "migrants" or "others", who yet contribute very greatly to our life and culture. I don't think I'm a political person, but in this one, however subtly, I've nailed my colours to the mast.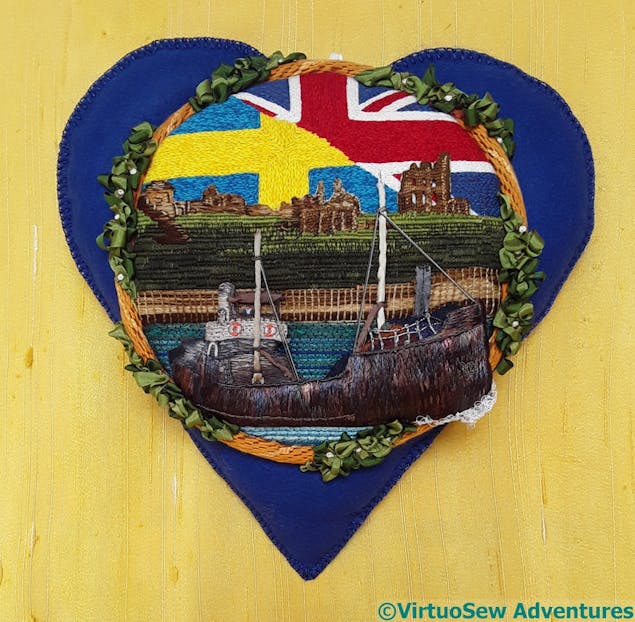 And as for the Dreams of Amarna project that has been taking my mind for the last 10 years, nearly – that's a response initially to a book I read, called Nefertiti Lived Here. It's an enchanting book, about a dig in Amarna in the nineteen-twenties, seen through the eyes of the secretary of the dig, who was also a student of sculpture. Her sympathetic imagination peoples the site with ancient Egyptians, and her interest in everyone she met, the local labourers, the Gufti excavators, Museum officials and her colleagues brings life to everything she encounters. My embroideries seek to convey the delight she found there, and that I found in her book.
Feeling inspired? Try our FREE embroidery patterns