Make a very merry mini festive embroidery ornament
Published on

15 November 2021
1

min read
Christmas is just around the corner, and if you're in the making mood then we've got a fabulously festive mini project for you! Stitched in the festive shades of Paintbox Crafts Stranded Cotton, this handmade Christmas ornament by Kayleigh from Floss & Hoop will make an excellent gift for friends and family, or an amazing addition to your own Christmas tree!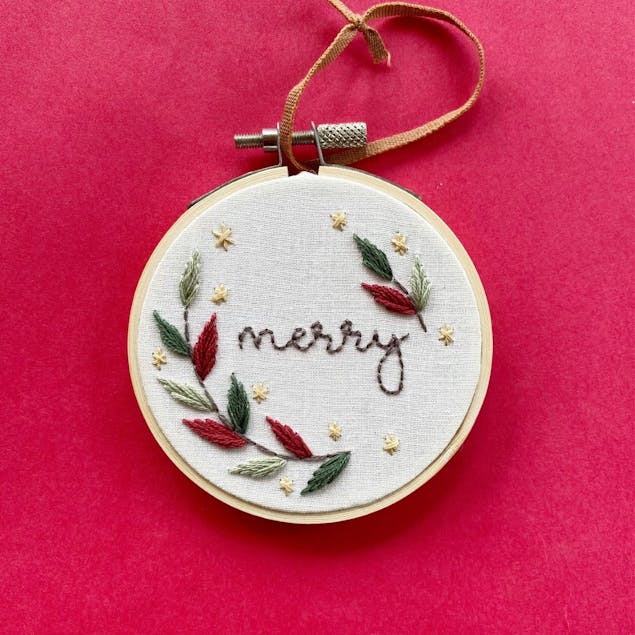 Ideal for embroidery enthusiasts and needlecraft newbies alike; this little 3-inch embroidery hoop stitches up super fast and is the perfect size to hang on your tree. You can change the word in the centre or even add a name if you like!
Materials
in shades 42 Spinach

08 Pillar Red

05 Thyme

168 Toffee

165 Granite Grey
How to make a merry Christmas ornament
This lovely little ornament couldn't be easier to make. All you need is a 3 inch hoop, stranded cotton, a needle and a print-out of our free template to get started.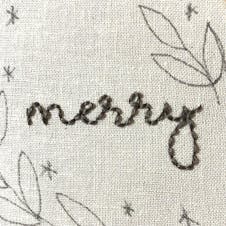 With three strands of 165, stitch the word 'merry' on the design with back-stitch. Stitch the stems of the leafy branches in the same way.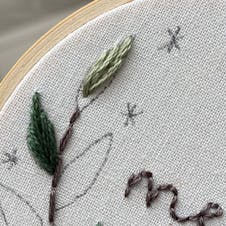 All the leaves use six strands of thread, in alternating colours of 05, 08, and 42 as shown on the final design (but feel free to change up the order of colours!). On each leaf, start with the centre stitch, going about 2⁄3 of the way towards the stem. Keep stitching on either side, moving the end of the stitches gradually down until they meet the stem and the leaf is filled in.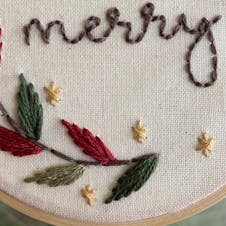 Using three strands of 168, stitch the stars around the design. First do a straight vertical stitch, then two diagonal stitches on top in an X.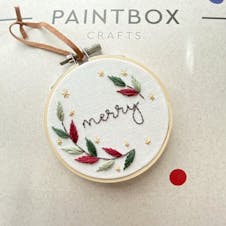 You're all done! Close up your hoop with a running stitch around the back (weave your thread in and out of the fabric so it looks like a dashed line, then pull it tight like a drawstring and tie it off). Tie a ribbon around the screw at the top of the hoop so you can hang it on your tree, and you're done!
Discover more Floss & Hoop patterns