Tiger patterns you'll love for the Lunar New Year
Published on

25 January 2022
By

Saphia
2

min read
Lunar New Year is here, and we've got so many fun and cute crochet, knitting and embroidery patterns you can make to help celebrate the year of the tiger. DIY a gift for a special someone, or gather your friends and family around for an evening of tiger making fun. Whatever your party plans, we think you'll have a grrreat time with these fantastic makes!
Crochet your tigers
Crochet can be an awesome craft to pick up on over this festive season, especially if you're looking to make adorable toys for your little tigers. Stephanie from All About Ami shares her impressive amigurumi pattern with us this year, and we've totally fallen in love with it!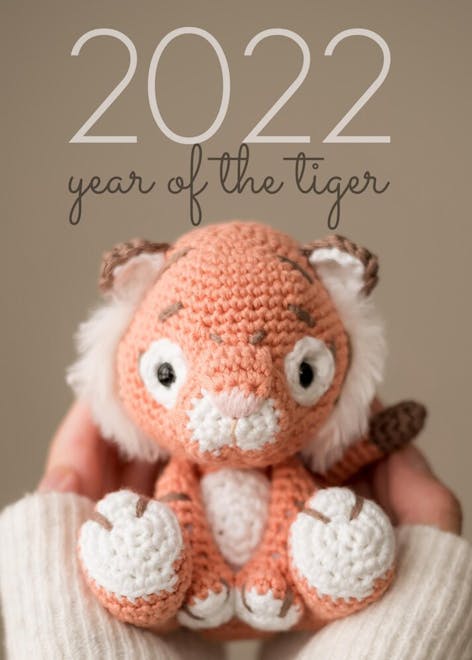 Celebrate the Lunar New Year by crocheting this adorable tiger with stripes, cute paws and long tail in a sweet sitting position! This amigurumi tiger is the perfect gift for tiger lovers and those born in the Year of the Tiger!
Go wild with your amigurumi makes! Patterns are just a guide, so you'll be happy to know that you can always change them up to make them your own.
Making amigurumi is such a wonderful way to express yourself as people can choose different colors, arrange the limbs into different positions, give different facial expressions, embroider the stripes in various ways, and choose to include or omit the faux fur detail on the sides of the head.
Get inspired with these knitted tiger makes
Feline like a bit of knitting? Well, take at a look at these fab patterns! There are so many things you can stitch up with your knitting needles this Lunar New Year. Wear your tiger stripes with a quirky knitted beanie, or dress your little cubs in a charming knitted tiger jumper!
Tiger patterns for embroidery lovers
If embroidery is your go-to craft, then you're going to be obsessed with these gorgeous tiger stitch patterns. Decorate your home in dazzling embroidered pillowcases and host a Lunar New Year party for all your family and friends to see! You'll thank us later!