How to knit your first sweater
Published on

24 May 2021
By

Merion
4

min read
Knitting your first jumper is one of the big milestones every knitter wants to achieve and with this guide, we breakdown all the steps of how to knit a sweater to show you that even a beginner can knit a jumper! The stitches to learn, considerations to make along the way and the answers to all your jumper knitting queries are answered here!
Essential stitches for knitting a sweater
Making sure you have some of the knitting basics under your belt before embarking on the challenge of your first jumper is definitely recommended! Make sure you're comfortable with casting on as well as working both purl and knit stitches.
While sweater patterns vary in the stitch techniques they use, most work in rib at the top and bottom of a jumper to bring stretch to the shape. To create shapes around the arms and neck you will also need to know how to cast off in the middle of your work as well as finishing your project. To create a seamless knitting experience, knowing your Ks (knit) from your Ps (purl) will be super helpful! Check you know your knitting abbreviations and how to read a knitting pattern.
With these skilled mastered, you are ready to give a sweater a go!
Choose the perfect beginner sweater pattern
Once you've decided to dip your toe into the wonderful world of garment knitting, the first thing you need to do is find a sweater knitting pattern - this will show you the exact step-by-steps to knit your beginner jumper.
While knitting an adult sweater is a big task, you can opt for something bulkier. Using a chunky yarn will mean the garment will work up quicker and is a great way to get used to the new techniques involved with making a jumper. Alternatively for a smaller scale project for the little ones in your life, a basic baby jumper is the perfect way to test out those jumper making skills or why not a fun dog sweater pattern?
Choose a pattern that is suited to your ability - begin with something simple, with perhaps a boat neck or crew neck, some easy ribbing and lots of garter stitch or simple stockinette.
Choosing the yarn
Make sure to check you have the right yarn weight for your pattern before you start! Our yarn weight guide will be sure to help you out with that! Your pattern will also let you know exactly how many grams or yards you will need for your jumper.
What fibre are you going to use? Merino wool or maybe an acrylic blend? Find out more about all the different yarn types in with this handy yarn buying guide.
My First Jumper!
Follow along with our step-by-step video to make VickyKnits My First Jumper pattern. This simple, oversized, beginner friendly pattern is knit up in 4 panels using straight needles and is made up of one front panel, one back panel and two sleeves.
Gauge and tension
You will notice in your sweater knitting pattern there is a section about gauge or tension. This is how the size of the sweater is measured against the size of needle you use and how tightly or loosely you knit. As a beginner knitter, checking your gauge can help make sure the size and outcome is as you would like. The best way to identify your own personal tension is to knit a swatch - taking the time to check this before you start is definitely worth it!
Flat or in the round?
There are two construction methods you can use for knitting a sweater. You can knit it in pieces and sew it together (front, back, sleeves) on straight needles, or you can knit it 'in the round' on a circular needle. Both of these methods are straightforward, but depend on your preference - if you're used to circular needles you might just love knitting in the round, especially if you hate the thought of sewing up! If you are new to increasing and decreasing, choose a sweater knitted in pieces because it's easier to see how the construction works.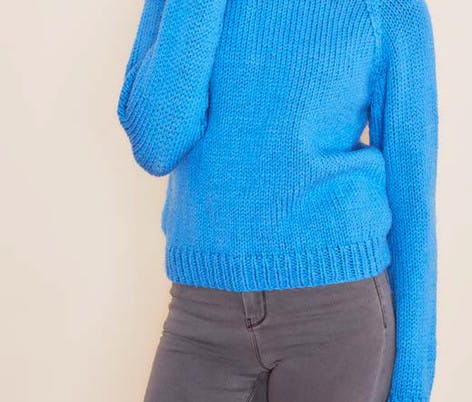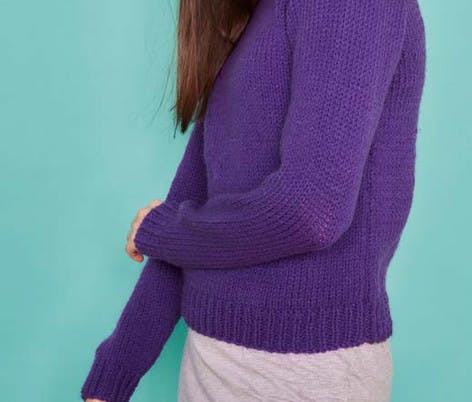 Take your time!
Wondering how long it will it take you to knit a jumper? Our fun knitting calculator will help you calculate that one! As a beginner, it could take you between 3-30 weeks depending on how many hours you spend knitting. The time it takes can vary between knitters but try not to rush.
Knitting your first sweater is exciting, but before you start, read the pattern from beginning to end. If there is anything you don't understand, ask a knitter friend or explore our guides for a helping hand. Take your time with each step of the pattern, and set aside lots of quiet knitting time for the trickier part of the pattern.