Free crochet heart tutorials
Published on

14 May 2019
By

Angie
2

min read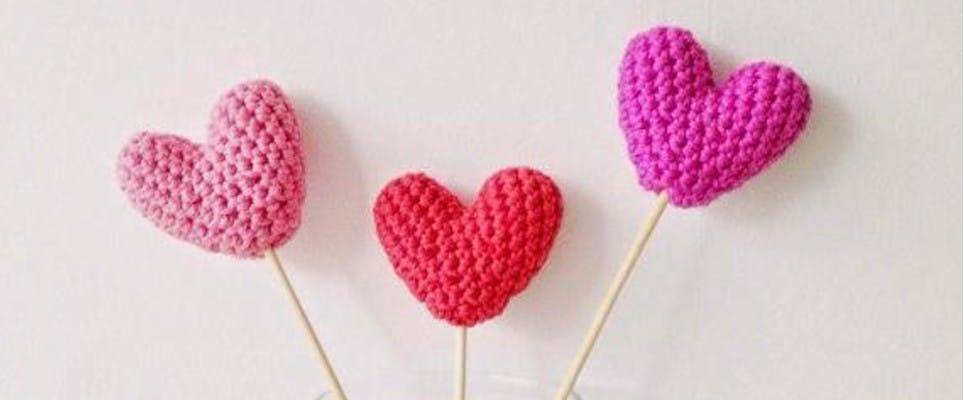 Share the love with these beautiful heart crochet projects! From Valentines to weddings, anniversaries and celebrations, these crafts will make your heart skip a stitch!
1. Crochet the fastest heart
In this easy step-by-step tutorial, Katie from The Queen Stitch shows us how to crochet the easiest, speediest heart on the planet! Use for hanging, embellishing and dressing up any corner of the house or gifting to a special someone!
2. Newborn Heart Beanie by Spider Mambo
I love this adorable newborn heart beanie. It's an intermediate design with heart motif crocheted in Malabrigo Worsted for a beautifully soft finish.
3. Stick Hearts by Annemarie Benthem
Add a lovely little charm to your Valentine's Day with these crochet stick hearts. Crocheted in Phildar Phil Coton 3, these hearts are just the trick to taking a surprise Valentine's dinner to the next level.
4. Generous Heart Motif by Emma Wilkinson
Feel the promise of spring with these simple heart shaped granny motifs. Use these advanced crochet hearts as extra special coasters for a Valentine's surprise!
5. 9 of Hearts Card by Paintbox Yarns
A card is a great start to tell your honey how much you care. The 9 of Hearts Card by Paintbox Yarns is perfect for doing just that!
6. Valentine's Day Gift Bag by Little Doolally
Need the perfect yarny wrapping for the Valentine's delights you're gifting? We've got just the thing! This beginner pattern from Little Doolally can be crocheted in any DK yarn your heart desires.
7. Half My Heart Crochet Hotpad by Rose Obom
Does your other half love to cook? Crochet them this hotpad (or trivet), to bring a little love into the kitchen.