13 cheerful rainbow patterns to spread joy
Published on

19 January 2021
By

Sophie Brown
2

min read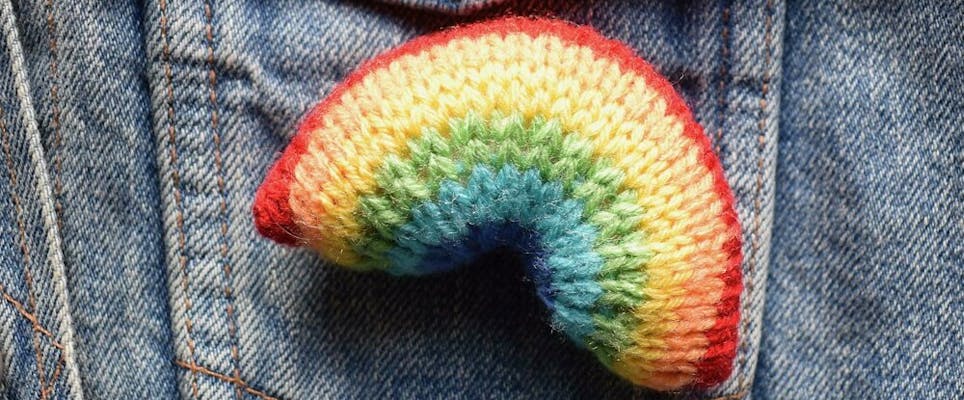 There's nothing quite like seeing a rainbow appear on the horizon to instil hope. Rainbows serve as a reminder that there's beauty to be found in the stormiest of weathers; a perfect metaphor for when times get tough.
The rainbow has been adopted in recent times as a universal sign of love, support and solidarity; something that the world needs in abundance. So we've rounded up our favourite rainbow patterns – from the bold and bright to the subtle and stylish – to help you spread a little bit of a cheer.
If you want to learn how to crochet a rainbow, you're in the right place! From crochet rainbow wall hangings to simple rainbow appliques, we've got a handful of beautifully bright rainbows to get your hooks around.
Hang them in your window or dot them around your home and let the positivity of the rainbow flood in.
Crochet rainbow patterns to brighten your day
If you're more of a knitting fan, you're in for a treat! We've got a fab mini selection of gorgeous knitted rainbows. From the cutest baby romper to colourful knits for kids, here's are a few ideas for rainbow knits that are guaranteed to put a smiles on the faces of all who see them!
Colourful rainbow knitting patterns
Beautiful rainbow embroidery
Embroidery more your thing? This perfect little rainbow will stitch up perfectly either in a hoop to hang on your wall or on any items of clothing that could do with a little TLC.
Of course, the pattern doesn't need to be a rainbow if the yarn is! We've got a huge selection of self-striping multi-coloured yarns to add a little bit of colour to any project.