10 free and frightening Halloween crochet patterns
Published on

8 August 2018
By

Ailish
2

min read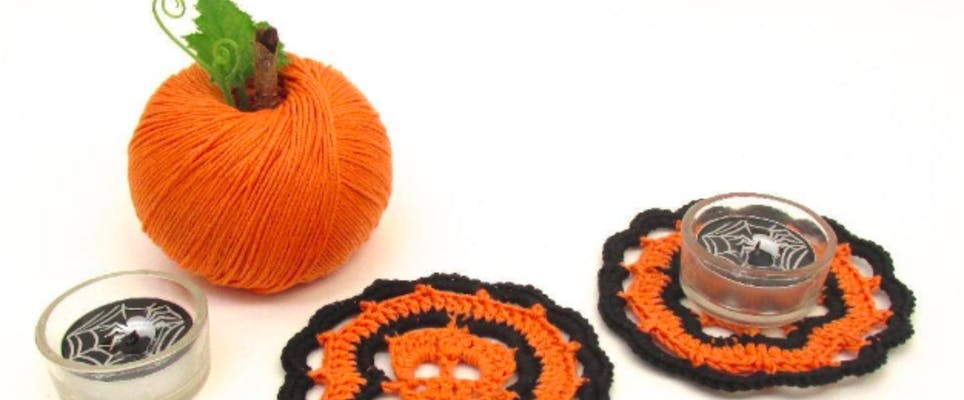 Halloween is the time for blood-curdling decorations, adorable pumpkin outfits, and ghoulish accessories. There is no better occasion to grab your crochet hooks and get creative. Enjoy 10 of our favourite free Halloween crochet patterns. But be warned, you'll be terrified by how much you love them!
1. Pirate throw
If you're a Jack Sparrow and Captain Hook mega fan, then you'll love this pirate-themed throw. Decorated with pirate crossbows, this crochet throw will add instant Halloween charm to your home. Plus, it'll ward off any approaching ghosts.
2. Halloween puppets
The kids are going to love these crochet puppets. This pattern includes instructions for all of your Halloween essentials: a bat, pumpkin, and ghost.
3. Frankenstein bunting
Bunting: it's impossible not to love it! This Frankenstein's monster version is no exception. This green and gruesome bunting will turn your house into an unearthly wonderland.
4. Skull doilies
When it comes to Halloween, we all love to add little spooky touches to our homes. Add these orange and black skull doilies into the mix this scary season. They're the perfect way to spice up your living room for your big Halloween party.
5. Hanging bats
Hang these cute bats around the house to instantly creepify any room. Or, decorate your garden with these blood-sucking critters to welcome your party guests.
6. Pumpkin bowls
Nothing could be more Halloween-esque than these kooky and creepy crochet pumpkin bowls. Fill them with sweets and place them around the room for your party guests.
7. Glowing ghosts
Add an eerie glow to your house this Halloween with these glowing ghosts. Place them outside your door to invite your guests in, but will they dare to knock?
8. Amigurumi pumpkins
Take a break from carving pumpkins this year, and crochet these cute amigurumi pumpkins. Perfect for beginners, this pattern is a great way to add some last minute decorations to your home this Halloween.
9. Black cat
No Halloween decorations are complete without a black cat. So if you don't have a real-life Salem living with you, crochet your own. This witchy sidekick couldn't be better for keeping an eye on approaching ghostly guests.
10. Ghost key ring
As a Halloween-obsessive, carrying a ghastly token with you wherever you go seems like a no-brainer. This ghost key ring is here to make your day-to-day life a little more spirited.