The makers of homes 
Published on

January 27, 2020
By

Sophie Brown
3

min read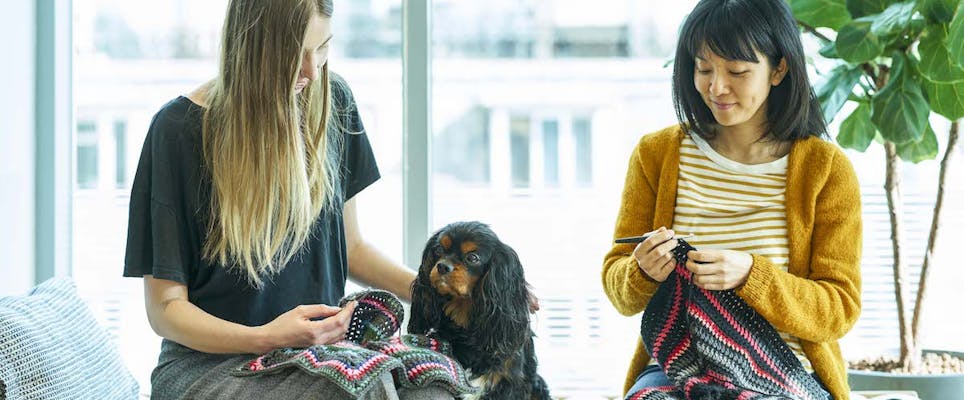 Home is where the heart is, and if you're anything like us, your heart is where the stash is! Often, your home is the center of your making world and having your handmade creations dotted around serve as a lovely reminder of that. 
From cozy corners where you settle in to stitch to whole rooms dedicated to storing your stash; from the train seat where you craft on your commute to the safe circle of crafters you create with – our making environments might look a little different, but they all feel like home to us.
We're celebrating the makers of homes and the homes that make us with amazing makes.
Cozy up your craft corner
There's nothing quite as homely as getting comfy in your favourite spot and getting stuck into a project. Give your creative space a little upgrade with a cool and colourful blanket to keep you cozy while you craft.
Brilliant blankets for cozy crafting
Make space for your stash
As the age old saying goes: 'tidy house, tidy mind'. While the tidy house part might not always be possible, you can always have a tidy stash! Have a crafty clearout and we bet you'll unearth yarns and materials you never knew you had – and you'll clear space for new additions! 
What better way to organize your yarns and materials than in handmade baskets and storage containers? Not only will they look gorgeous in your home, they'll also save you time rummaging through a tangle of yarn! 
Space saving makes for your stash
Save the planet
At LoveCrafts, we're always thinking of ways we can be kinder to the planet, and that doesn't stop when we go home. We're all about finding ways we can do away with the old and disposable, and bring in the new and reusable. 
From the bedroom to the kitchen, there are so many household items that could be used time and time again, and lots of them can be knitted, crocheted or crafted super fast with materials you've got sitting in your stash. 
Get creative and see how many disposable items that you're using daily, you could make instead. It's the little changes that add up and make a real difference.  
Planet-friendly makes for the home
Feeling inspired to fill your home with gorgeous handmade makes? We've got heaps of amazing patterns to inspire you!
Perfect Knitting Patterns For Your Home
Gorgeous Crochet Patterns For Your Home
Neat needlecraft homewares
We're totally obsessed with all things embroidered and cross stitched at the moment! We have Jenni embroidering an aquatic scene onto napkins, Jo making an awesome framed embroidery piece, meanwhile, Yaz is mastering our top ten embroidery stitches. The beauty of embroidery and cross stitch is that you can work your design onto most homewares - think tablecloths, napkins and cushion covers - you name it, it's time to get creative makers!
FREE designs - perfect for homewares!