The LoveCrafts Show episode 6: How to be a successful pattern designer with TL Yarn Crafts!
Published on

April 15, 2020
By

Holly Butteriss
2

min read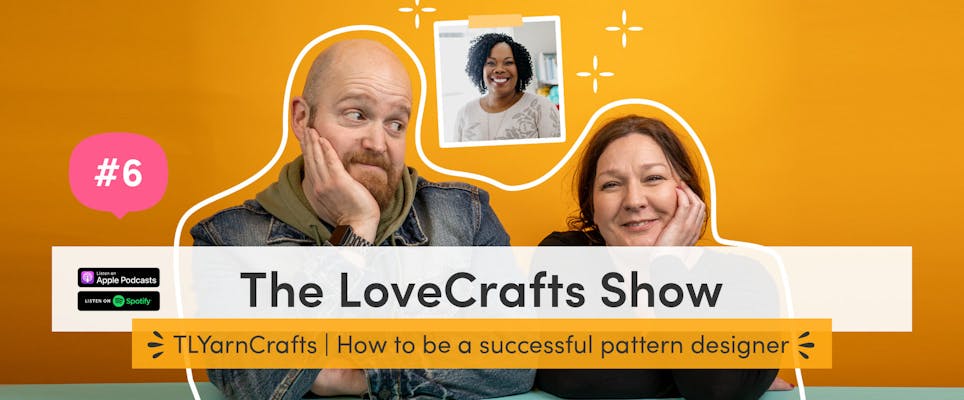 This week Jamie and Merion have been chatting to the woman behind TL Yarn Crafts - Toni Lipsey! Toni reveals how she went from crochet newbie, to creating a craft empire! Merion and Toni chat all things Tunisian crochet, and Uncle X is amazed to discover cross stitch on crochet - woah! This episode is bursting with crafty goodness.
Tips, tricks, advice and a fair amount of silliness, this is The LoveCrafts Show!
Don't forget to send us lots of lovely messages, responses and questions to show@lovecrafts.com
Lots of lovely things we mentioned and extra nuggets!
Meet Toni and discover the designer! (1:20)
Start your crochet journey and learn how to make a granny square! (1:49)
We've got loads of video to teach you how to crochet, no excuse now! (3:55)
Discover the craft community with LoveCrafts on Facebook and Instagram  (5:18)
Not sure what the difference between is knitting and crochet? Check out our guide! (9:00)
Unsure which yarn is best for your project? We've got a guide for that! (10:18)
Discover Tunisian crochet with us! (23:32)
Check out our guide to cross stitch and stitch along with us (maybe on a bit of Tunisian crochet?) (24:00)
Check out Toni's absolute guide to Tunisian crochet. (31:19)
Join Toni's CAL! (32:12)
Grab Toni's best beginner jumper pattern - the Rochester pullover! (52:27)
We love Pinterest too! Check out LoveCrafts and join the community over there. (53:50)