The LoveCrafts Show episode 19: Season 1 throwback!
Published on

September 23, 2020
2

min read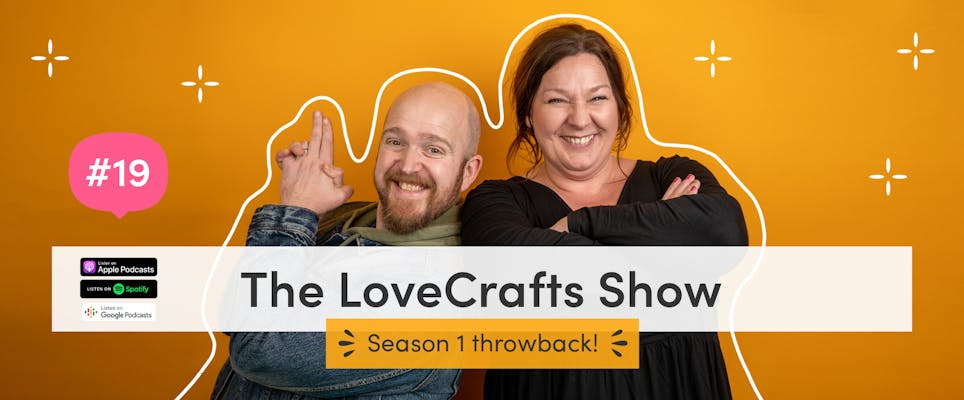 Join Jamie and Merion on The LoveCrafts Show for a look back at all the wonderful guests and conversations we've had on the show this year!
You can listen to The LoveCrafts Show episode 19 on Spotify, Google Podcasts and Apple Podcasts.
Well folks it's the penultimate episode of season one of The LoveCrafts Show, can you believe it?! In this episode we go back to basics with Uncle X and Merino settling in for a comfy crafty chat, reflecting on everyone we've met and everything we've learned over the last 19 episodes of the show, and teasing our 20th (and final!) episode with Marly Bird, and what to expect from season two!
Tips, tricks, advice and a fair amount of silliness, this is The LoveCrafts Show!
Don't forget to send us lots of lovely messages, responses and questions to show@lovecrafts.com or you can send us a voice message!
Lots of lovely things we mentioned and extra nuggets!
Socks! We all know Merion has an obsession, but if you're ready to hop on the sock train check out our guide to knitting socks. (1:05)
Missed Vince's episode all about the art of amigurumi? Don't worry, you can check it out here. (2:58)
Listen to Toni Lipsey and Merion gush about Tunisian crochet! (4:48)
Missed the Debbie Bliss episode? Don't worry! You can still join in on all the #BlissBants. (5:42)
We're all a little bit in love with GG and if you aren't head over heels too, you will be after listening to this. (6:37)
Ciara LeRoy's art and her cookie recipe are not to be missed, check out her episode here. (9:35)
Find out more about Shira's Hats not Hate on episode 9 of The LoveCrafts Show. (10:43)
Saucy stitching sound like your kinda thing? Check out Leah Emery's episode of the podcast! (11:25)
Get inspired by Tom Daley's knitting prowess! (12:05)
Interested in non textile crafts and ready to embrace something new? Check out Poppy Papercuts on episode 11. (13:27)
Mindful making is always on our mind, here's a roundup of makes to soothe your soul and check out episode 1 of the podcast for more about craft as self-care. (24:00)