Meet our Indie June Grant Winner: Rachel!
Published on

September 11, 2020
5

min read
In June we launched a competition to win a £1000 grant to support an indie designer. The response we had was incredible, but in the end there was one entry we all fell in love with - Rachel! This UK based maker is a multi-craft marvel, but when it comes to yarn she's all about taking undyed skeins and making magic with color.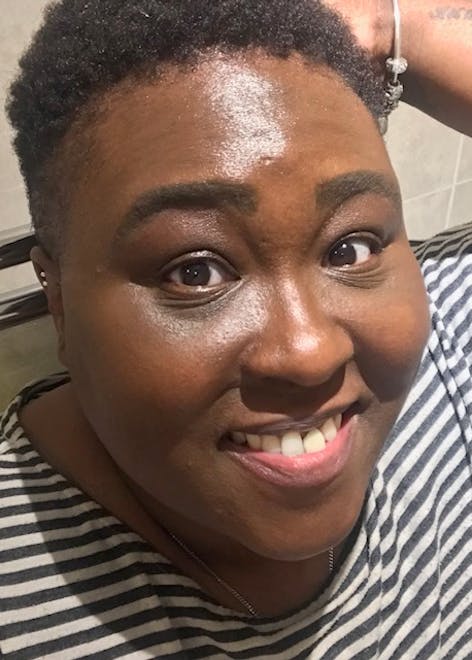 The feeling that comes when someone else admires or receives the gifts of my labor makes my heart sing and sometimes I do a little shimmy because I can't help it!
The dust might have settled a little but my excitement at being the winner of LoveCrafts Indie June competition is like nothing I've ever experienced before!
So, a little bit about me
I'm Rachel and I love making things. Fast forward through the pipe cleaner flowers, macaroni necklaces and cotton reel stamping years of my childhood, and we get to just a few years ago (I've lost count) when I taught myself to crochet, picked up knitting and started to embrace other ways of playing with fiber; I spent a day (re)learning macrame at my local craft shop (@CraftyHappenings), then I bought myself a loom from the toy section of IKEA and fancied myself a weaver for a hot minute.
Then, my bestie in the States sent me two skeins of undyed yarn. I left them for a long time and it wasn't until I bought a few more from a destash that the yarn dyeing bug bit me, and I was really interested in learning more . My first few skeins weren't the greatest but I love them!
Lockdown 2020 here in the UK meant three months at home with all the time in the world to get into ALL of my favorite crafts. A lot of crochet happened, I knitted my first cowl (I'm learning to love eyelets), and completely on a whim my bestie in the States and I dared each other to set up ko-fi accounts to help us achieve small goals in each of our small businesses. Within a few days I was able to purchase fiber and dyes and equipment to help get FLYY Dyed out into the world.
What making means to me
Since the beginning of June I've been slowly growing my business; getting involved in a mentorship program, learning from some amazing people in the fiber community, developing my skills as a new Indie Dyer - and now this amazing gift from the team at LoveCrafts provides more opportunity for me to do more and push FLYY Dyed just that little bit further.
As part of my entry to the Indie June contest I was asked about what crafting means to me. I said that "the feeling that comes when someone else admires or receives the gifts of my labor makes my heart sing and sometimes I do a little shimmy because I can't help it!"
And that's the truth.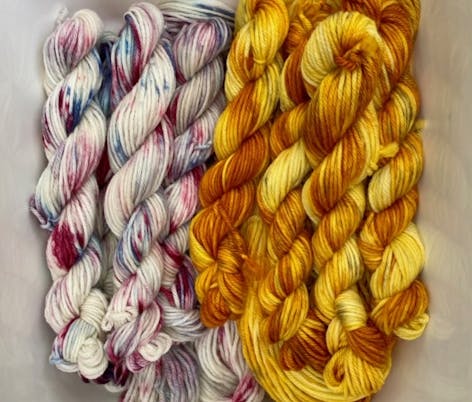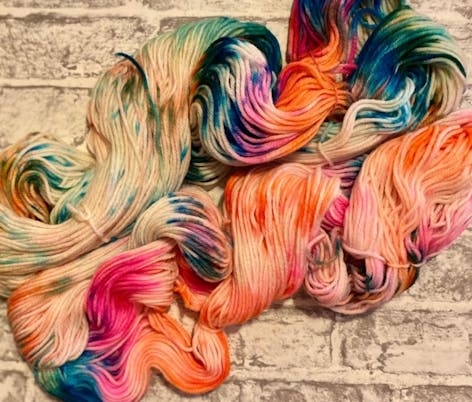 Now I'm back at my full-time desk job, my favorite part of the week is coming home on a Friday afternoon and heading straight to my corner of the shed at the bottom of the garden. For me right now, there is no greater feeling than setting up my dye pots and creating magic and wonder and joy - not just for me, but for everyone who buys a skein of my hand dyed yarn.
I only ever dye a small quantity of my colorways - no more than say two... maybe three skeins sometimes. And because it all happens off the cuff, with no recipes, nothing written down or memorized, they are literally all one-offs, hence the tagline, OOAK (One Of A Kind) One Skein Wonders!
My favorite thing to do is to dye custom colorways! My customers give me an inspiration photo and tell me what colors they'd like, even if they have a particular pattern in mind and from there, I create a mood board and once that's approved I get to play in the pots. My other favorite thing is seeing the wonderful things people create with yarn that I've dyed - hats and sweaters and socks and tank tops... I absolutely love it!
So what's next for me and FLYY Dyed?
Well, I secretly have plans to spread out a little more in the shed  - the dream would be to have a workspace that's all mine, but for now I'm good with sharing the shed.
I'll continue to dye every weekend and have a shop update at the end of the month - look out for me at the October Virtual Yorkshire Yarn Fest, and keep your eyes peeled on my IG (@FLYYDyed) for details on my Christmas Advent - it's a small but rather genius idea if I do say so myself!
Lastly, can I just thank each and every person who has and is supporting me - friends, family, supporters on IG and ko-fi, my Melanated Haus of Creates family, and those super awesome, most wonderful people who showed up in a major way right at the beginning... they know who they are and I am eternally grateful to all of you.
Thank you - and thank you LoveCrafts!
Read other makers' stories!