12 incredible bullet journal ideas to inspire you!
Published on

January 7, 2022
By

Saphia
3

min read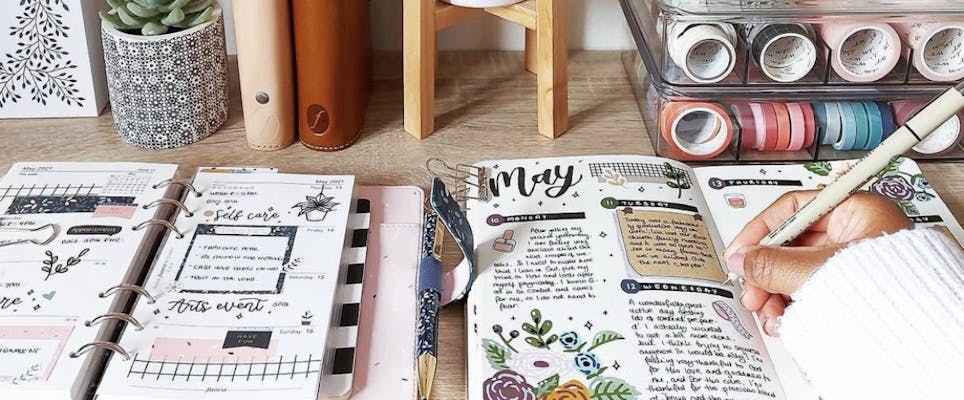 There are so many amazing and innovative bullet journal ideas to discover. Whether you're looking for bullet journal page ideas for beginners, or looking to challenge yourself with a new journal tracker design, slowing down and getting organized never looked so good! With this magical line-up of jazzy journal spreads, you'll be waving your fineliner wands in no time!
1. Get doodling with a pen test spread
If you're new to bullet journaling, test out those brand-new brush pens with this fun pen test page by @livingletterplans - so satisfying! Sometimes, less is more, and these types of simple doodles can be incredibly pleasing to the eye.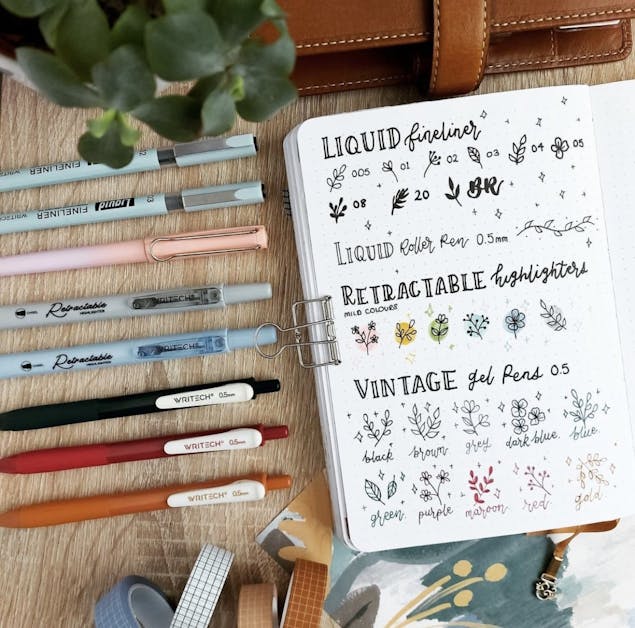 2. Plan ahead with a monthly calendar
@journalwithpurpose shows how organized you can be by setting out key monthly tasks. At the end of each month, you can reflect on all you've achieved and feel super productive. Go you!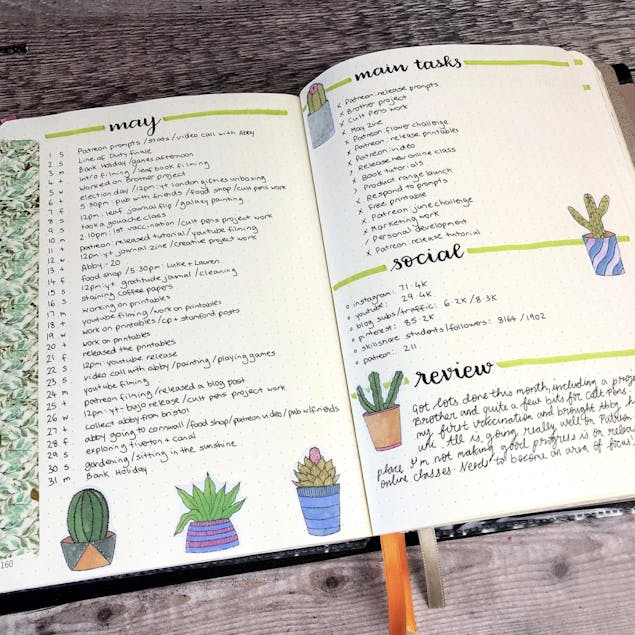 3. Stay on top of your moods and habits
Taking care of our mental health should be a top priority and a day-to-day practice. Master your mind with a daily mood and habit tracker. We love this celestial inspired design by Sarah Eliz.
4. Catch some good z's by keeping track of your sleeping patterns
We're obsessed with this dreamy ABBA inspired sleep tracker by @annajournals_. If you find yourself waking up tired, and you're not sure why, this is a great spread to add to your journal.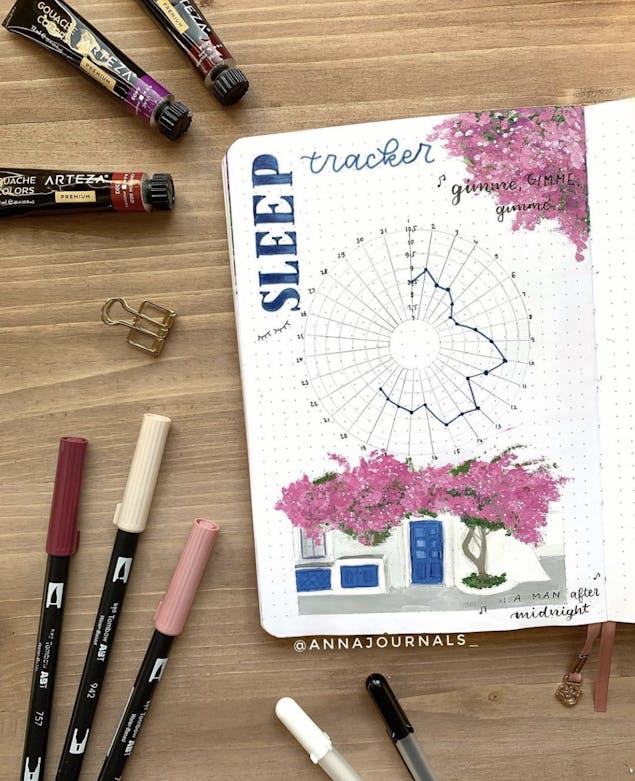 5. Create a fab room makeover mood board
Start afresh this new year and plan your own bedroom makeover! If you're looking to bring more nature into your home, then you're going to love this makeover mood board idea by @cynthiabujo.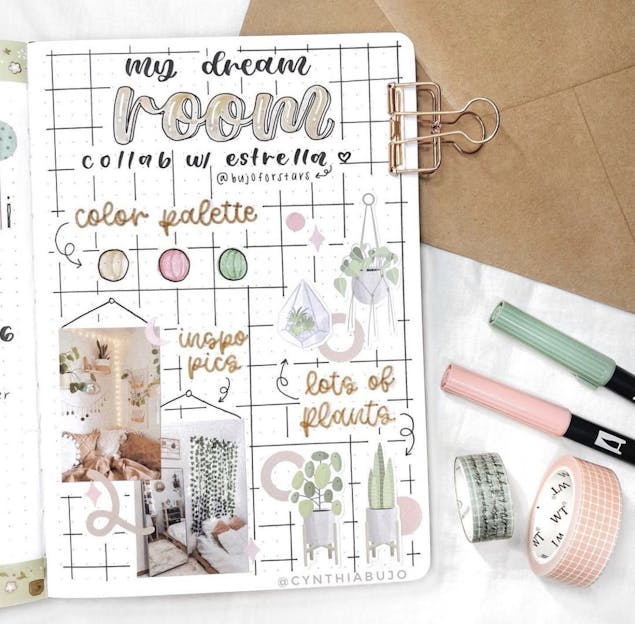 6. Stay trendy with an outfit inspo spread
For all you fashionistas, get creative with your outfit ideas by making some super chic fashion collages. Whether it's a cutout from Vogue or a holiday snap that's inspired you, @seasonjours shows us how it's done with style!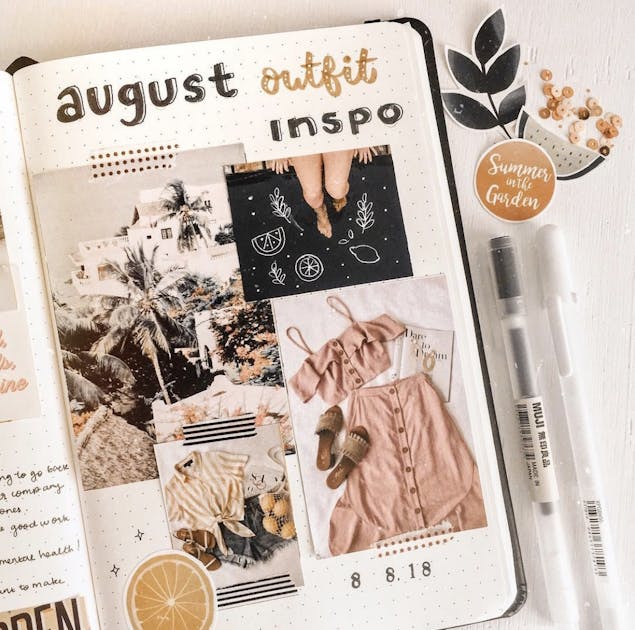 7. List your catchy go-to tunes of the moment
We all have a list of favorite sing-along tunes that tug on our heartstrings, so a playlist spread would make a perfect addition to any bullet journal. We think this example inspired by The Rolling Stones by @bujoforstars is fabulously funky!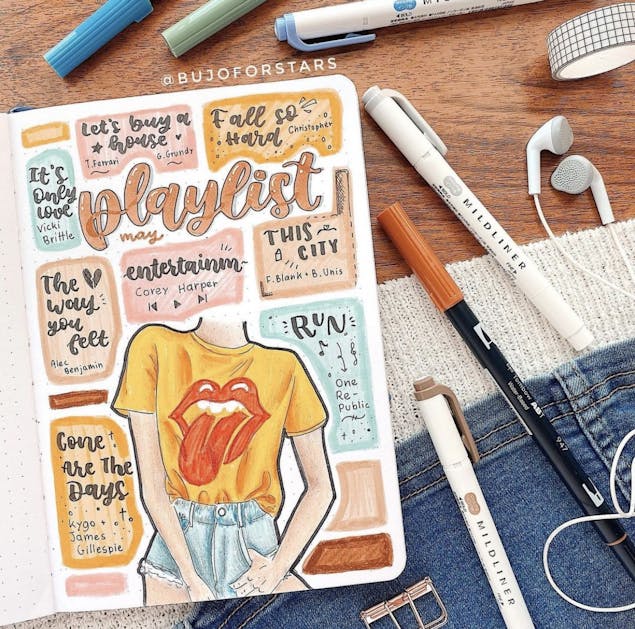 8. Note down some yummy recipes to make later on
Mouth watering recipes deserve a page or two in your journal! The talented @journalsbyclara illustrates her smoothie recipe so deliciously that we wish we could pick it up right off the page to drink!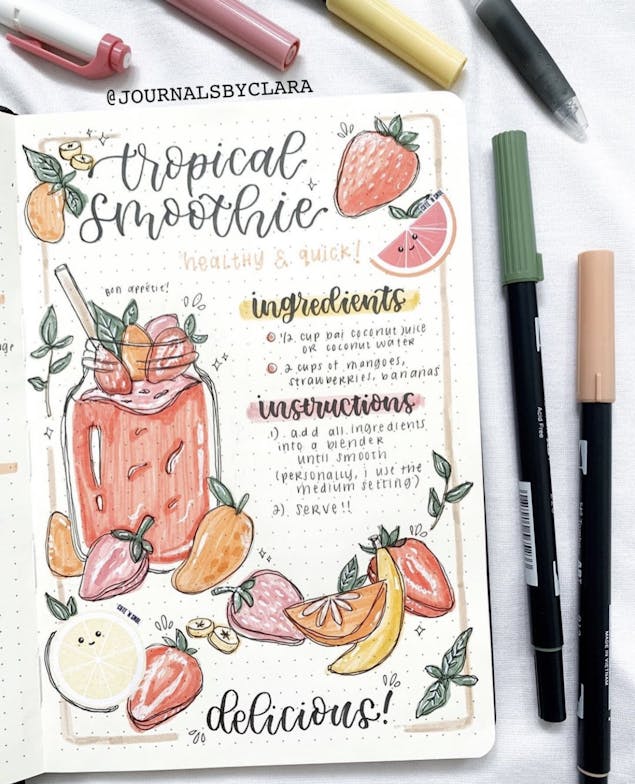 9. Unleash your inner content guru with an IG tracker
For the influencers and content creators, this spread by @tiinasdiary is the one for you! Track your IG posts and engagement for the month to see what your followers think is hot and what's not. This spread looks like something straight out of a fairytale, and we're all for it!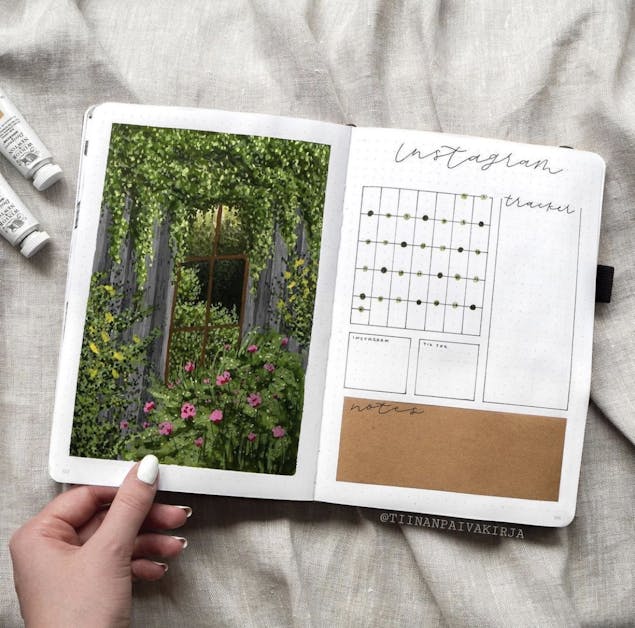 10. Know your worth with some uplifting motivational quotes
Everyone needs a pick-me-up some days, and writing down motivational quotes can give you just that. It's the perfect exercise to help you become the best version of yourself. We just know that this spread by @ameliasjournal will make you smile!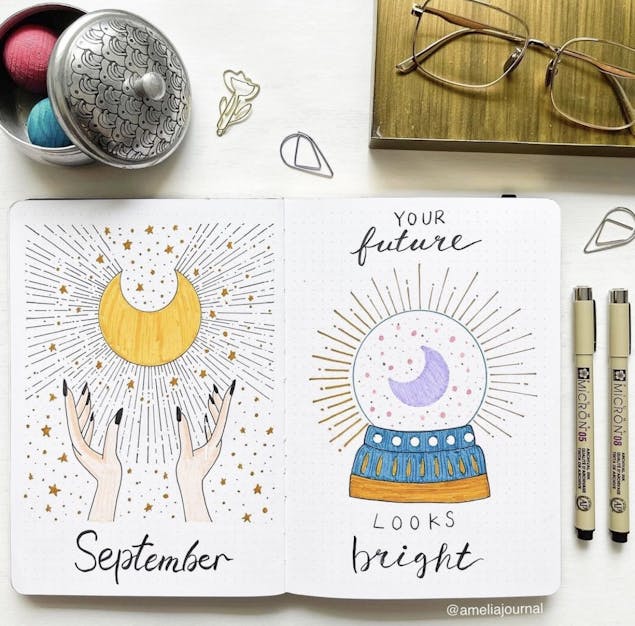 11. Plan some new and exciting color palettes
Inject some pizzazz into your journals by creating rich and lively color palettes. These pages are wonderful because you can always refer back to them when brainstorming new spread ideas. This example by @blossom_bujo is nothing short of fabulous in our eyes!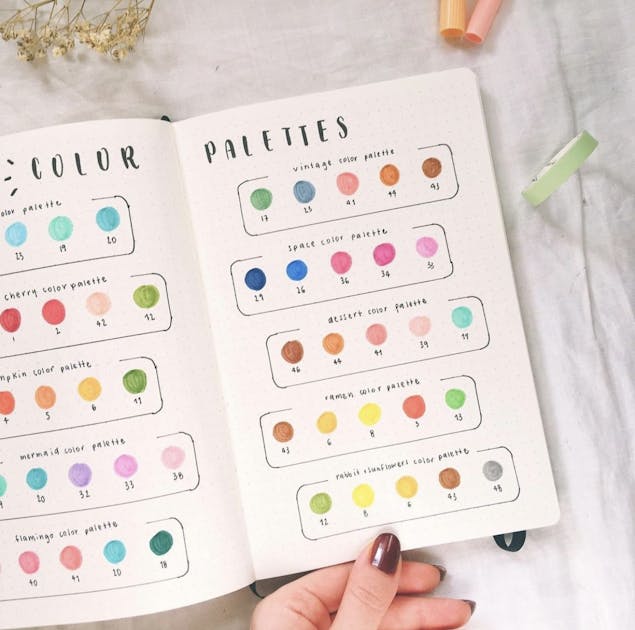 12. Store a special keepsake in a pocket envelope spread
How romantic and whimsical is this pocket envelope by @mymellowdays? Beautiful details like these really give your bullet journals that extra special personal touch. Not to mention the striking layers and dimensions it adds to your creative pages!