Making patterns for every body - Debbie Bliss, MillaMia and Paintbox Yarns introduce their new size ranges
Published on

September 5, 2022
By

Merion
7

min read
All bodies are different! Some of us are taller, some of us are fatter - some of us have shorter arms, and some of us have larger busts. We are all different shapes; but in a world where so much divides us, we believe knitting and crochet should unite us, which is why we are super excited to announce our commitment to patterns designed for every body.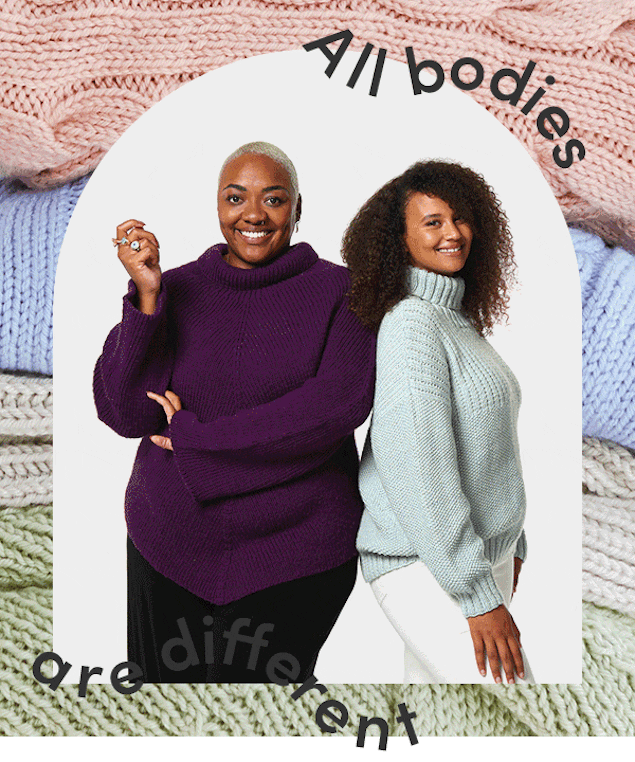 So many of us just don't fit into "straight sizing" - the "S, M, L, XL" range that has dominated pattern sizing for decades, and it's time for the world of yarn to catch up, and create size ranges that are more inclusive. 
Knitting and crochet is for every body - and what's the point in spending all that time making something for yourself that isn't going to fit?"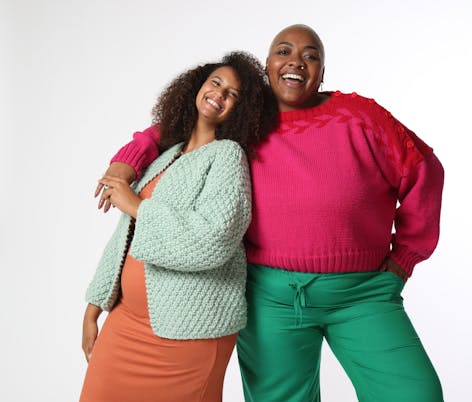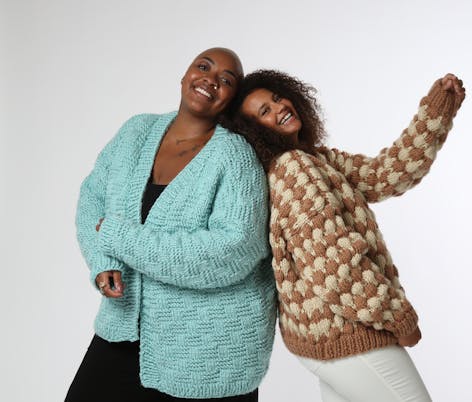 Our LoveCrafts house brands, Debbie Bliss, Paintbox Yarns and MillaMia have each made a commitment to create all new design collections with a size range 32"- 56" chest measurement, with the patterns carefully proportioned and graded appropriately. To celebrate, they've updated a collection of your favorite patterns with the new sizing range to launch this fabulous initiative. 
"Grading patterns isn't just about adding inches," explains Helena Rosen, founder and designer of MillaMia, the Swedish brand famous for color and Scandinavian style. "It's about proportion and considered thinking, to ensure that a design can work across a range of sizes without losing any of its impact and style."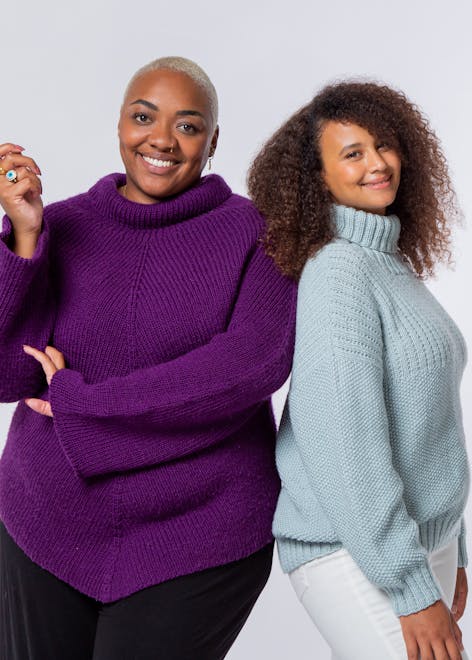 Debbie Bliss, passionate advocate of body positivity, agrees. "It's so important to consider how a pattern is expressed in every different size, for example, how a cable meets a shoulder shaping, or the way a Fair Isle repeat works from one size to the next. There's no point in spending time and money making yourself a garment that you're not happy with - making your own knitwear should be a voyage of joy, not frustration just because the size isn't right."
Ella Burch, designer for Paintbox Yarns, has a younger, fashion-conscious audience to consider, where modern shapes are very much required. "Lots of Paintbox Yarns designs for knitting and crochet have trend based silhouettes - cropped hems, balloon sleeves, intarsia motifs - these are all very important to consider when we look at different sizes of garment. The hem lengths, the placement of a motif, and even where a color block change happens - designs really need to be thought out well for them to work on a range of sizes. It's so exciting to be able to bring our designs to life in a wider range"
We want our brands to reflect you as a maker, to inspire you to express yourself through craft. If there's a pattern you love, it should be available in the size you need."
Discover the first collection of patterns with the updated size range!
Bubble Stitch Cardigan by Paintbox Yarns
This bang-on-trend Paintbox Yarns Bubble Stitch Cardigan has been a firm favorite since its first release, and we're thrilled to bring it to you in the new size range. Choose your favorite shades from the Paintbox Yarns palette - there are 25 colors to choose from, and this gorgeous cardi is a perfect grab-and-go jacket for the autumn/winter! 
Basketweave Cardigan by Paintbox Yarns
Basketweave stitch is a gorgeously textured stitch that is created from just knits and purls, and an easy repeat to memorise. This long-line jacket is a perfect cozy 'coatigan' that you can wear over absolutely anything - and it makes a great layer as we change through the seasons. Paintbox Yarns Super Simply Chunky has 25 shades to choose from, so you can match this fabulous staple to your wardrobe.
The Autumn Breeze Jumper by Paintbox Yarns
If you're new to knitting, this is a great first garment project! Knitted flat and seamed, we have seen it made up in solid colors, in multi-shades, striped, and with all kinds of intarsia motifs added! You can embroider on it, you can color block it and make the sleeves a different shade - you can make it your own! It's a gloriously wearable crew neck sweater and we love it!  There are 63 shades in the Paintbox Yarns Simply Chunky yarn palette, and you can also make it in Paintbox Yarns Chunky Pots!
Sideways Cable Top by Debbie Bliss
If you love cables, this is a joyous layer that is great fun to knit, and it works up beautifully in Cashmerino Aran, that has such a soft, luxurious handle but is such a hardy workhorse of a yarn too - it will last beautifully and wash in the machine. Great as a first time cable project, the rhythm of the repeat is soothing and easy to remember!
Cropped Cable Sweater by Debbie Bliss
A perfect cold weather sweater that ticks all the boxes - a cozy turtle neck, simple cables that are perfect for adventurous beginners, and super soft yarn to use! This classic shape is great for every body shape, and it's a good first cable project, too.
Ribbed Sleeveless Sweater by Debbie Bliss
If you love layers, you will love this super practical knit! Tanks are great to wear as an extra layer when it's beginning to get chilly, but they are also great to wear under coats, when you don't have room for long sleeves! A great first knit and easy to work up for experienced knitters!
Rib Yoke Sweater by Debbie Bliss
The ultimate cozy sweater, full of gentle, understated texture - moss stitch and ribbing, a gorgeous roll neck and fabulous longer- line hem. This is the sweater to pull on when you need ultimate comfort and warmth! It's knitted in Cashmerino Aran, a super soft blend of cashmere, wool and acrylic that comes in 34 beautiful shades.
Melina Jumper by MillaMia
A tumble of rich cabling that is so beautiful to knit and wear - we love the Melina jumper, with its funnel neck and dropped sleeves. This is great fun for knitters who love knitting cables, and a super chic sweater for all body shapes for the cooler months!
Elina Jacket by MillaMia
Classic boxy shaping, with fabulous texture in Irish moss stitch (sometimes called double moss stitch), and a collarless, edge to edge line - the Elina Jacket is 100% fashionista! Swish your way with confidence in this gorgeous jacket, knitted in Naturally Soft Super Chunky, the softest, softest super chunky merino you will ever find!
Charlie Cardigan by MillaMia
Classic, fine knit and such a smart cardi for every day. Belted cardigans are so chic, and we know how much you love them! Knit this beauty in MillaMia Naturally Soft Merino, with 29 shades to choose from, and as ever with MillaMia yarns, this soft, bouncy sportweight yarn is super warm and super soft!
Molly Jumper by MillaMia
Gorgeous ribbing with a hi-low hem works so well in MillaMia Naturally Soft Aran yarn in the Molly jumper, a great first knitting project for beginner knitters! Using color blocking is a Millamia signature trend, so you can pick the shades you love over 20 fabulous rich colors!
Zoey Drop Shoulder Jumper by MillaMia
Some fabulous colorwork makes this jumper such fun to knit, with a contrast yoke and button detail! The dropped shoulder shaping is easy to alter if you need to lengthen or shorten the sleeves, too.
It doesn't stop here. 
We know there's more to do and we've got great ambitions, as part of our company-wide commitment to building a home for all makers, and we're continuing to work on being more inclusive, with each brand pledging to improve the diversity of photography and model representation, to proudly ensure all makers are represented.
Our commitments
All LoveCrafts private label brands to commit to include a minimum chest range of 32"-56" for future pattern collections.
At least 30% of models to be UK "average" size of a size 16 or above.
At least 50% of models to be BIPOC
At least 20% of models to be above 40 years of age
Your voice matters!
We'd love to hear your thoughts, as makers, about our brands, pattern collections and their sizing.  What would you like to see, to further our commitment to inclusivity? We've created this form for you to leave your comments. We welcome all!
Shop the yarns for your fave patterns