Paintbox Yarns are keeping things cozy with their latest collection + NEW Wool Blend Worsted yarn!
Published on

September 21, 2022
3

min read
Paintbox Yarns welcomes in the new, snug season with their latest collection of knit and crochet designs. Created in the brand new Wool Blend Worsted yarn from Paintbox Yarns, these patterns boast yummy textures in wearable shades to bring you a timeless collection of designs for the colder months. What's more, the patterns are all completely free! Read on to discover the new collection and the wonderful new Wool Blend Worsted yarn.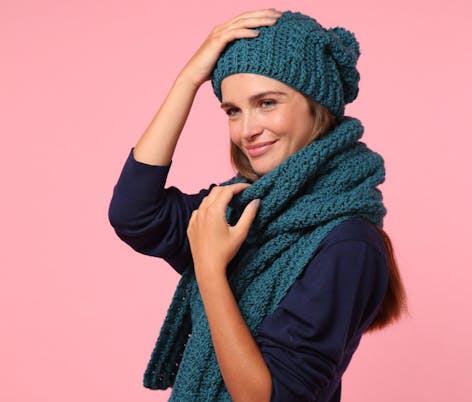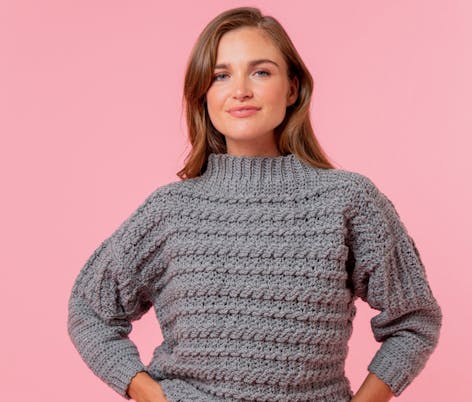 Introducing Paintbox Yarns Wool Blend Worsted
The newest addition to the Paintbox Yarns' family is a 75% wool 25% acrylic blend to bring you the gorgeous qualities of this natural fiber with the versatility of acrylic. This yarn comes in a palette of colorful, warming shades ideal for cozy projects like sweaters and hats as we head into fall/winter.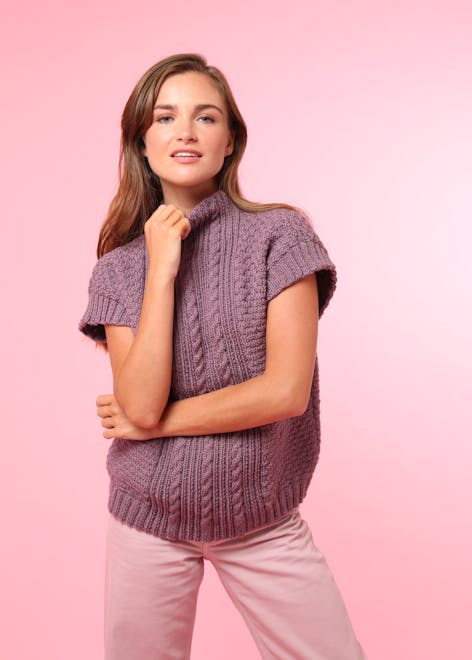 We wanted to create a timeless collection, with yummy textures and wearable shades, while taking inspiration from the latest cable and lace trends that we're all loving right now!"
Snug Season Sweater Vest
The perfect garment to create for the changing of the seasons, the Snug Season Sweater Vest has the collection's signature cables with knit and purl repeats. We're wishing for colder days so we can layer up this vest!
Cozy accessories to keep you wrapped up warm
There's nothing like being wrapped up warm in a matching hat and scarf - the Cinnamon Swirl Hat and Scarf Set is no different. This is a wonderful choice for those crocheting cables for the first time and a mindful project for crochet champions. For the knitters, the Totally Toasty Scarf is bound to keep you feeling just that, totally toasty warm! Have you ever considered that a hat is just a tea cozy for your head? The Head Cozy is a beanie boasting beautiful textures with a double moss - a fun repeatable pattern to get stuck into.
Winter Morning Sweater
For those mornings when it's difficult to escape the warmth of your bed, the Winter Morning Sweater is the perfect sweater to reach for. Or, if you're off on a brisk walk on a crisp fall day, this the sweater you need! With an easy-to-remember lace repeat, this pattern comes with two different length options - a cropped or a longline sweater for whatever style you prefer!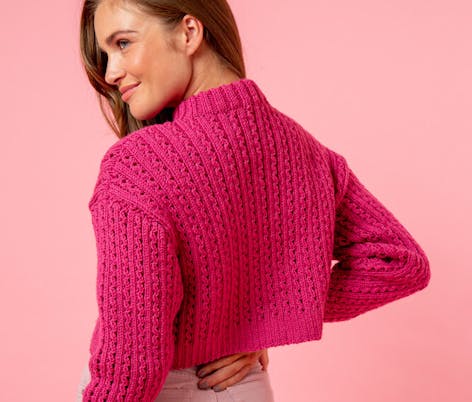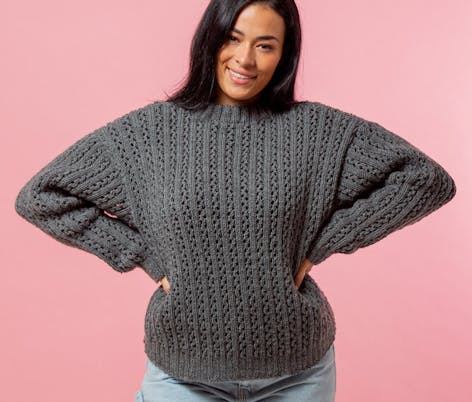 Cinnamon Swirl Sweater
Using the same stitch patterns as the Cinnamon Swirl Hat and Scarf Set, this too is full of texture and cozy cables. Grab yourself a hot drink (preferably spiced), a few balls of the Wool Blend Worsted and crochet the day away!
The Winter Warmer Jacket
This snug yet breathable design is our go-to jacket as we head into October and beyond. Switch out the shades of Wool Blend Worsted for two other contrasting colors that fit with your wardrobe, or how about two complimentary shades for a modern, minimal look.
Keepin' It Cozy Cardigan
For lovers of cottagecore, this A-line cardigan is one to wrap up in, grab a book and find a cozy nook to relax for the day. An effortless look with a mix of stockinette panels, garter stitch details and delicate cabling, this is one fun project!