1 minute no sew pillowcase face mask
Published on

May 13, 2020
By

Holly Butteriss
1

min read
Looking to make a face mask but not a confident sewist? Don't worry! This super simple no-sew pillowcase face mask can be whipped up in just a few easy steps, no sewing necessary! You can also check out the Centers for Disease Control and Prevention for more information on where and how to wear a face mask.
Pillowcase mask
We have made this from a pillowcase but you could use a cotton scarf or cut up a cotton shirt too!
Materials
Cotton pillowcase

Scissors

Two elastic bands. You could use hair bands or cut a strip of fabric from an old t-shirt or pair of tights.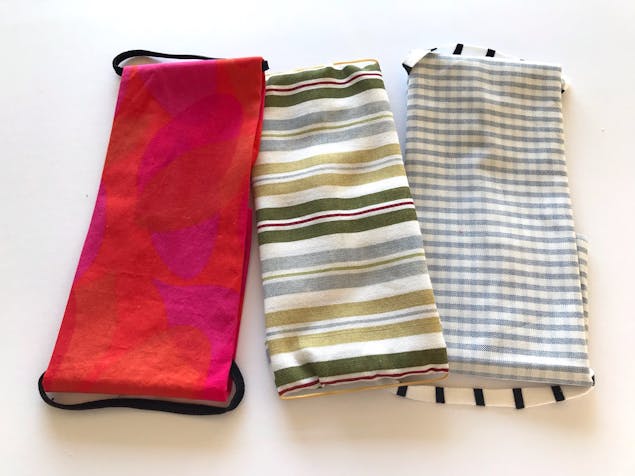 How to make a pillowcase face mask
Lay the pillowcase on a flat surface and cut along one side close to the seam. Cut across the pillowcase and down the other side to create an oblong. Cut off the hem.
Bring the lower left corner of fabric and take it across to the right side, folding it diagonally, lining up the straight sides. Cut off the strip along the top, so that you are left with a square piece of fabric.
Fold the square in half and crease by pressing along with your hand. Open out the square again and fold in the top and bottom to the middle crease line. Then fold in top and bottom again to the middle.
Place the elastic bands over the two ends of the mask, positioning them approx. 110mm from each end.
Pro Tip
If you don't have any elastic bands you could use hair bands or cut a strip of fabric from a t-shirt or pair of tights - you'll need to make these into a loop and secure with a knot, you might have to try it a few times to get the right fit for you!
Fold over the two end sections to the middle. Tuck one end section into the other end section and smooth down flat.
And that's it! One finished mask ready to be worn.