Learning to embroider? Here's the 8 essential embroidery supplies every beginner needs
Published on

April 8, 2022
3

min read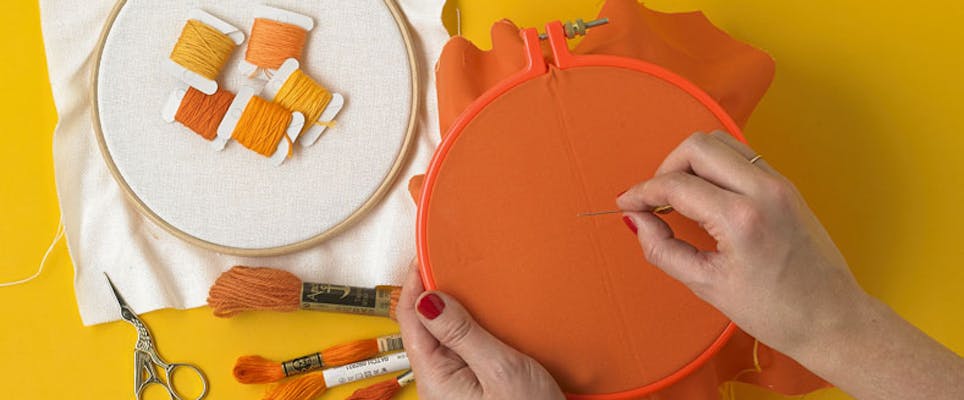 All the embroidery ideas, but no gear? We've rounded up the top embroidery supplies for beginners, to have you stitching in no time! Knowing where to start can be intimidating at first, but all it takes is a needle and thread, some of your favourite fabric and a sturdy hoop to get going. Soon you'll have mastered the basics with the help of your new sewing stash! 
1. Embroidery needle 
In theory, you can use any needle for embroidery. But we recommend using one designed for crafting beautiful embroidered creations. Not only are embroidery needles easier to thread due to their larger eyes, but they also have sharp tips to help pass through thick fabric. 
Which needle size to use depends on the thickness of thread you are using. So, as a beginner, getting yourself a multi-pack of different sized needles is a good idea. This will give you the freedom to stitch as delicate or as a bold as you like!
2. Embroidery thread
There are many types of thread out there in the embroidery world, from silk to rayon, and perle to metallic (you can even use ribbon or yarn!). Most embroidery patterns recommend using floss thread. Floss threads are perfect for beginners! Made up of six separate strands, you can experiment with the thickness of your stitch. A multi-pack of good quality thread will set you up nicely for any and all embroidery projects. This 16 skein set from Paintbox Crafts comes in a special beginners shade with a perfect range of colors. You can also buy individual Paintbox thread skeins if you have your heart set on one in particular.
3. Fabric 
When it comes to fabric, if you can get a needle through it, you can embroider it! Old denim jeans or t-shirts can really come into their own with a bit of embroidery. Fabric scraps are great too for practising as a beginner. For a nice, new project, fabric might be the best canvas to start off with, as it allows you to clearly see your design. Tight woven materials, such as linen or quilting cotton, are a great choice.
4. Embroidery hoop
Hoops hold your material taut and make it much easier to push needles through. There are many sizes and shapes of hoops to choose from, as well as wooden or plastic hoops. Which size and shape you use depends both on what you'd like to use and the size of the project. Round wooden hoops, oval hoops, cute painted hoops - so much choice for your next embroidery creation!
5. Embroidery scissors
Embroidery scissors are perfect for making small snips in your threads! You'll find these small, cute scissors  are an essential part of both beginning and finishing off your patterns, as well as trimming throughout.
6. Needle minder
Misplacing your needle in the middle of a project can be one of the most frustrating parts of embroidery - beginner or pro, we've all been there! Which is why a needle minder is a stash essential.
7. Storage box
Keep your threads in check and your fabrics organised with a storage box. Sewing boxes work just as well for embroidery tools as they do for sewing. A smaller thread box is also super handy for keeping thread from becoming a tangled mess!
8. Transfer tools 
Whether you are creating your own design or following a pattern, transferring your pattern onto fabric before you start can make all the difference to your finished product. A fabric pen or pencil is an easy and temporary way of transferring your design onto fabric without damaging it. Tracing paper is also a handy tool when you want to mark out a pattern.