Intarsia is fun to knit and a fabulous skill to learn! If you're keen to try, a cushion is a great place to start, and we love the Birdy Cushion pattern by Fyberknitics.
I often say that if you want to learn a new knitting technique, do it in miniature before you tackle a huge project. Test out top down cardigans for teddy bears before you embark on an adult sized version or knit a swatch of a new stitch before you knit it into a jumper. Cushion covers are very fertile ground for new techniques – knit a square with simple cables, or wide stripes – once you've practised on something small, you can apply your new skills to garments.
Tip top intarsia patterns for beginners
I love intarsia. It's a technique that is instantly satisfying, seeing a picture appear between your needles as you knit. Fair Isle, or stranded knitting, involves carrying the yarn along a row, but when you work in blocks of color, you knit from small bobbins or balls of yarn at the back of the work.
My first intarsia project was a Nordic cushion by Martin Storey.
Martin Storey's cushion is a work of brilliance because it uses both Fair Isle and intarsia methods – notice how the hearts use the Fair Isle technique, but where the reindeer have little solid bodies, they require an intarsia bobbin of the contrast color at the back of the work. By the time I'd made this cushion, I felt confident in both techniques!
The Birdy Cushion is composed in a similar way – nine squares are worked separately and seamed together to make the front of the cushion cover. The back is striped, with a button fastening and the cover will fit a 40cm by 40cm (16″ x 16″) cushion pad.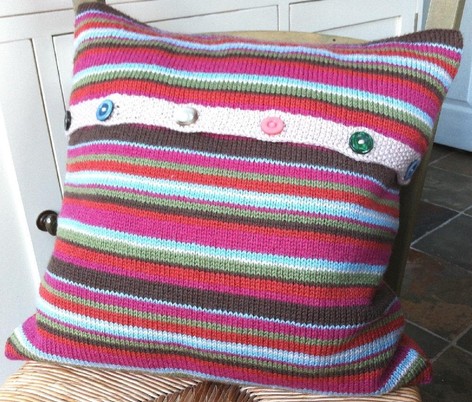 Each square uses three colors, and a bead for the bird's eye (if you don't want to add beading to the mix, you can always embroider a little dot for the birds' eyes afterwards!).
Creating little bobbins is easy – either wind some yarn around a piece of cardboard, or a clothes peg, or use a set of Pony Yarn Bobbins!
Top tips for intarsia
Wind your bobbins before you start!
When you change color, remember to twist the working yarn around the new color to avoid creating a hole in the work. (If you forget, you can sew these holes up later!)
Try to keep your colors sitting neatly behind the work to avoid them becoming tangled.
Study your charts before you start. For the Birdy Cushion, you'll be working in stockinette stitch, working back and forth in knit and purl: the right side rows (knit) are odd numbers, and the wrong side (purl) are even numbers.
Make sure you leave tails of yarn long enough to weave in neatly on the wrong side.
The perfect yarns for your project