The LoveCrafts Show episode 11: Channelling creativity with Poppy Chancellor
Published on

June 10, 2020
2

min read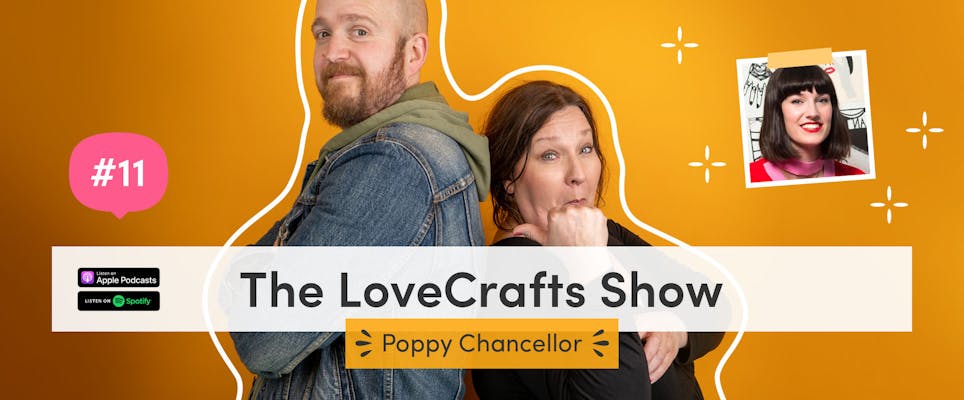 Join Jamie and Merion on The LoveCrafts Show along with an extra special guest, Poppy Chancellor AKA Poppy's Papercuts!
You can listen to The LoveCrafts Show episode 11 on Spotify, Google Podcasts and Apple Podcasts.
Jamie and Merion introduce us to the utterly wonderful Poppy Chancellor in this episode of The LoveCrafts Show. We delve deep into the world of paper cutting, discover how Poppy found her creativity and channels it today, and there may be a song or two in there as well.
Tips, tricks, advice and a fair amount of silliness, this is The LoveCrafts Show!
Don't forget to send us lots of lovely messages, responses and questions to show@lovecrafts.com or you can send us a voice message!
Lots of lovely things we mentioned and extra nuggets!
Meet Poppy Chancellor AKA Poppy's Papercuts! Check her out on Instagram and her website. (1:05)
Discover new ways to express yourself with our guide (9:50)
Check out Poppy's The Grief Case on Instagram (11:35) 
Need to channel your grief through making during these difficult times? There's lots of ways you can support the community, or make to help fight covid-19. (18:20)
Want to try a new craft? We've got a guide for that. (21:30)
Grab a copy of Poppy's book, Cut it Out for yourself! (23:10) 
Check out the Royal School of Drawing (29:00)
See Poppy's art come to life in this mural by Graffiti Life (36:05) 
Head to the British Podcast Awards and vote for The LoveCrafts Show! (37:58)
Want to spark joy? - discover our guide to being a happier maker. (51:05)