The ultimate guide: summer tops to knit and crochet
Published on

April 26, 2021
By

Merion
3

min read
Knitting and crochet are not just cold weather crafts! Knitted tees and crocheted tops are great summer essentials that will keep you cool in all weathers.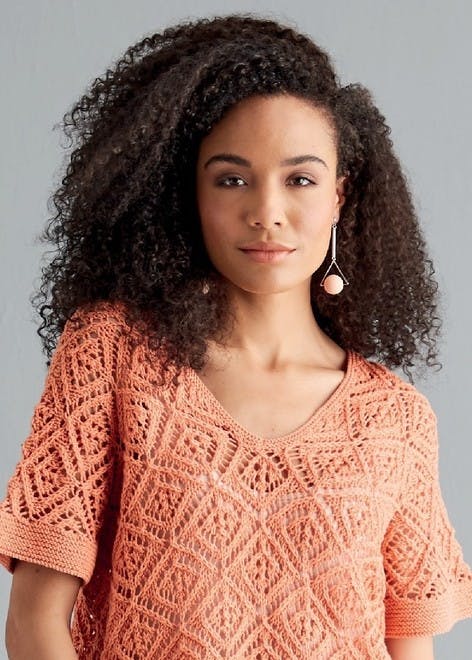 We love a summer project, and tops are fun in any yarn. Short sleeves, three quarter length or no sleeves at all, the joy of knitting or crocheting tops is that they are fast-finish projects that are ready to wear in no time!  Play with color - brights for the beach, pastels and neutrals for breezy walks or blend rich jewels for balmy evenings, and explore different fibers - plant fibers bring cool drape and silky softness, and fine wool will keep your body temperature steady. Add a shawl, or a market bag, and you're ready for summer.
Crochet is the perfect craft for summer tops, it's fast and the stitches drape well in summer fibers, making it great for cover ups and tunics, and sassy cropped tops! Hook up a daring summer top with our video from The Queen Stitch, and make it your own with embroidery! You can choose any color cotton and it'll work up in no time at all. Download the pattern for full details and sizing.
Knitted summer tops
Knitting isn't just for snuggly winter sweaters. Knitting cotton yarns can produce beautifully breezy light material for summer tops that look just as good on the beach as they do in the city. From lovely lace detail to cropped sleeves, there are so many ways to knit together light dreamy summer apparel!
Crochet summer tops
Whether you're hitting the beach this summer or bringing that festival vibe into your wardrobe, crochet is perfect for crafting seriously cool tops in all your fave juicy summer shades. Whether you're stitching classic granny squares for a 70's retro-inspired crop top or adding a pretty puff and shell stitch to a neck or sleeves, there are so many ways to spice up your summer tops!
Crochet summer tops patterns for free
Crocheted summer tops we love!
Make some summer accessories to match
To match your knitted tees and crocheted tops, add some home made summer fun and make yourself a sunglasses case with our free tutorial from Kate Eastwood, or a fabulous summer ombre tassel necklace with Sew Yeah!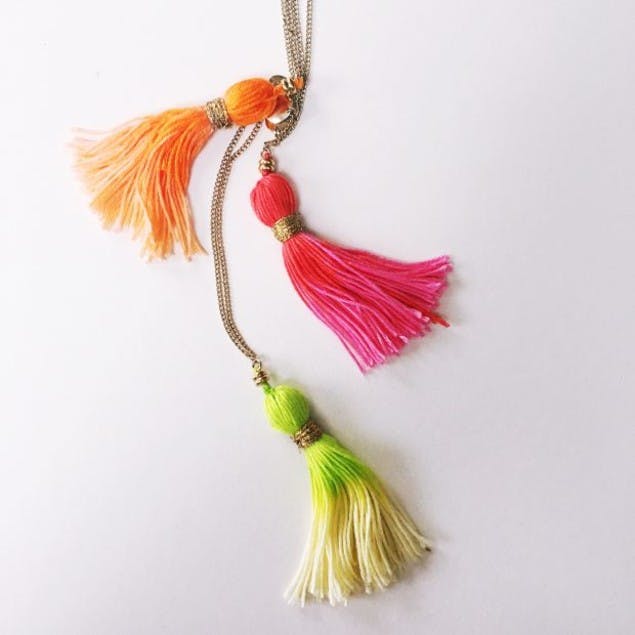 Our favorite summer yarns
We love summer crafting, and working with lighter weight, cooler yarns is super satisfying in the heat, when you just can't face a huge heavy project on your lap. Lightweight yarns come in all kinds of fiber combinations - linen, cotton, bamboo, cashmere, silk and even wool, and they all keep your temperature regulated beautifully. The added bonus of plant based fibers is that they are generally perfect for sensitive skin and those who struggle with allergies, and they are vegan, too.
Cool cotton is a firm favorite - it's soft and gentle to wear, and it takes dye perfectly, so there are thousands of shades out there! Lucious linen yarn softens as you work with it, (and as you wear it,) so don't be put off by the firmness of the yarn when you begin - it is full of drape, and wonderfully comfortable in hot weather. Silky soft bamboo has natural antibacterial qualities and is super smooth to knit or crochet, a great choice for tees and tops!
Animal fibers like cashmere and wool are fabulous temperature regulators, so they are just as lovely for summer as they are winter. Plump for finer, 4ply wools, lace yarns held double stranded or wool combined with cotton for a deliciously comfy result.