Today we're chatting to bright and colourful crochet designer, Emma Varnam. We chatted about her inspiration and ideas, as well as her new crochet book for beginners!
When was the moment you decided to start a blog – what was your inspiration to share your ideas with the world?
I can remember exactly where it was, a tea shop in Northumberland. We were on a family holiday. I was larking about with the camera taking photos of cake and thinking, wouldn't that make a great 'blog photo'. My husband said, "You have been talking about writing a blog for such a long time that when we get home I will create one for you and then you will just have to write something on it." That is exactly what he did and that was nearly five years ago – how time flies when you are having fun!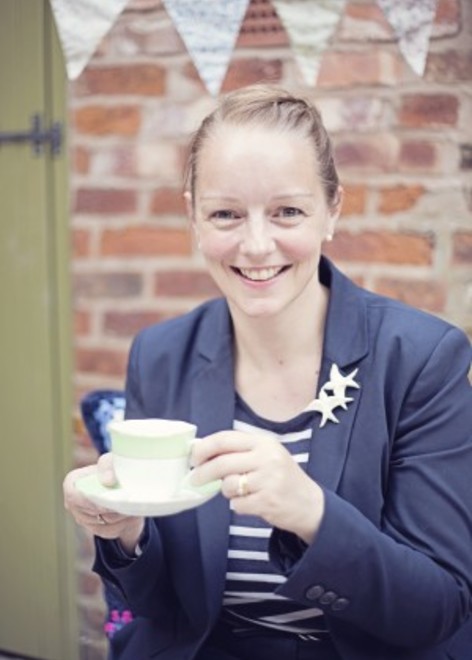 On that note, when and why did you decide to write your book, How to Crochet?
I had worked on two previous books with my publisher, GMC, and they asked me to develop some ideas for a 'How to' book about Crochet. I have to say that it was a wonderful experience. I love the look of the book and the freedom I was given to let my voice come out in the text. I am so fortunate to have been able to fulfil that dream.
Who do you design for: yourself, your family, your friends?
I design for those I love. Ideas tend to spring from accidental conversations or trying to solve a practical problem. Currently I am making some tablecloth weights ready for outdoor summer parties. I know they will come in pretty handy and add a little vintage glamour to our party table. I love to design for my son, and he has started sketching up his own ideas for me to create for him. That interaction between us delights my heart.
What do you like to design for yourself – what attracts you to a new pattern or idea? I really like to make accessories for myself: hats, gloves, cowls. If I see a new fashion that really appeals I will try to find a way to adapt it into crochet. I only really like designing something I would wear or use myself. I can't bear the thought of inflicting something useless onto someone else. It has to be either practical or beautiful.
What are your crochet trend predictions for the summer? What will be on your crochet hook?
The colour coral is everywhere at the moment and it looks great with denim and white so I think there will be pretty little cotton tank cover-ups for the summer. I have already started on my summer crochet ideas. Lots of cute things to decorate the outdoors for Indian summer festivities. I love combining sewing with crochet to create pretty edgings for tablecloths, cushions, and napkins. Creating something unique for your home is always great fun.
If you were a yarn, what would you be?
My head would love to say a 4ply Navy merino yarn - classic, stylish, chic. Yet in my heart I realise it is cerise pink DK cotton - cheerful, durable, and a little bit cheeky.