Knitting designers of the month: December
Published on

November 20, 2018
By

Merion
3

min read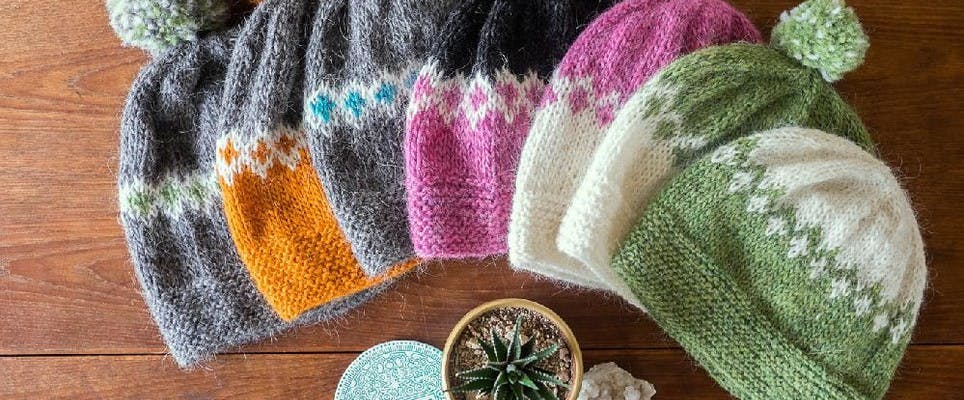 As the evenings draw in, and the light fades, we're ready to curl up with our knitting needles and indulge in some delicious knit-time. It's the season for celebrating warmth, and enjoying all those cozy fibers that trap warm air - wool, merino wool, alpaca and cashmere. Meet three designers whose work especially captures the winter aesthetic: Dianna Walla, Sachiko Burgin and Kiyomi Burgin.
Dianna Walla
Diana Walla is a knitter's knitter. Inspired by travel, stitch dictionaries and garment construction, Dianna's designs are full of beautifully complex colorwork and textured stitches. Two years in Norway confirmed her love of traditional Nordic knitting, which continues to be a strong influence in her work. She is based in Canada, and has designed for Quince & Co and Brooklyn Tweed, and her designs have appeared in PomPom Quarterly, Interweave Knits and Knitscene magazine.
Clever cashmere lined cuffs and a turtle neck collar will keep you toasty and warm in Dianna Walla's Moon Pulls sweater. We love the garter stitch detail for the hem, cuffs and neck, and the pop of stranded color work for some extra knitting fun.
If you love mittens and color work, these Rosenhoff Votter mitts are a fabulous project for the cold weather and would make such an impressive gift!
A celebration of shared traditions between Shetland and the Norwegian coast, The North Sea is a hat that is a fabulous stashbuster for your worsted weight yarn leftovers.
Sachiko and Kiyomi Burgin
Twin sisters Sachiko and Kiyomi are based in Toronto, where they design knitwear independently and as a team. Their collective design skills combine individual talents - Kiyomi brings a background of illustration and loves yarn dyeing and sewing; Sachiko studied jewellery and metal-smithing, and has an interest in machine knitting. All of this fabulous creativity blends to produce beautiful design work with a distinctive fashion edge. The sisters have recently contributed to a soon-to-be-launched collection for The Yarn Collective celebrating 90s gothic fashion, entitled Sage.
Sachiko's designs
Curvo is one of those jumpers that you will love making as much as you love wearing - it's a cozy favourite that has a deep scooped hem and boatneck collar that you won't want to take off during these colder months.
Knitting in miniature is of one of life's great pleasures - it enables you to try techniques that you might not be brave enough to test on a larger scale garment, and this darling baby sweater offers up some fun intarsia - or swiss darning if you prefer.
Working with lace weight yarn feels more frightening than it actually is - and Sachiko's Arwan shawl uses one skein of Portland Lace yarn from The Yarn Collective. This gorgeous shawl uses an easy-to-follow chart to show you how to achieve the clever repeat.
Kiyomi's designs
Reverse stocking stitch and holding the yard double stranded makes for a modern twist on a timeless design - Fredericton is a unisex cardi that has a hint of retro whimsy - you're going to have such fun finding buttons!
Keep cozy with a double brim in this Deep Woods Toque - a hat that is a delight to knit, and a perfect project to curl up with on a quiet afternoon.
A schoolmistress of a mitten pattern, the Jagged Ridge mittens include color work, seaming and working a Kitchener stitch graft - a fabulous pattern that will give you the chance to try new techniques without breaking the bank. You're bound to have yarn in your stash to fit the bill.