Poncho knitting patterns
Published on

August 23, 2018
By

Meg
2

min read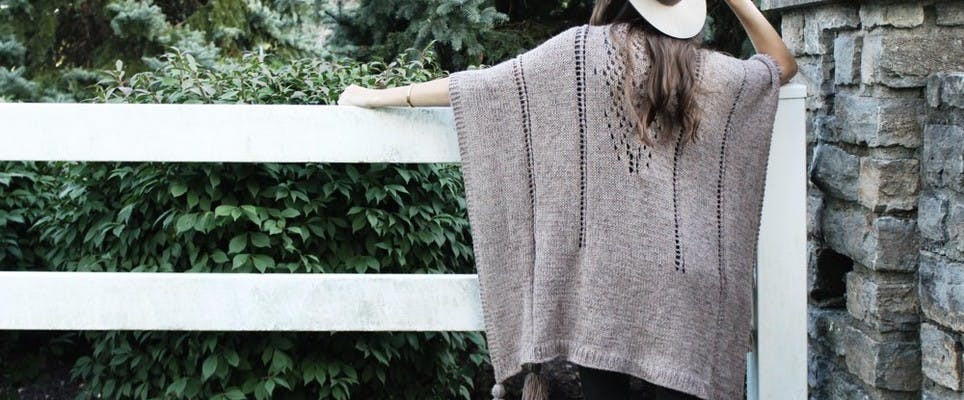 Whether you want to get snuggly on wintry nights in, or you're looking for a light layer on a crisp spring afternoon, ponchos are a good idea all year round. With designs aplenty, and endless yarn weights, there are ponchos to be knitted for every season! There is so much to love about knitted ponchos: they're cozy and comfy, warm yet light, easy-to-wear and they're always styling.  
The humble poncho started life as a rectangle with a hole in, but knitters have taken the idea to a whole new level of amazingness. The simplest knitted poncho can be an easy way for beginners to become friends with their knitting needles. For the experienced knitters, a more complex stitch pattern and modern styling can be the way to challenge yourself when a poncho seems completely necessary in life (which is always). In cool shades of gray and black, to stripes of vivid color, there's a knitting pattern here for everyone.
Women's Knitted Poncho Patterns
Do you love traditional style ponchos? Or are modern capes your thing? Both styles are featured in this collection where we show you just how essential the poncho is. And if you're crazy about tassels, fall in love with the chunky tassel poncho by Two of Wands.
Cable Knit & Chunky Yarn Poncho Patterns
These next ponchos are perfect for fans of cable knits and chunky yarns. In this collection, you'll even find a few free patterns and everyone loves a freebie! If you've never tried a cable, then now is the time to try it because it's fabulous and it won't be going out of fashion anytime soon.
Modern Patterns for Summer
If you're craving inspiration for those summer nights, or you happen to swoon over designs that put a fresh spin on the traditional, then this collection is the one for you. With poncho sweaters, open-shoulder knits, and versatility always, there's a lot to get excited about with these patterns.  
Children's Ponchos & Capes
There's nothing sweeter than bundling up your little ones in adorable knits. Knit a little flare into their closet with these cute-as-a-button ponchos and capes. The adorable To Grandma's House pattern by Melissa Schaschwary is a Little Red Riding Hood cape that both you and your children will adore. It's versatile style make it perfect for anytime of day and anytime of year.
Adult's Ponchettes & Capes
If a big blanket style poncho is the Everest that you're not ready to tackle, then you can always make your task smaller. Knitting a mini poncho, also known as a ponchette, or trying your hand at a cape instead is the perfect way to ease your way into poncho life. These ponchettes and capes cover the neck and shoulders and range from classic vintage style to contemporary blogger chic.
Browse our extensive collection of ponchos and capes to find your perfect first project. We make no promises that you'll be able to just stick to one though. At LoveKnitting we've got a huge range of patterns just waiting for you to bring them to life. Rain or shine, it is always poncho weather. So you better get knitting, you amazing knit-loving souls!