How to host the best craft party in 6 easy steps!
Published on

January 6, 2021
By

Yaz
4

min read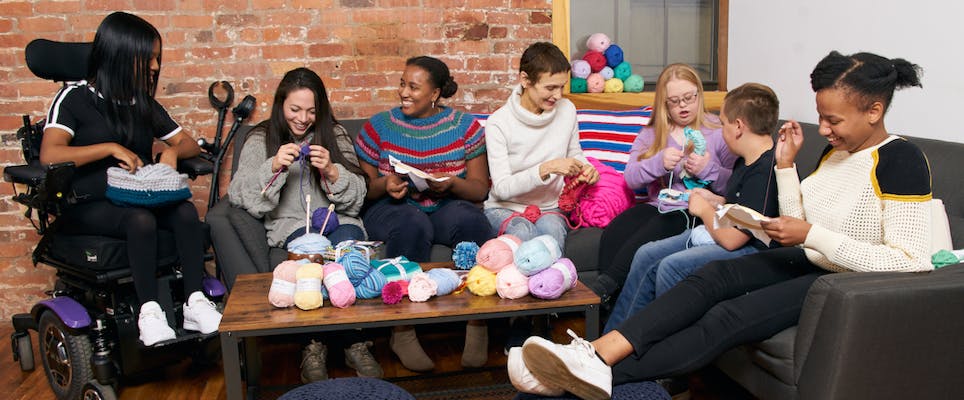 Hosting a craft party for adults, whether it's friends, colleagues or your neighborhood pals, is not only a lovely way to spend a relaxing afternoon but also a great way to raise money for charity. If you fancy running your own craft party, here's how! Just follow our 6 simple steps.
1. Decide the location!
This is the easy bit! To keep your craft party safe, set up a virtual event - the plus side is you can keep your craft stash close by! For the actual event, you'll want to organize a virtual video call, but think about whether you want a WhatsApp or Facebook group as well, so you can chat before and after the event takes place.
If you're planning an event for when we're able to gather again - remember, the right location doesn't need to be anything fancy, you just need somewhere safe, cozy, and communal to gather together. Your house, a pal's house, a cafe, a pub, a work breakout area, or even the park! Think about how many people you want to invite and whether the space has enough places to sit. Most importantly, does it have a kettle to put on a cup of tea?
2. Plan the makes
Whether you're planning a hen party, seasonal craft session, birthday party or gathering to make for someone special, a little planning goes a long way.
Pick a theme or why not make for a specific holiday, event or good cause? From pom poms to plant holders, there are plenty of fun, quick and easy crafts to try for all abilities! Craft parties are also a great way to unwind and unite for some mindfulness.
Choose a make everyone can enjoy!
3. Gather the supplies
Found a cozy space for your virtual party? Picked a project? Now time to gather supplies! Check your supply stash to make sure you have enough tools and materials. Need to stock up? No problemo.
Time to stock up your stash and supplies!
4.  Send out the invites!
Now it's time to gather your craft party attendees! Decide on the best format for your invite. If there's a lot of you a Doodle poll to find out when people are free might be a good option. If you're organizing a craft party in the office, do you have an office manager who can help send find a suitable date? Or, why not keep it classy and make some handmade invitations to mail to people - snailmail or email!
Don't forget to include all the essential info on your craft party invite, including what people need to bring (cake encouraged!), if they should RSVP, whether they can share the link with friends, and what to expect!
5. Time to think about snacks, decorations, and just-for-fun extras!
Once the invites are sent, time to think about mood music, decor, and snacks.
If you're planning a hen craft party maybe a cheese-tastic playlist of all the bride-to-be's fave tunes would get the celebrations going? Or if you're planning a work event, choose some chill out music, to help your team unwind. 
Decorations are a great way to get people excited. From pom pom garlands to comfy cushions, think colors that complement the event and make the virtual room fun and creative!
Try these cute-as garlands for the occasion!
When it comes to snacks and drinks, choose your tipple and snack style. For celebration craft parties why not enjoy bubbles, or maybe your craft party is best suited to a nice cuppa. Don't forget to ask if people have allergies beforehand!
6. Raise awareness and funds for a good cause! 
Craft parties are a great way to round up some community spirit in the name of a good cause! From making crafts for the Australian animal bushfire casualties, raising awareness for those breast cancer, making preemie baby hats to donate to your local hospital or making cozy knitted or crochet projects for the homeless, there are so many ways to craft it forward. We're better together! Don't forget to think about how you're going to collect funds! Perhaps you want to set up a charity donation page, or have a collection pot at the party - a lot of charities will provide you with a donation kit, so don't forget to check out your chosen charity's website before you get going!
Hey presto, you're now ready to host the best ever craft party! Why not share your craft party highlights and tips and tricks with us on Instagram? Just tag us @LoveCraftscom #LoveCrafts - we'd love to see your craft party fun!