How to crochet a flower
Published on

April 4, 2019
By

Merion
3

min read
Crochet flowers make us smile! They can be added to any project, and are the perfect embellishment to breathe flowery life into a favourite bag or transform a simple hat. It won't take you long to create a garden of easy crochet flowers, and our fabulous video tutorials cover how to crochet flowers for beginners and more advanced crafters, too.
Katie Jones' Frida Kahlo collection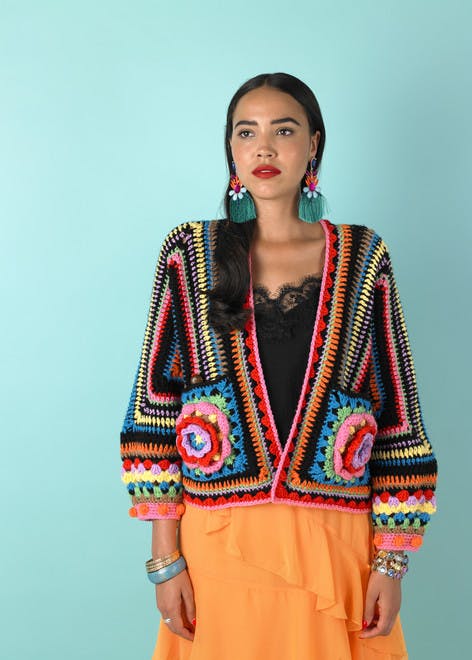 Mexican artist Frida Kahlo loved wearing and painting flowers, and she's rarely pictured without them, which made her a wonderful inspiration for this blissful collection from crochet designer Katie Jones.
Katie's collection for Paintbox Yarns is a riot of crochet flowers celebrating Frida's love of color: bold, bright, zesty and full of life.  Katie's pieces include the Passion Petal Tote, Blooming Bomber Jacket, Casa Kahlo Blanket and the Kahlo Crop Top, all designed for you to unleash your inner Frida! To help you create the beautiful flower pockets on the Blooming Bomber Jacket, follow Katie's step by step tutorial videos, showing you exactly how to make an easy crochet flower that blossoms layer by layer to form a granny square pocket.
Katie has created three videos for you to follow. The first video (at the top of this page) introduces you, step by step, to making a basic crochet flower. The second video teaches you how to adapt the basic flower into a 3d flower, and the third video converts the 3d flower into a granny square that you can use for the Blooming Bomber pockets, or as part of a gorgeous granny square flower blanket!
Download the full Blooming Bomber pattern
More Katie Jones' patterns from the Kahlo Collection
Explore Paintbox Yarns for the Kahlo Collection
How to crochet a magic ring
Many crochet flowers begin with a magic ring or magic circle, (although you can usually substitute for ch3, slip stitch into the first ch to make a circle), which ensures that the centre of the flower closes completely.  Follow our step by step video tutorial from Hopeful Honey to learn how to make a magic ring.
Free crochet flower patterns
Crochet flowers can be used to jazz up any project, and create a gorgeous carpet of color. Create crochet flower blankets, headbands and flower bouquets or use your crochet flowers as appliques to decorate bags, slippers and hats.
African flower crochet motifs
African flower crochet motifs are hexagonal, with pretty petals worked inside a border, and you can use them blankets, coasters and pillows, but they are famous for being stitched together to create animals!
Crochet flowers make adorable appliqués for baby hats, whether you crochet a baby hat yourself, or embellish a hat that you've bought.