How to add crochet edging to your knitting
Published on

January 29, 2014
By

Elizabeth Bagwell
2

min read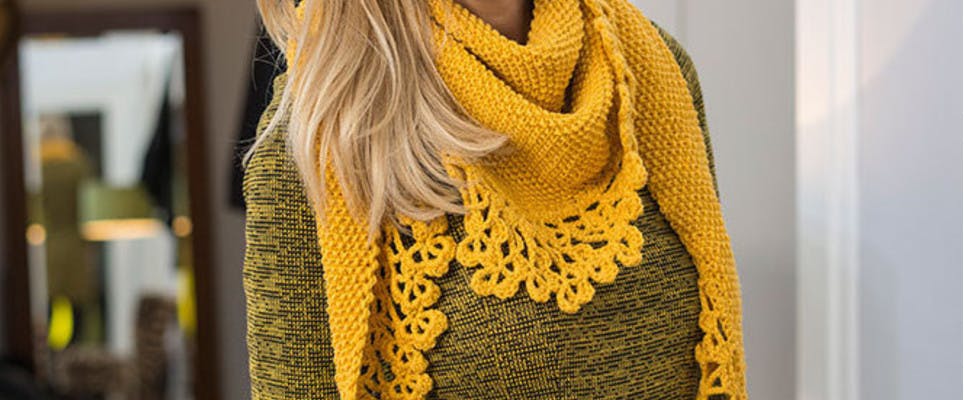 Adding some pretty crochet edging to your fabric, whether it's linen or knitted, is great way to add a contrasting color, create a uniform edging or even make a piece a little longer. While many knitters never learn to crochet and vice versa, the two crafts go very well together and once you've learned both you'll have even more crafty tricks up your sleeve! Expert knitter Elizabeth Bagwell shows us how to do it…
From tea towels and table cloths to accessories, edging provides a pretty, firm border and is a great foundation for a more complex crochet edging. You can also crochet a more complex stitch directly onto knitting. If you've never crocheted before take a gander at our crochet tutorials which will introduce you to the basic stitches.
Learn to single crochet
New to crochet? Fear not. This video tutorial will guide you step by step as you master the US single crochet.
Learn to double crochet
The US double crochet is a taller stitch than the double, fabulous for building up quickly. This video will guide you through.
Tension matters
When adding a crochet border to a knitted garment, the main hurdle is the difference in tension and fabric style between these two types of craft. As a general rule, if you knit and crochet the same yarn using the same size needles and hook (e.g. 4mm needles and a 4mm hook), the crochet will form a denser, stiffer fabric than the knitting. This can be ideal, or it may be a problem you need to overcome.
There are several ways to create a looser effect with your crochet. Three simple ones are:
Use a larger hook (perhaps a much larger one).
Use a more open stitch pattern.
Use more crochet stitches than knitting stitches.
Joining together
When you crochet a border onto existing knitting, you may be tempted to match the crochet stitches to the knitted ones one for one. Just as when you add a knitted border, this often isn't the best choice, and can leave the item looking tight and rumpled.
Luckily, crochet is very simple to pull back, so you can try again. Or start by crocheting a border onto your tension square, if you made one.
Adding a flourish of crochet to your sewing or knitting pattern is a beautiful way to add interest, character and texture to your project!