You probably won't scare any trick-or-treaters with this Halloween sweatshirt, but if you're looking for something a little bit different this pom pom spider sweatshirt tutorial by Christine Leech might be just the thing!
Materials
1 ball each in shades Pure Black, Pure White, Rich Mauve, Blood Orange, Peach Orange and Bubblegum Pink
Embroidery hoop (optional)
Scissors
Eraseable pen
Fabric glue or a glue gun
If you're new to pom pom making, where have you been?! Christine shows you everything you need to do in her Pombré Purse tutorial.
Making your spooky sweater
1
Make a variety of small pom poms in a mix of colors.
Use a strand of yarn about 40cm long.
When tying the wool around the middle of the pom to secure, use a strand of wool about 40cm/16″ long.
2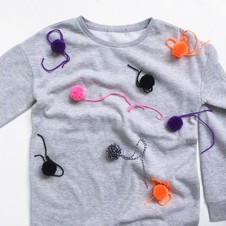 Arrange the pom poms on the front of your sweatshirt or jumper.
Mark an X with the pen where each pom is.
3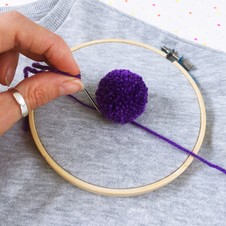 Take the embroidery hoop and secure the sweatshirt inside so that one of the X's is in the center of the hoop.
Thread one end of the pom pom yarn onto the needle and sew the pom pom onto the sweatshirt.
To secure the pom to the top, sew each piece of yarn through the sweatshirt and then tie a double knot on the underside. Then sew the yarn back through to the front of the sweatshirt.
4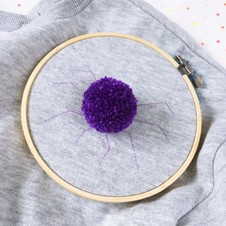 With the erasable pen draw eight legs around the pom pom.
5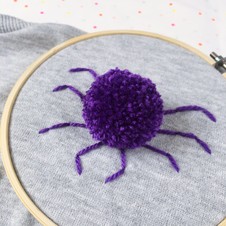 Use the remaining yarn to stitch the legs.
6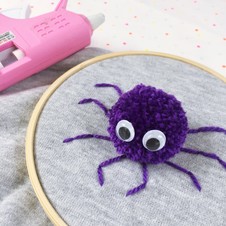 Finally, use the glue gun to add two googly eyes to the pom pom.
Repeat these steps until you have all the spider pom poms you desire - then wear and scare!