Sock knitting is officially 'A Thing', and you won't be surprised to discover that we are big fans of sock knitting too. If you're all about turning a heel and knitting tidy toes, then this roundup of five great knitting patterns for men is for you.
Couplet Socks
This gorgeous sock pattern by Bonnie Sennott made using light fingering weight yarn comes in two sizes so can be for him or for her. With a lace edge option too, you can frill things up or keep things simple.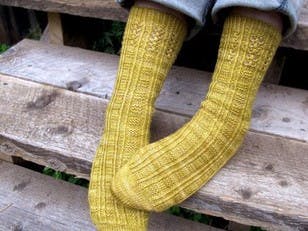 Gossamer Arbor socks
Inspired by his aunt's rose arbor, the pattern for these socks by Rich Ensor comes in three sizes, with leg and foot length adjustments that allow you to change the size without losing all that lovely cable detail.
Handsome men's slipper socks
Kelly Patia made this diamond cable sock pattern in worsted weight for her brother, and gasped when he put them on thinking "they're really handsome!" hence the name. You can make any man's feet equally handsome by knitting a pair too.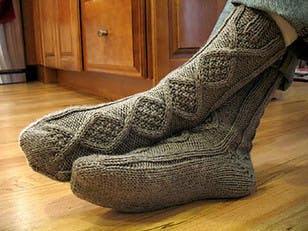 Cosy Contrast Socks
This free pattern uses Paintbox Socks Yarn, a pre-dyed yarn that creates the patterns for you. With 28 different shades and patterns to choose from you can knit anything from Fair Isle to subtle gradient socks without all the fuss of needing to change yarn.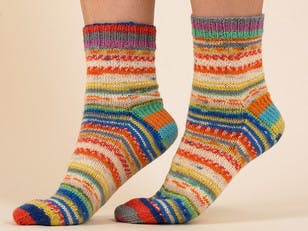 Jongleurs socks
This sock pattern by Riotous Assembly was inspired by medieval minstrels and can be made in contrasting colors or subtle tones, creating a everything you need for some truly fabulous feet.