Father's Day papa bear card tutorial!
Published on

June 12, 2020
1

min read
With Father's Day right around the corner, what better time to get crafty and make this adorable papa bear card! Follow Christine Leech's tutorial and with a few easy steps, fun colored card and some glue you can make this bear-utiful card to give your dad for Father's Day.
Materials
Variety of thin card in different colors

Patterned card

Scissors

Pen

Pencil

Glue

Embroidery thread

Needle
Cut out all the template pieces.
Draw round each piece onto the relevant colored card. (Make a little mark with your pencil at the points where it shows to crease on the template.) 
You need one each of the bears tummy, front body, back legs and nose, two of his ears and five different colored flags. 
Glue the tummy, nose and ears to the bears body. Fold his arms inwards along the crease lines.  Draw on two eyes, a nose and a mouth in black pen.
Fold along the crease line on his back legs then add glue to the folded flap. Fix the legs to the back of the body. Make sure the feet line up so he'll stand up properly.
Fold each of the flags in half so the points line up. Cut a 15cm length of thin twine or embroidery thread. Add glue to one half of each flag, fold over the twine and press to close. 
With a large needle, make two holes, one in each of his paws. Thread one end of the bunting twine through one of the holes (from the inside of his paw out) Tie a knot in the end to secure and trim. Repeat with the other end of the twine. 
Finally write your message on the inside of the bears legs. 
Pro Tip
If you don't want to make a paper craft bear then use the template provided. Print out thin card and then color in and make as above.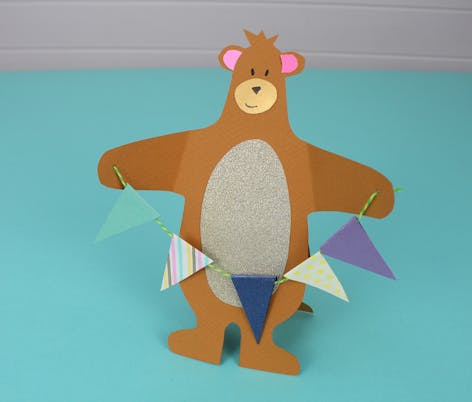 More papercraft projects!